Tromsø is a city located in northern Norway, beyond the Arctic Circle. With its breathtaking landscapes, family-friendly activities, and welcoming atmosphere, Tromsø is the ideal destination for a family vacation, whether it's summer or winter.
In this article, I will provide you with a complete guide to visiting Tromsø with children. I will cover the best activities to do, places to visit, tips for accommodation and transportation, and many other practical advice.
I have personally visited Tromsø several times, both in winter and summer. So, I will share my experience and tips to make your family stay in Tromsø unforgettable!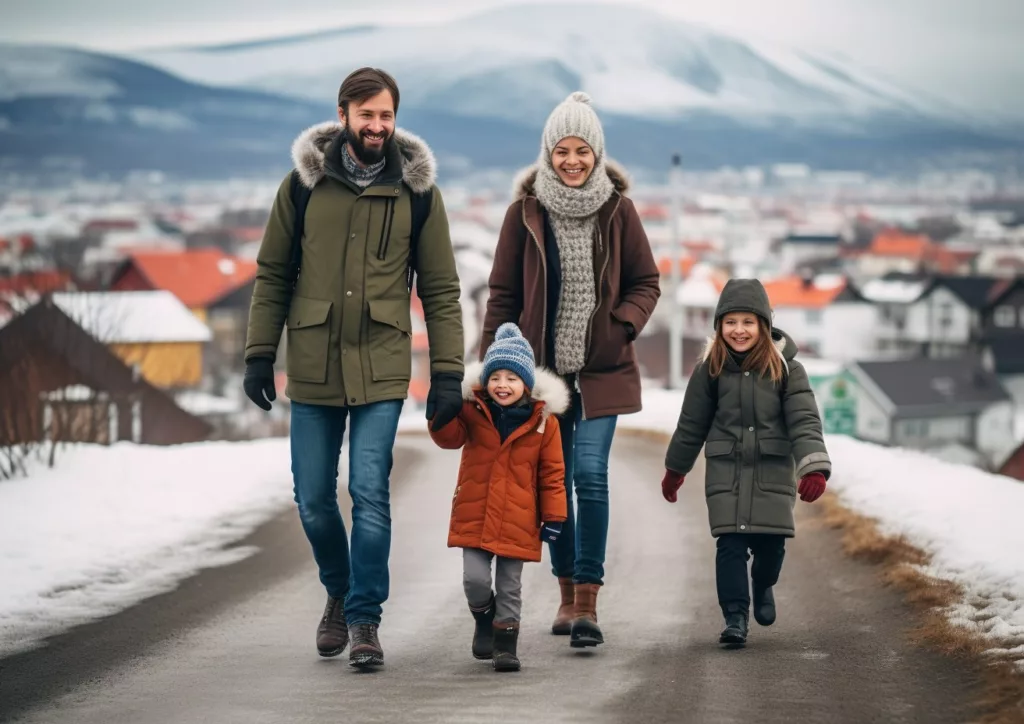 ---
When to visit Tromsø with children
Tromsø is a destination that can be visited year-round with children. Here are the best periods:
Summer (June to August): Pleasant temperatures, up to 20°C, very long days with the midnight sun, and numerous outdoor activities.
Winter (November to March): The best time to observe the Northern Lights, engage in winter activities like dog sledding, and enjoy the magic of snowy landscapes. Temperatures can drop to -10°C.
Spring (April-May) and Autumn (September-October): Cooler temperatures but beautiful lights. Fewer tourists compared to the summer and winter seasons.
Personally, I have a preference for winter in Tromsø. The dry cold is very bearable with appropriate clothing, and the atmosphere under the snow is simply magical! Children love playing in the snow.
---
Getting around Tromsø with children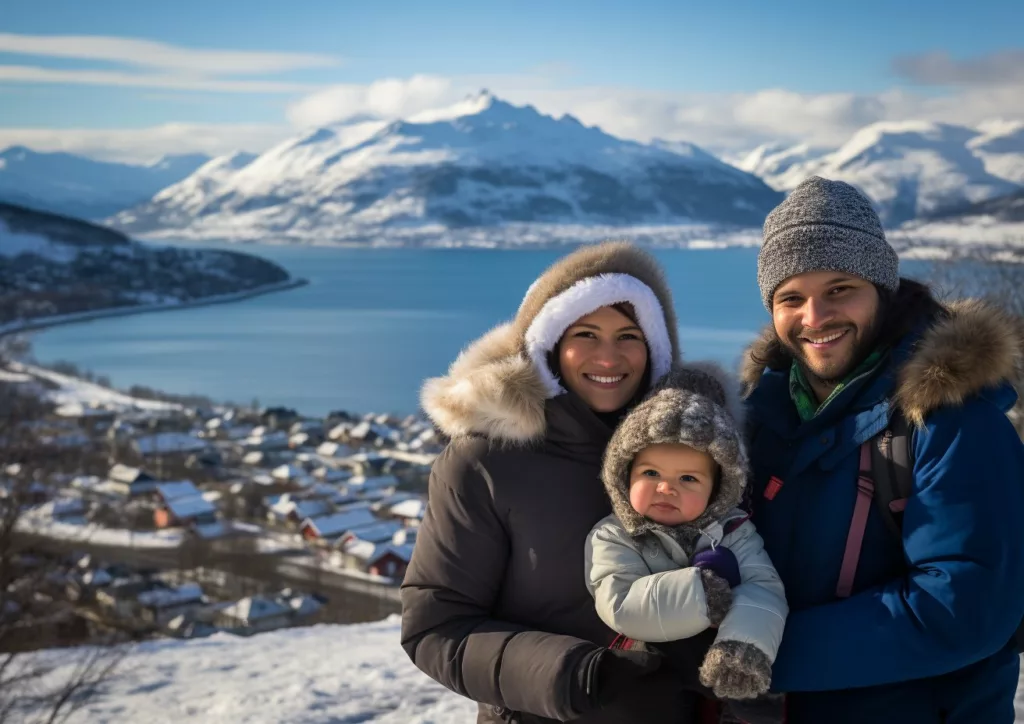 Tromsø is a very compact city, located on the island of Tromsøya. The city center is therefore easy to explore on foot. Here are the best means of transportation when visiting Tromsø with family:
On foot: This is the simplest way to explore the city center. Make sure to wear good waterproof and non-slip shoes in winter.
Bus: The bus network is convenient for reaching sites outside the city center, such as the cable car, outdoor activities, etc. There are discounts for children. Find the complete guide to public transportation in Tromsø here.
Rental car: Useful if you want to explore the surroundings of Tromsø. Reserve in advance, especially in high season. You can even rent car seats for children. Find my tips for renting a car in Tromsø here.
Taxi: Prices are relatively high, reserve occasionally, for example, to reach the airport.
To facilitate your bus travels, I recommend downloading the Troms Billett app. It's a transportation app that offers discounts on bus tickets and the cable car.
---
Where to Stay in Tromsø with Children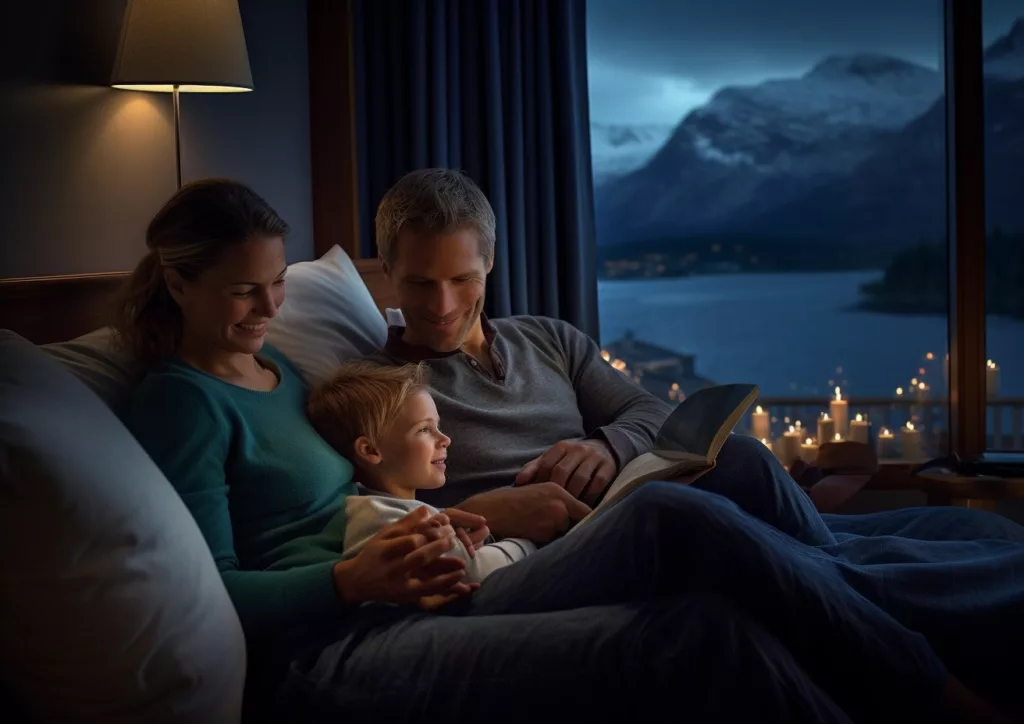 Hôtels familiaux à Tromsø
Here are some comfortable and well-located hotels with family rooms in Tromsø:
Consider booking connecting or family rooms, which are more spacious and have extra beds for children. Find my guide to the best hotels in Tromsø.
Apartments and Vacation Rentals
For a family stay, I recommend opting for apartment rentals, studios, or houses:
Airbnb :Many options in Tromsø, ideal for families looking for some space and privacy. Check out my guide to the best Airbnb in Tromsø here.
Finn : You can find vacation rentals directly on the Finn.no website, which is the Norwegian equivalent of Leboncoin. Prices are very attractive, but you will need to communicate in Norwegian or English.
Choose accommodation that is well-located, close to the city center and transportation. Ensure there is a fully equipped kitchen, a living room, and separate bedrooms for everyone to have their privacy.
---
What to Do in Tromsø with Children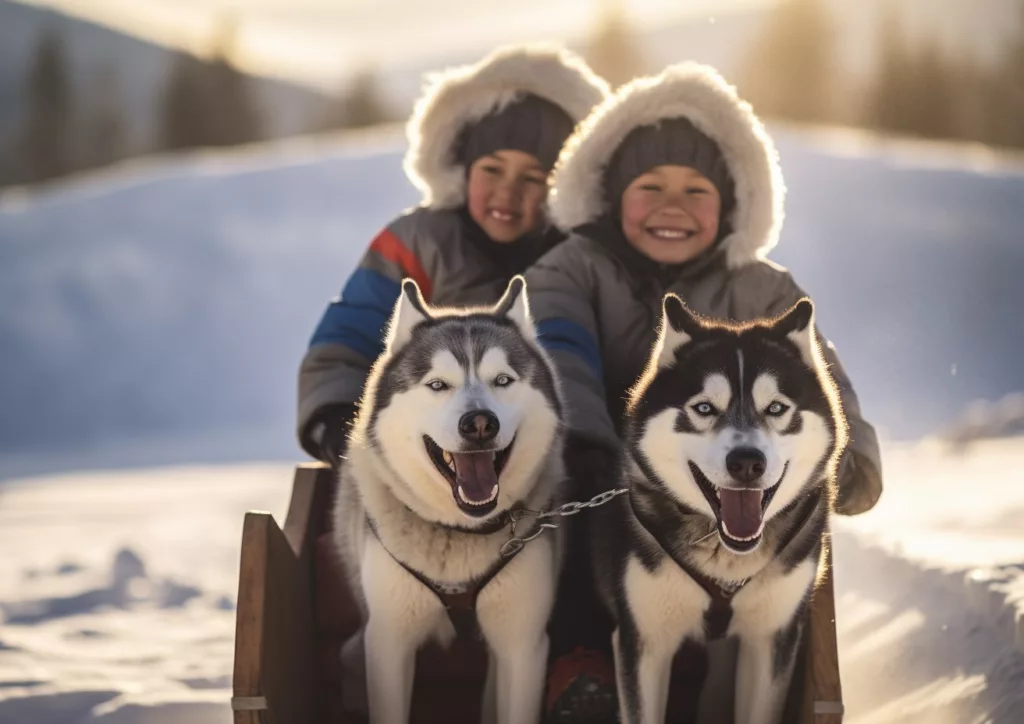 Tromsø offers a wealth of activities for the whole family. In summer and winter, both young and old will find plenty to enjoy and marvel at. Here are my recommendations for a successful visit to Tromsø with children.
Winter Activities in Tromsø for Families
In winter, adorned with their white coat, the mountains around Tromsø lend themselves to various winter activities. Here are some favorites for my children:
Dog sledding excursion: An unforgettable experience for the whole family, suitable for children aged 5-6 and above. Kids can drive their own sled pulled by huskies. Allow for a 2-hour excursion with initiation at the beginning. Many companies offer this activity, such as Tromsø Villmarkssenter.
Snowmobiling: Accessible for passengers aged 6 and above. A beautiful family adventure in the heart of snowy landscapes. Camp Tamok offers guided tours suitable for families.
Skiing: The small Tromsø Alpinpark is perfect for children, with easy slopes and a secure snow garden. Equipment rental is available on-site.
Snowshoeing excursion: An easy snowshoe hike in the snowy nature, accessible from age 5-6. Magical! Many guided tours are available, such as those by Active Tromsø.
Ice skating on a frozen lake: Rent ice skates and have family fun on the frozen Prestvannet lake, a 10-minute walk from the city center. A pure moment of pleasure!
Summer Activities in Tromsø for Families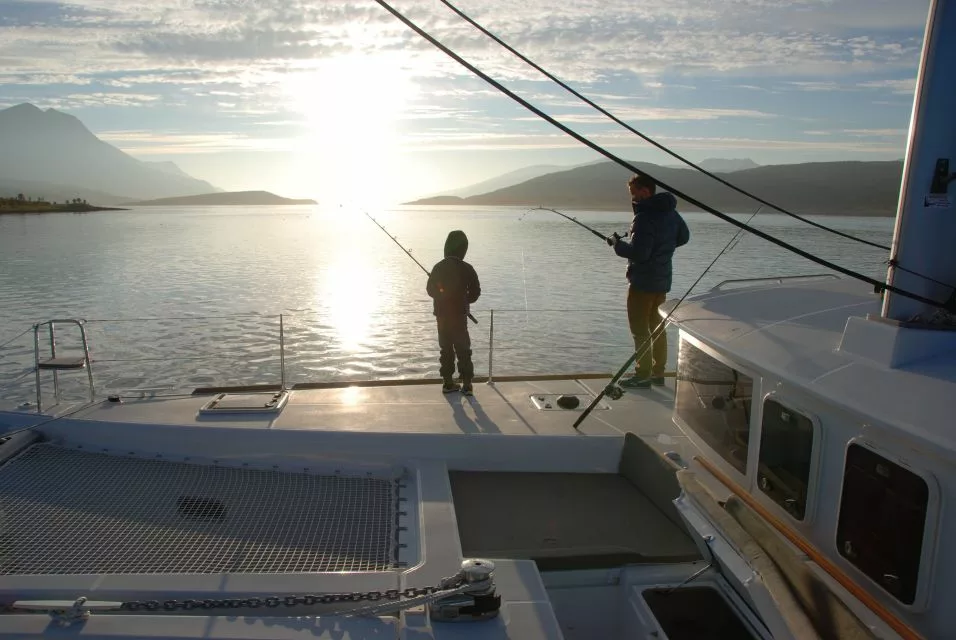 In summer, when the snow melts and gives way to green meadows, numerous outdoor activities are possible in Tromsø and its surroundings:
Cultural Visits in Tromsø for Families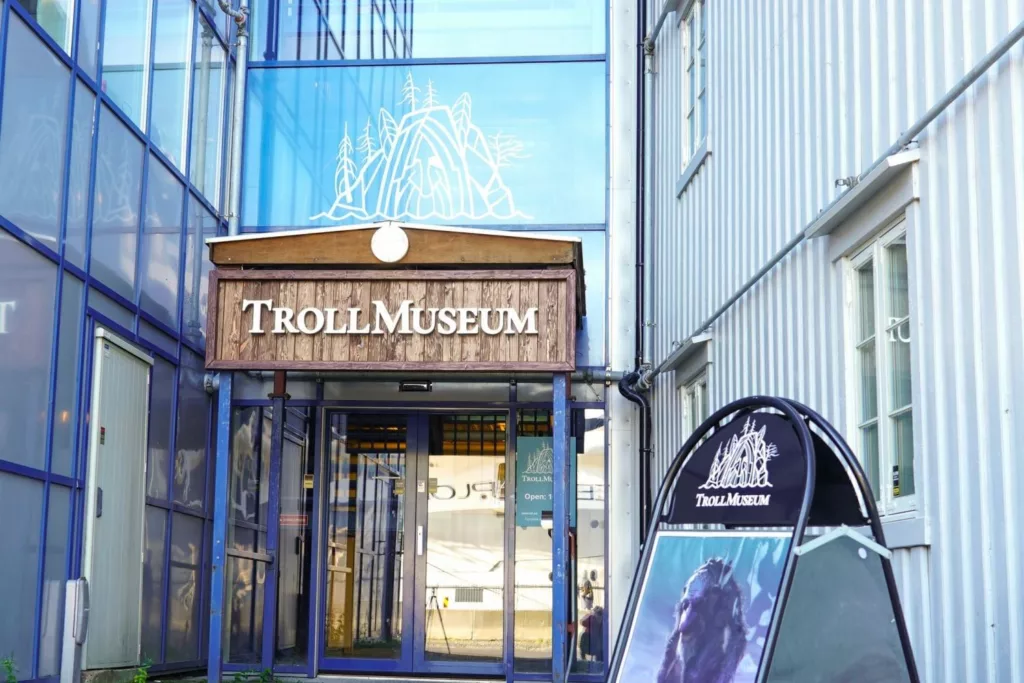 Tromsø is rich in museums and cultural sites that are exciting to explore with the family:
---
Viewing the Northern Lights as a Family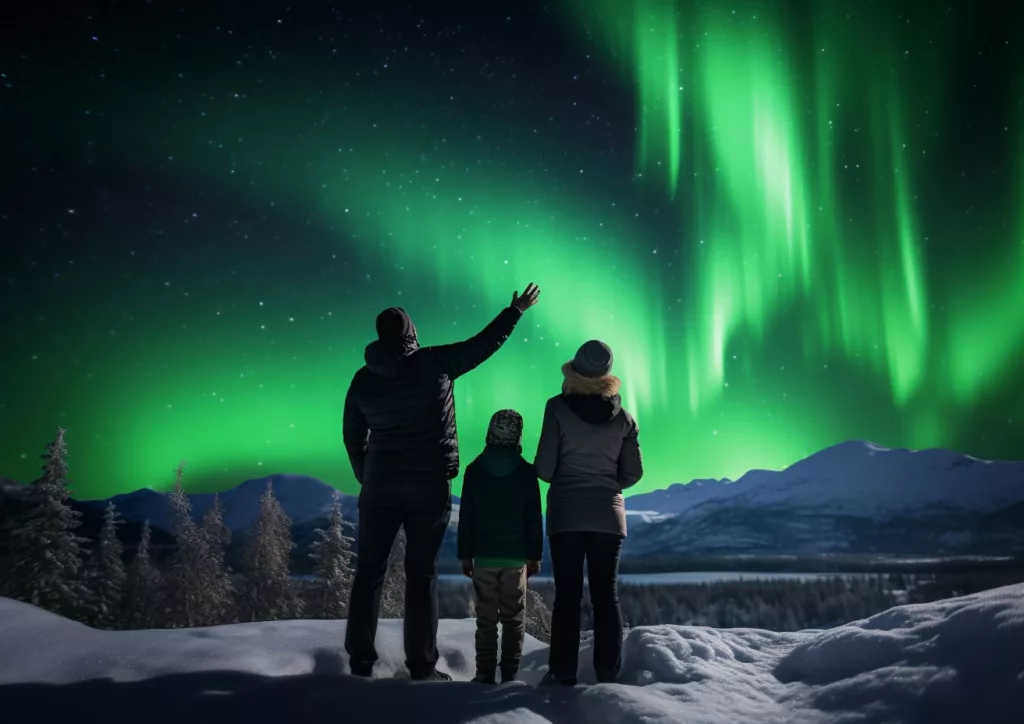 Observing the Northern Lights is a memorable experience to share with the family. Guaranteed amazement at this enchanting spectacle! To increase your chances, prefer the winter months between November and March. Choose a bus tour that takes you away from the city and light pollution.
The cold can be intense, so bundle up the children. A higher vantage point increases visibility; inquire about this. A specialized guide will provide insights into spotting the auroras. Bring activities for the bus ride: games, books, music to pass the time. If all goes well, your children will have an unforgettable memory!
Plan for 2 to 3 hours for each site, allowing time for the children to explore at their own pace.
---
Is Tromsø suitable for children?
Yes, Tromsø is a very family-friendly destination. The city is human-sized, easy to explore on foot or by bus. Many exciting outdoor activities are accessible from the age of 5-6: dog sledding, snowmobiling, whale-watching cruises, and more.
Museums like Polaria offer playful and interactive animations for the little ones. In winter, both children and parents can enjoy the pleasures of snow together. Norwegians are known to be very welcoming to children. In short, Tromsø has all the qualities of a family-friendly city!
---
Where to Eat in Tromsø with Children
Tromsø has many welcoming restaurants and cafes for families. Here are some I recommend:
Vervet Bakeri: Salads, soups, original sandwiches. Reading corners for children.
Burgr: Delicious burgers and fries. They offer a children's menu.
Casa Inferno: Family-friendly pizzeria, wood-fired pizza. Interesting lunch specials.
Maskinverkstedet: Trendy café by the water, with an outdoor terrace.
Egon: Large family-friendly restaurant, specializing in fish dishes.
Mathallen: A somewhat chic restaurant in the city center of Tromsø.
Choose restaurants that accommodate strollers and offer high chairs. Don't forget to make a dinner reservation, especially in high season. And consider packing a snack in your backpack for little hunger moments!
---
3 Itinerary Ideas in Tromsø with Children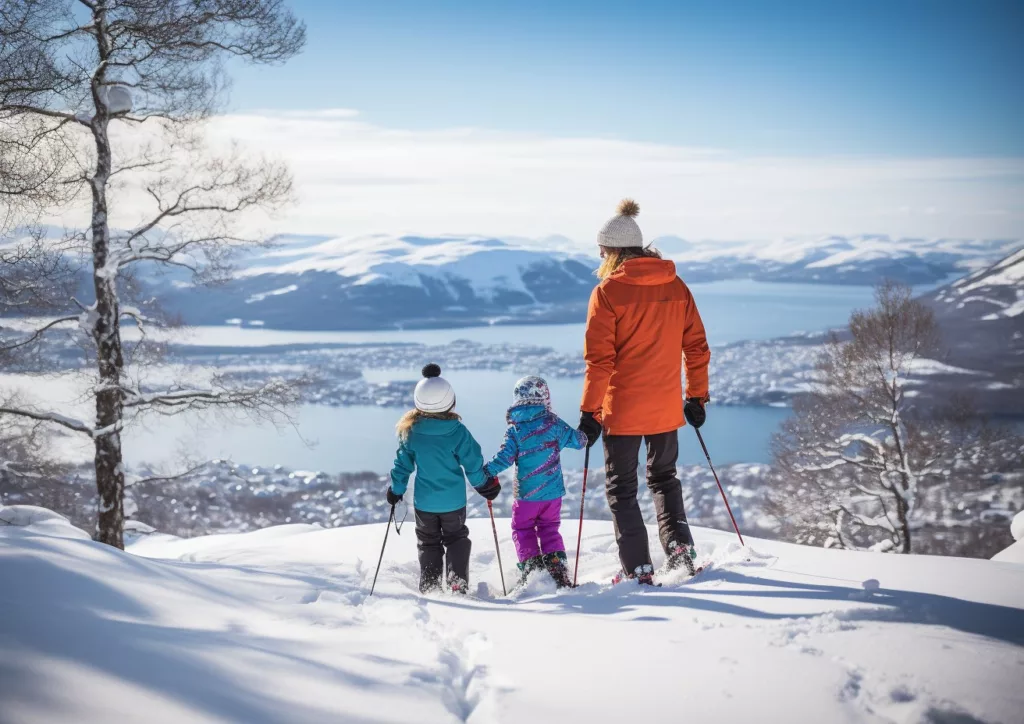 To help you plan your trip, here are three proposed itineraries for a 4-day exploration of Tromsø with your family.
Family Itinerary in Winter
Day 1: Arrive at Tromsø Airport, check-in at the hotel. Stroll in the city center. Dinner at Mathallen.
Day 2: Morning at Polaria Museum. Afternoon dog sledding excursion. Burger dinner at Burgr. Northern Lights observation (if the sky is clear).
Day 3: Skiing day at Tromsø Alpinpark. Pizza dinner at Casa Inferno. Another attempt at observing the Northern Lights.
Day 4: Morning shopping and city walk. Afternoon family snowmobiling with Camp Tamok. Dinner at Egon restaurant and overnight at the hotel.
Family Itinerary in Summer
Day 1: Arrive in Tromsø, visit the Troll Museum. Dinner at Maskinverkstedet café.
Day 2: Full-day hike to Fløya with the Fjellheisen cable car ascent. Picnic in nature. Evening relaxation at the hotel.
Day 3: Morning visit to the Arctic Cathedral and city walk. Afternoon with reindeer and the Sami. Dinner at Egon.
Day 4: Kayak rental and a short expedition to a nearby island. Picnic lunch on the island. Return and relaxation in Tromsø. Dinner at Mathallen.
Short 2-Day Itinerary
Day 1: Arrive in Tromsø. Visit Polaria Museum and lunch on-site. Afternoon city stroll. Dinner at Ball & Chain. Northern Lights observation (in winter).
Day 2: Morning at the Troll Museum. Afternoon dog sledding or whale-watching cruise. Dinner and overnight in Tromsø before departure.
These itineraries are flexible based on the season, weather, and your preferences. Feel free to mix outdoor activities and cultural visits for a comprehensive discovery of Tromsø.
---
Budget for a Family Trip to Tromsø (2 Adults and 2 Children)
On average, consider:
Round-trip flight Paris-Tromsø: €1500 for 4
Accommodation 7 nights – Airbnb-type apartment rental: €1000
Activities: €1000 (dog sledding, snowmobiling, whale-watching cruise, museums…)
Dining: €700
Car rental 7 days: €500
Total budget: Approximately €4750 for 2 adults and 2 children for 7 days on-site.
Note: Plan for appropriate warm clothing, which may represent a certain budget. And book well in advance to benefit from the best rates on flights and activities.
---
Posters to Remind You of Your Stay in Tromsø
---
5 Practical Tips for Visiting Tromsø with Family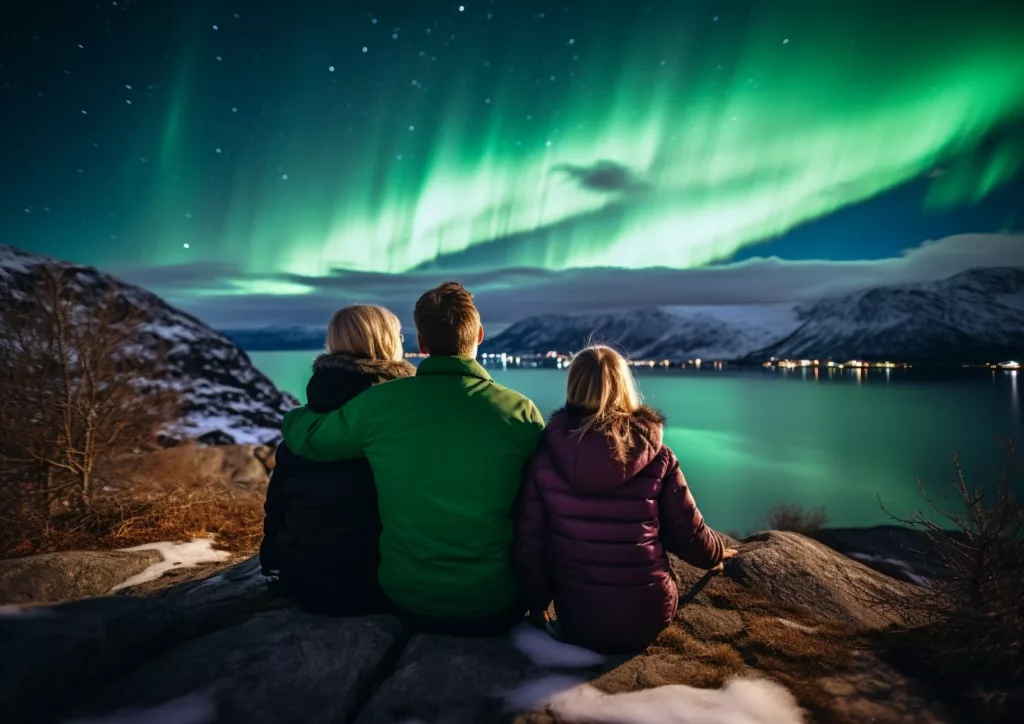 To conclude this guide, here are my best tips to ensure your family stay in Tromsø goes perfectly:
Prepare warm, waterproof, and wind-resistant clothing, especially in winter. Ensure children are well-covered to enjoy activities.
Opt for apartment rental rather than a hotel for more space and family privacy.
Rent a car for a few days to be more flexible in accessing sites around Tromsø.
Book excursions and restaurants in advance, as Tromsø is highly touristy.
Plan indoor activities in case of bad weather: museums, swimming pool, cinema, etc.
And don't forget the essentials: curiosity and a positive attitude! Tromsø is a family-friendly, welcoming, and easy-to-explore city.
---
Why is it a good idea to travel to Tromsø with family?
romsø is a destination that will appeal to both parents and children. The entire family can marvel at the spectacular landscapes iconic of the Arctic. The numerous outdoor activities provide an excellent opportunity to share special moments and create lasting memories.
In winter, sledding with dogs or snowmobiling, then observing the Northern Lights in the evening: magical experiences to be lived as a family! In summer, hiking and sailing together in the heart of the magnificent nature… A chance to strengthen bonds!
---
Conclusion — Family Trip to Tromsø
In conclusion, Tromsø is an ideal destination for an active and enchanting family trip, with its postcard-worthy scenery and numerous activities. Both young and old will leave with heads full of exceptional memories. You will experience special moments together, in connection with nature. Tromsø is enjoyable both in winter and summer. So, don't hesitate any longer and embark on a family adventure to discover this preserved corner of the Arctic!
Q&A — Family Trip in Tromsø
At what age can children go dog sledding?
From 5-6 years old, holding the reins in front of them.
Can you easily get around on foot in Tromsø?
Yes, the center is very compact. Bring good shoes!
Are there parks or playgrounds for children?
Yes, several, like Alfheim Park near the Arctic Cathedral.
Are the museums suitable for children?
Absolutely, with playful and interactive exhibits. The most well-known is the Polaria Museum.
Can you observe whales with young children?
Yes, it's possible from 5-6 years old. Choose a comfortable cruise.
Article mis à jours le 17 November 2023 par Pierre Bouyer