Santorini is clearly one of the dream destinations in the Greek islands. And what better way to make it an unforgettable adventure than a jet ski tour? I had the opportunity to take the best jet ski tour in Santorini on my last trip, and I want to share it with you along with my top tips!
Undoubtedly, the best way to explore the Cyclades is with a quad, but jet skiing is one of those activities you want to do every day, especially when it allows you to discover the volcanoes and hidden beaches of a Greek island.
Throughout this article, I will introduce you to the best jet ski tour in Santorini and the three itinerary options offered by the guides, including the jet ski tour to the island's volcanoes.
---
Jet ski in Santorini in Video
---
Is it worth it to go jet skiing in Santorini?
Without a doubt: YES. When you travel to fairly touristy destinations, offers for jet ski tours are quite common. However, I must admit that in Santorini, it's exceptional.
Having the opportunity to go jet skiing in Santorini, often considered one of the most beautiful islands on the planet with its blue waters and marine life, is an opportunity not to be missed. This jet ski ride, besides being an adrenaline rush, allows you to see the island from a different perspective. Plus, it enables you to reach places that are inaccessible by car or quad.
Although a jet ski excursion in Santorini can be a bit pricey, it will undoubtedly leave you with one of your most memorable travel experiences. For me, it's a must-do on your trip to Santorini.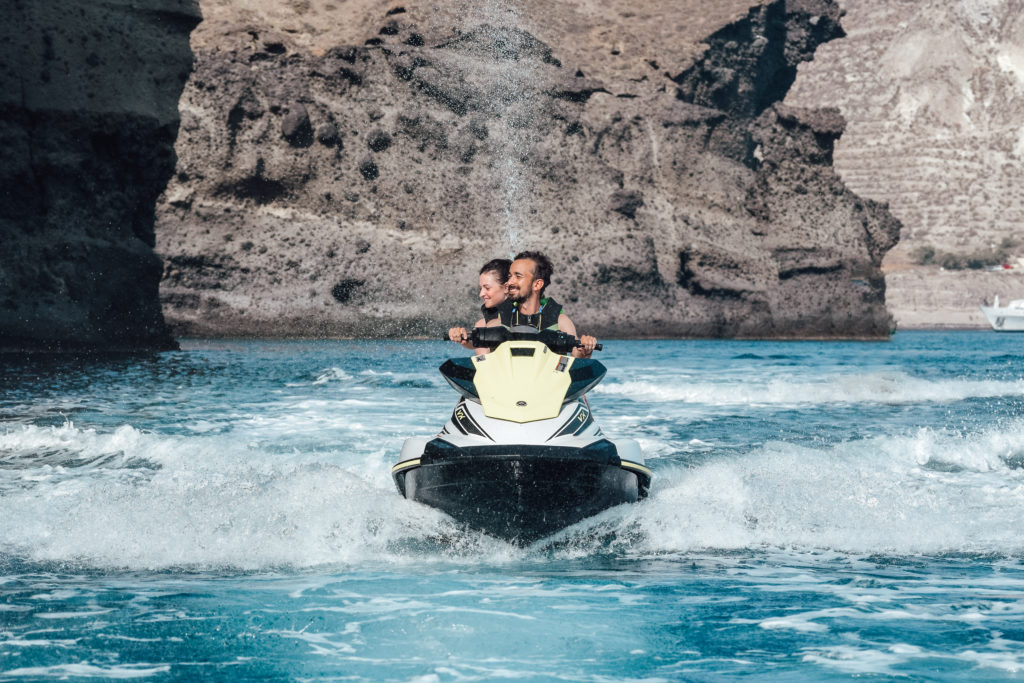 ---
Why go jet skiing in Santorini?
Jet skiing in Santorini is an experience not to be missed. It's the ideal way to discover secluded coves and secret beaches that are otherwise inaccessible. Jet skis allow you to cruise along the island's impressive cliffs and have a bird's-eye view of the caldera. There's nothing quite like the feeling of freedom and speed in the midst of the azure waters of the Aegean Sea!
On a jet ski, you can access isolated coves like Vlychada or Mesa Pigadia and discover remote beaches with crystal-clear waters like Red Beach or White Beach, with ideal conditions for snorkeling. You'll even be able to reach areas typically reserved for boats, offering a truly unique experience!
In short, jet skiing in Santorini is the ultimate activity to explore the island from a new perspective and to experience some thrilling sensations. In this article, I will share my experience and tips for fully enjoying it.
---
Wave Sport, the best place for jet skiing in Santorini
After doing some research, I chose Wave Sport for my jet ski tour, and I absolutely don't regret my choice! This company is truly professional and offers a sensational tour.
Their guides are experienced and ensure your safety while allowing you to fully enjoy the experience. They offer three circuits of increasing difficulty to satisfy all levels.
I chose the 90-minute circuit to the southern beaches. Our guide, Peter, accompanied us with passion and good humor. A photographer on a Zodiac captured our best moments!
In short, I recommend Wave Sport 100% for an unforgettable jet skiing experience in Santorini. Their prices are fair, and they provide premium service. It's by far the best activity I did on the island!
They offer various activities such as parasailing, flyboarding, etc., but we will focus solely on the activity I was able to try: jet skiing.
The Different Circuits Offered
Wave Sport offers 3 jet ski circuits of increasing difficulty:
South Coast (90 minutes): Covers the southern beaches like Vlychada, Red Beach, and White Beach. Perfect for first-timers!
Volcano Tour (140 minutes): Takes you to the volcano and hot springs. Guaranteed thrills on this more challenging route!
Grand Tour (200 minutes): The complete island tour includes a visit to the volcano, Oia, the caldera, and more. A must for jet ski pros!
Prices range from €350 to €600 depending on the circuit. You can share a jet ski with a partner and save 50%.

The departure point is from their annex on Perivolos Beach, south of Santorini. It takes approximately 40 minutes from Oia or 20 minutes from Fira. There's no problem with parking your quad or car nearby.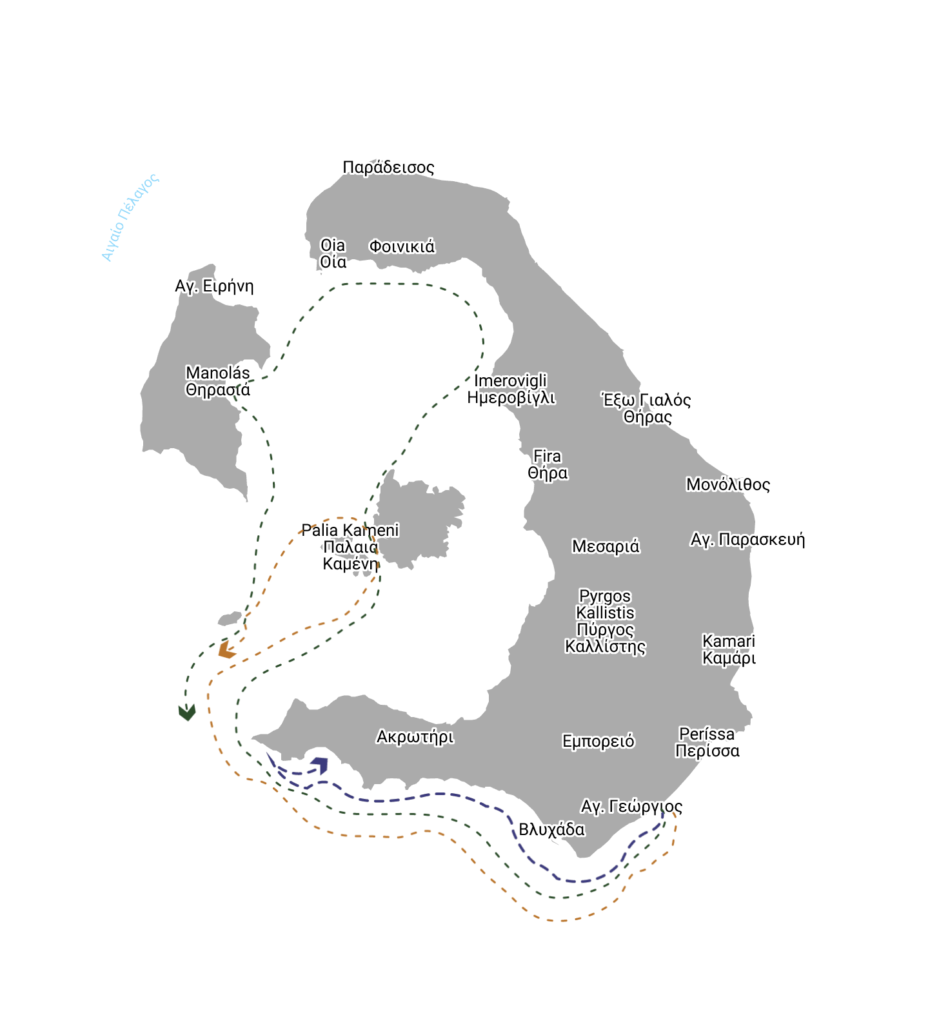 In our case, we chose the first 90-minute tour for €350.
Please note that the price is per jet ski, not per person. So, you can share a jet ski with two people and only pay half, which is €150 per person.
There's no issue with changing the driver during the various stops offered during the excursion.
It's also possible to get a €40 discount if you pay in cash upon your arrival at the water sports base.
The tours are conducted in small groups. We did it at the end of June 2021 during the peak tourist season, and there were only two jet skis for this session. Of course, a guide accompanies you from their boat.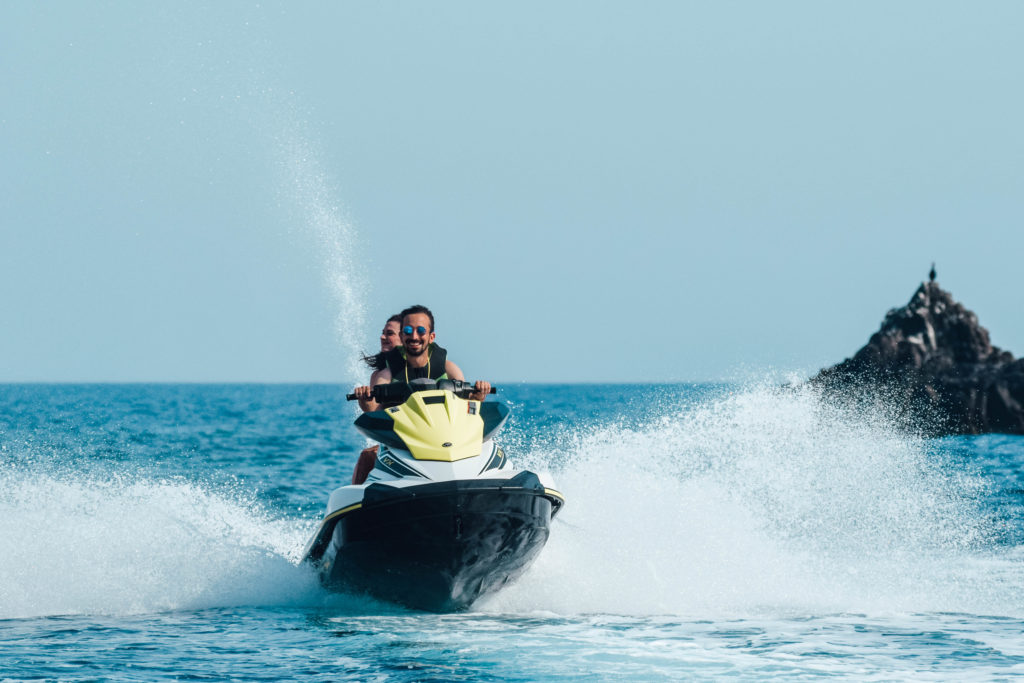 A Unique Jet Ski Experience
During our jet ski tour, we were accompanied by the guide Peter. Big shout-out to him because he was really cool. There was also a photographer on his boat who snapped pictures of us throughout the 90 minutes. The photos turned out great, although they were a bit pricey (25 euros).
Getting the hang of the jet ski is very easy; everything is well explained by the instructor. The main rule is simple: always follow the guide's boat and don't stray into the open sea.
The different stops follow one another along the various beaches of Santorini. I particularly liked the water off White Beach, which was exceptionally clear. They give us about 10 minutes to swim and snorkel at this stop, and they provide masks for those who want to snorkel!
The 90 minutes pass by quickly, and it's with a heavy heart that we make our way back after passing the Akrotiri lighthouse.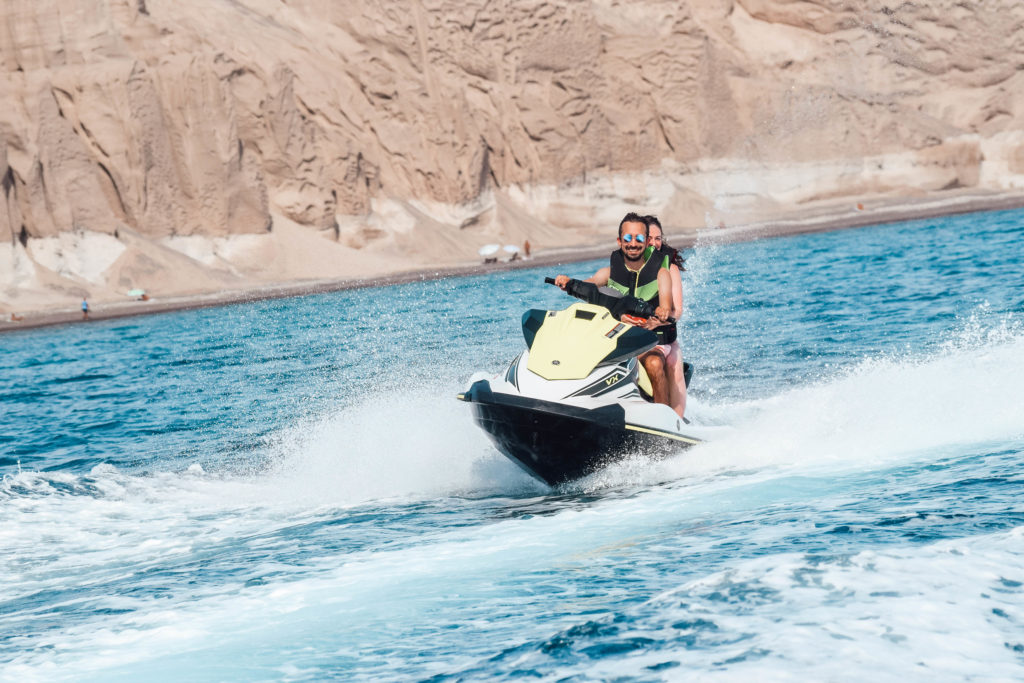 And to Finish the Tour on a High Note
Once you're back at the water sports base, the experience isn't over yet. You can change and purchase the photos taken by the photographer during the tour. Plus, they offer you a free drink per person and a sunbed at the nearby bar. It's the perfect way to wrap up the day.
---
Q&A — Jet Skiing in Santorini
Jet skiing in Santorini is an unforgettable experience, but if it's your first time, you might have some questions. Here are the answers to frequently asked questions:
Do I need experience to ride a jet ski?
No, prior riding experience is not required. The guides at Wave Sport will provide you with all the instructions you need for your safety and to fully enjoy the excursion.
They'll begin with an initiation on the beach to familiarize you with the jet ski controls. Before heading out to the sea, they'll do a warm-up ride to ensure you're comfortable with the machine. You'll learn how to accelerate, brake, turn, and even do small jumps if you wish! Their expertise ensures that even novices feel at ease quickly.
Is it suitable for children?
Yes, this activity is accessible for children as young as 6 years old. Younger participants must be accompanied by an adult on the same jet ski.
The adult operates the jet ski, and the child can sit in front of or behind them on the seat. Of course, children are provided with appropriately sized life jackets. The guides ensure that the speed and trajectories are compatible with the presence of children.
It's a fantastic experience to share with the family! Speed sensations are guaranteed in a safe environment. A great way to create memorable moments.
Can you jump off the jet ski?
No, jumping off the jet ski is prohibited for safety reasons. However, it's possible to stop and swim at certain locations.
Is there a minimum age for operating a jet ski?
Yes, you must be at least 18 years old and have a boating license or a driver's license.
What should I do in case of bad weather?
Excursions are canceled in the event of bad weather conditions. You will be refunded or given the option to reschedule your reservation.
---
What to Wear for Jet Skiing
To comfortably enjoy your jet ski tour, here's the appropriate attire:
Swimsuit or swim shorts for men. Opt for close-fitting clothing that won't hinder your movements. Bikinis are not recommended for women, as they can come off with splashes.
Sunglasses with a strap. They will protect your eyes from splashes while allowing you to admire the scenery. Choose wraparound models to prevent them from flying off!
Waterproof sunscreen. Apply it generously; the sun's reflection on the water can be intense. Choose a waterproof sunscreen that will resist water.
Cap or hat to protect your face and neck from sunburn.
Non-slip sandals to avoid slipping on the boat's deck.
Avoid wearing jewelry and accessories that could be lost in the water. If needed, wetsuits are provided by Wave Sport. They will protect you from splashes and spray.
---
In conclusion
I wholeheartedly recommend jet skiing on your next trip to Santorini. It's true that it can be a bit expensive, but it's an activity you won't regret. Between the thrills, the breathtaking landscapes, and the myriad shades of blue in the water, it's a unique experience.
We absolutely loved doing it with Wave Sport, and it's with immense pleasure that we'll return there on our next trip to Santorini.
Article mis à jours le 28 August 2023 par Pierre Bouyer