Summer vacations are beginning to loom on the horizon, and it's high time to start booking your stay. What if this year you decided to reward yourself after a long and challenging year with a dream luxury hotel in Santorini? After all, it's the Cyclades. So, indulge in a bit of extravagance and let yourself sink into an oasis of chic Mediterranean hospitality while sipping a glass of Ouzo by the pool.
There are literally thousands of hotels and Airbnbs in Santorini, each more idyllic than the next. But allow me to introduce you to this small selection of the most desirable hotels. Perhaps you'll consider booking a room in one of these luxury hotels in Santorini?
Mystique Hôtel – Oia — Luxury Hotels in Santorini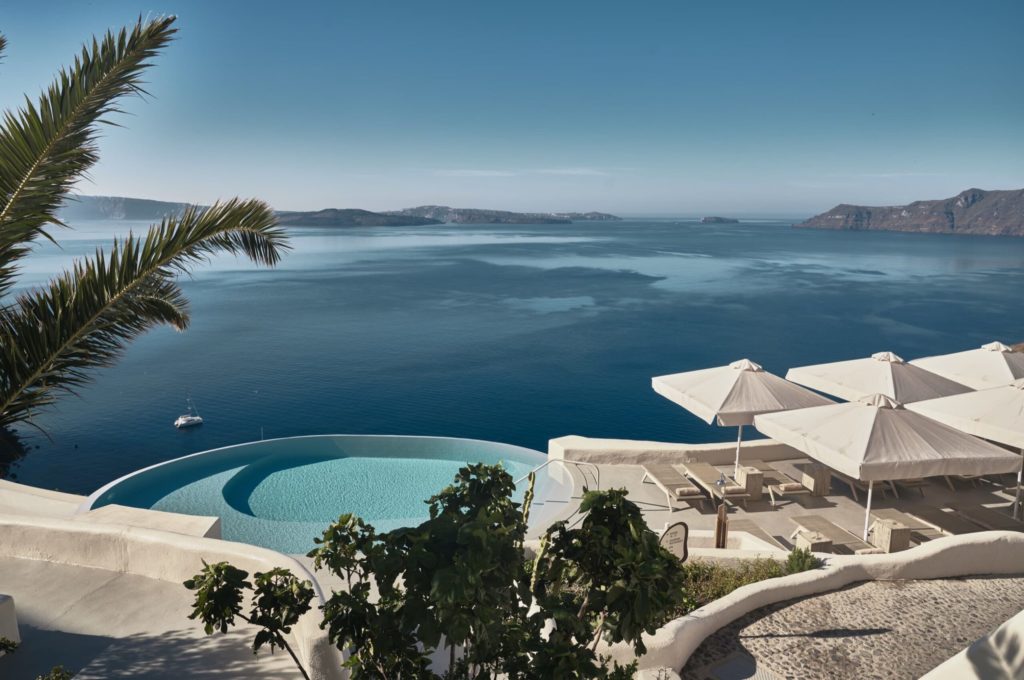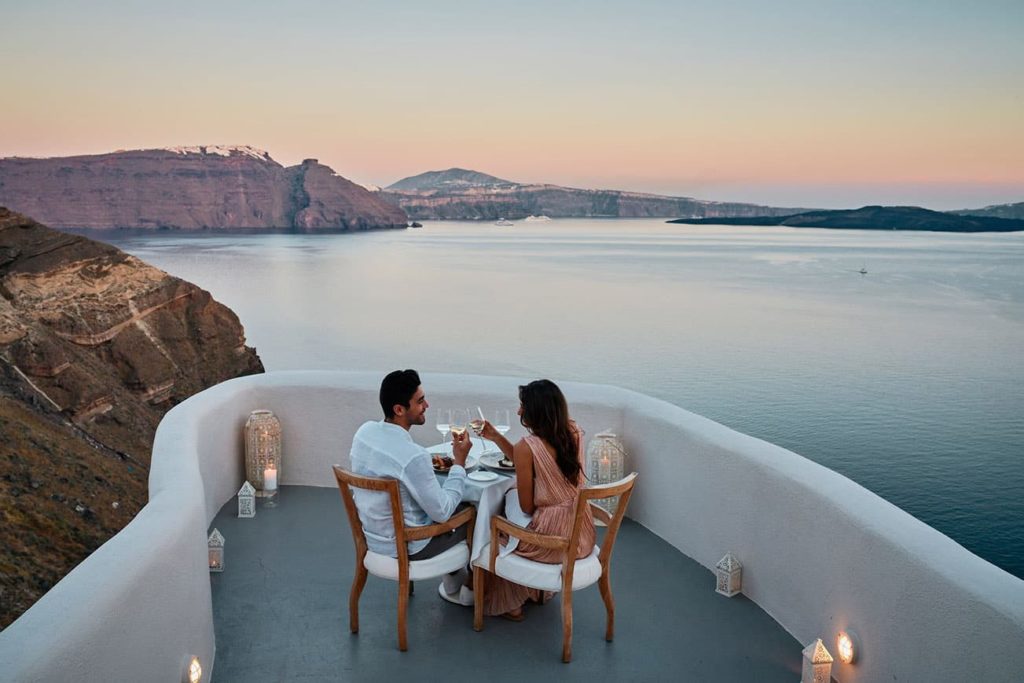 Mystique Hotel offers breathtaking views of the Caldera that can make anyone swoon. This luxurious Santorini complex offers one of the best sea views. The crystal-clear blue waters of the Aegean Sea below reflect off the white architecture of the villa and caves. The hotel boasts two restaurants and a cocktail bar, but the real treat is in the wine cellar where you can taste some of the finest local wines.
Inside the hotel, you can stay in one of the 40 suites and villas, all connected by a footpath for direct access to the pool. Of course, all accommodations offer sea views, spacious rooms, and an outdoor balcony. Perfect for relaxing in the evening with a glass of champagne to cool off. If you want an even more special stay, you can book the Secrecy Villa, which includes a private fitness room and its own pool.
The hotel can also be a great starting point for the beautiful hike from Oia to Fira.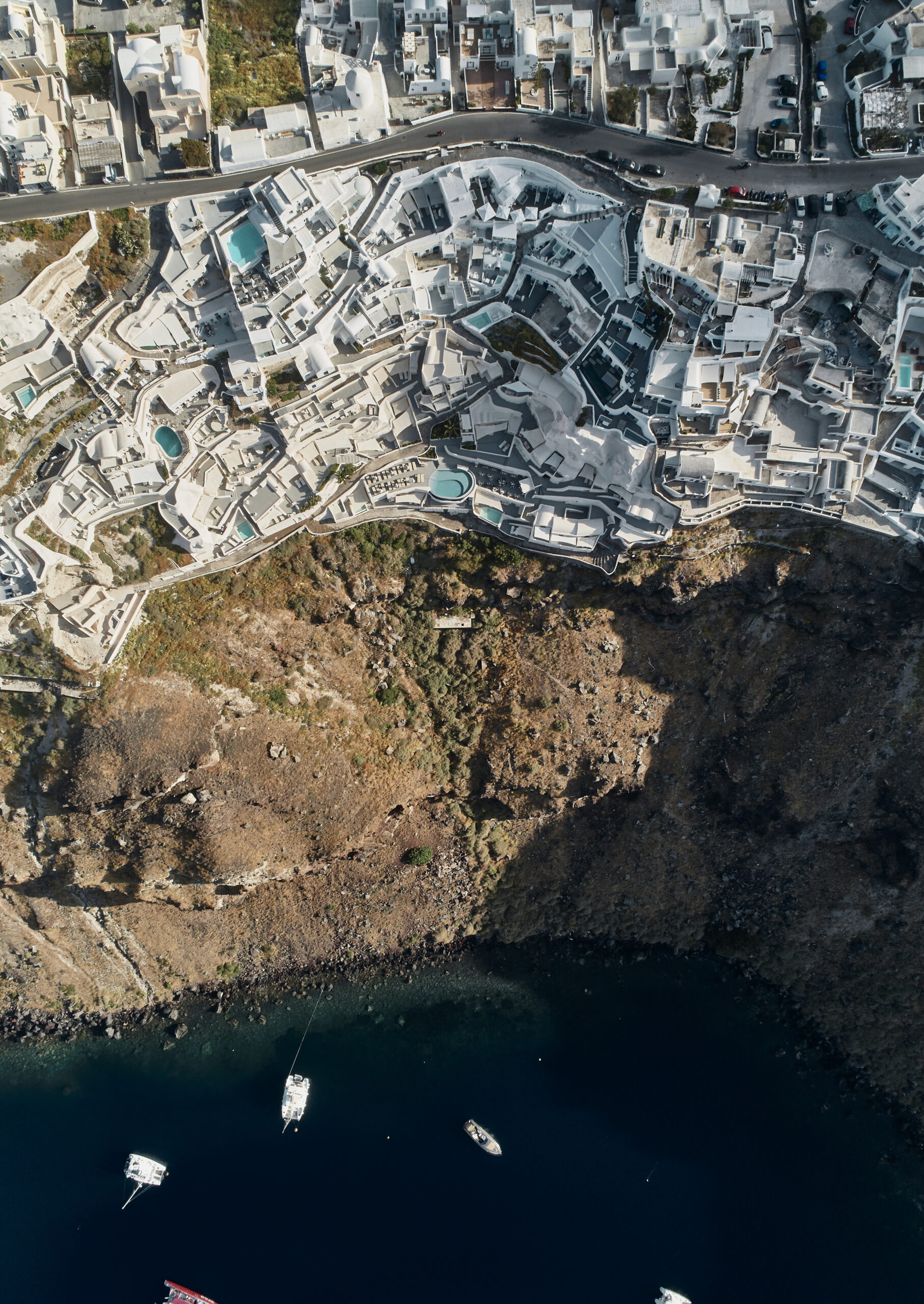 Andronis Luxury Suites – Oia — Luxury Hotels in Santorini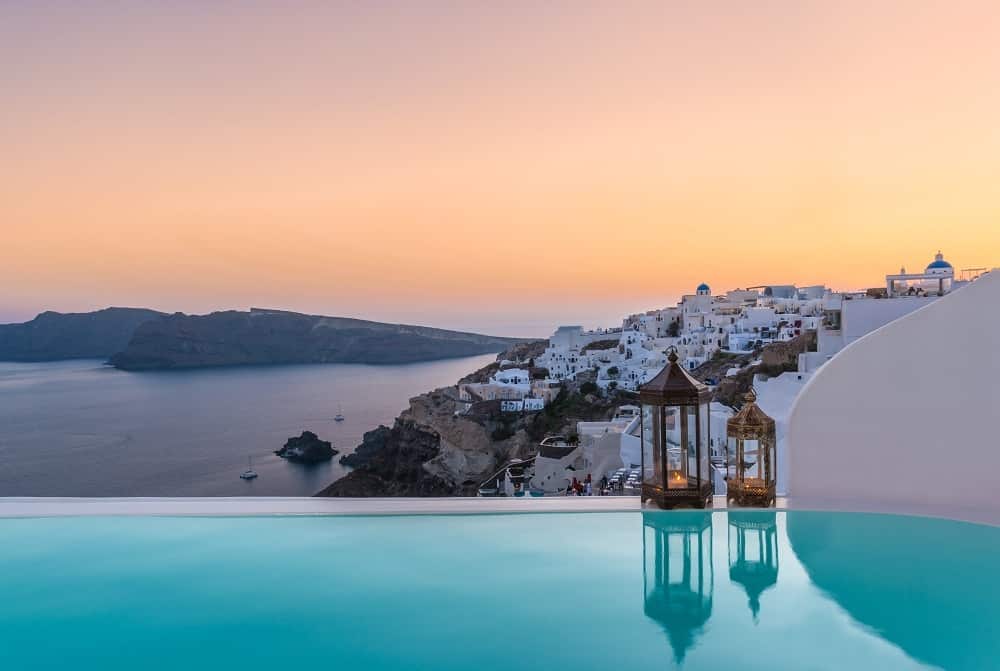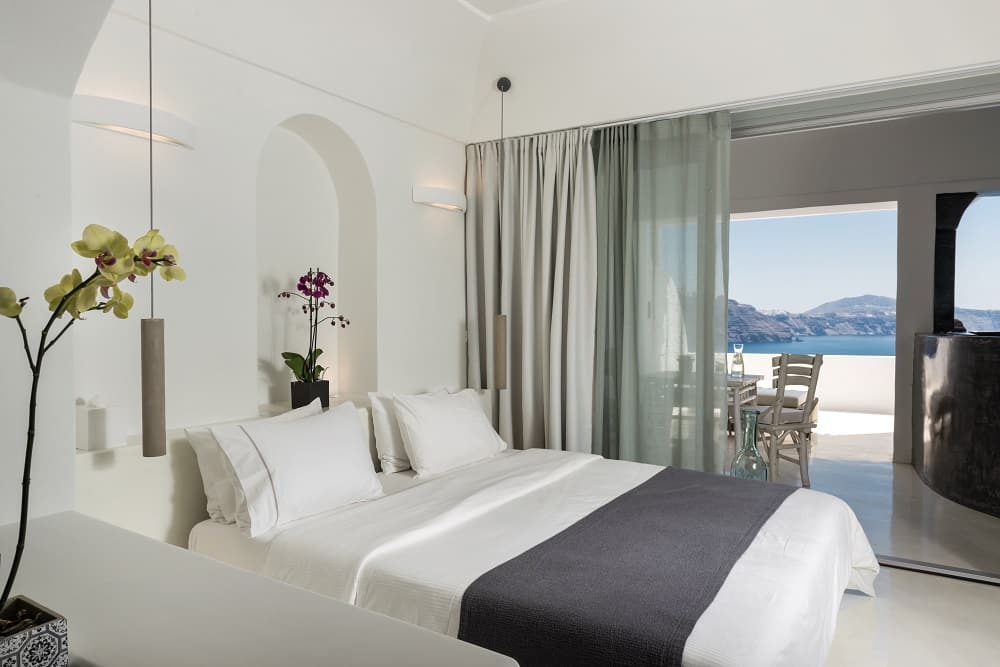 If you're looking to retreat into the comfort of your own private suite with breathtaking views of the turquoise sea and your own cave pool, this is the hotel for you. Head to one of the 29 suites at Andronis Luxury Suites villa. Built in the traditional whitewashed architectural style, these suites exude pure luxury. Plus, it's an incredible spot for sunsets.
The complex has everything you need for an exceptional Santorini vacation. Schedule a morning spa appointment, then lounge by the pool to soak up the Greek sun in the afternoon. Then dine at Lycabettus. World-renowned, it's one of the most beautiful restaurants in the world to watch the sun slide over the Caldera.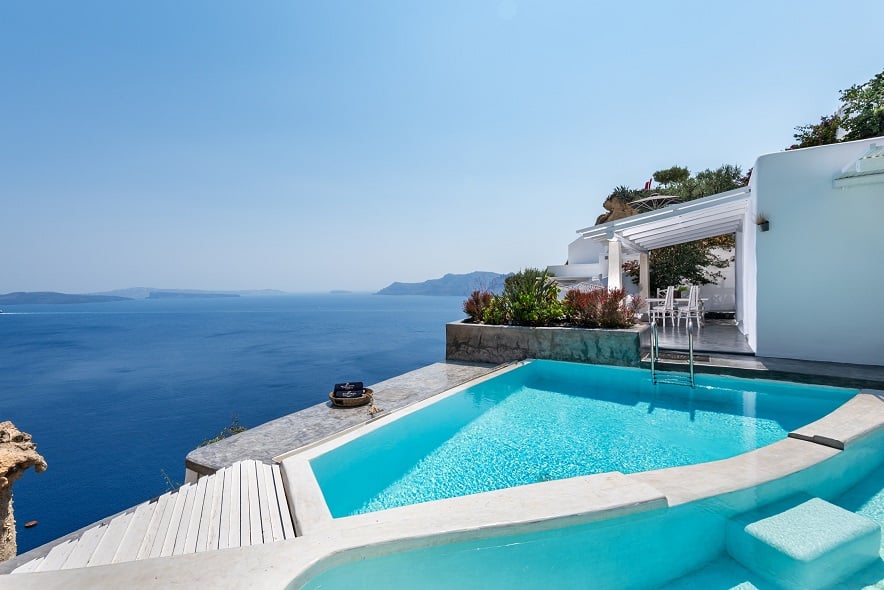 Périvlas – Oia — Luxury Hotels in Santorini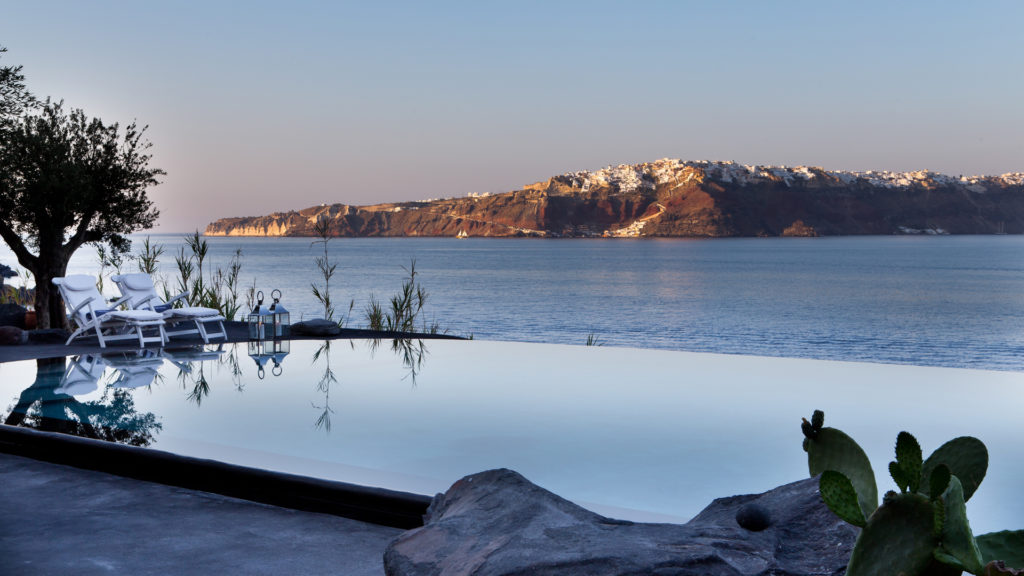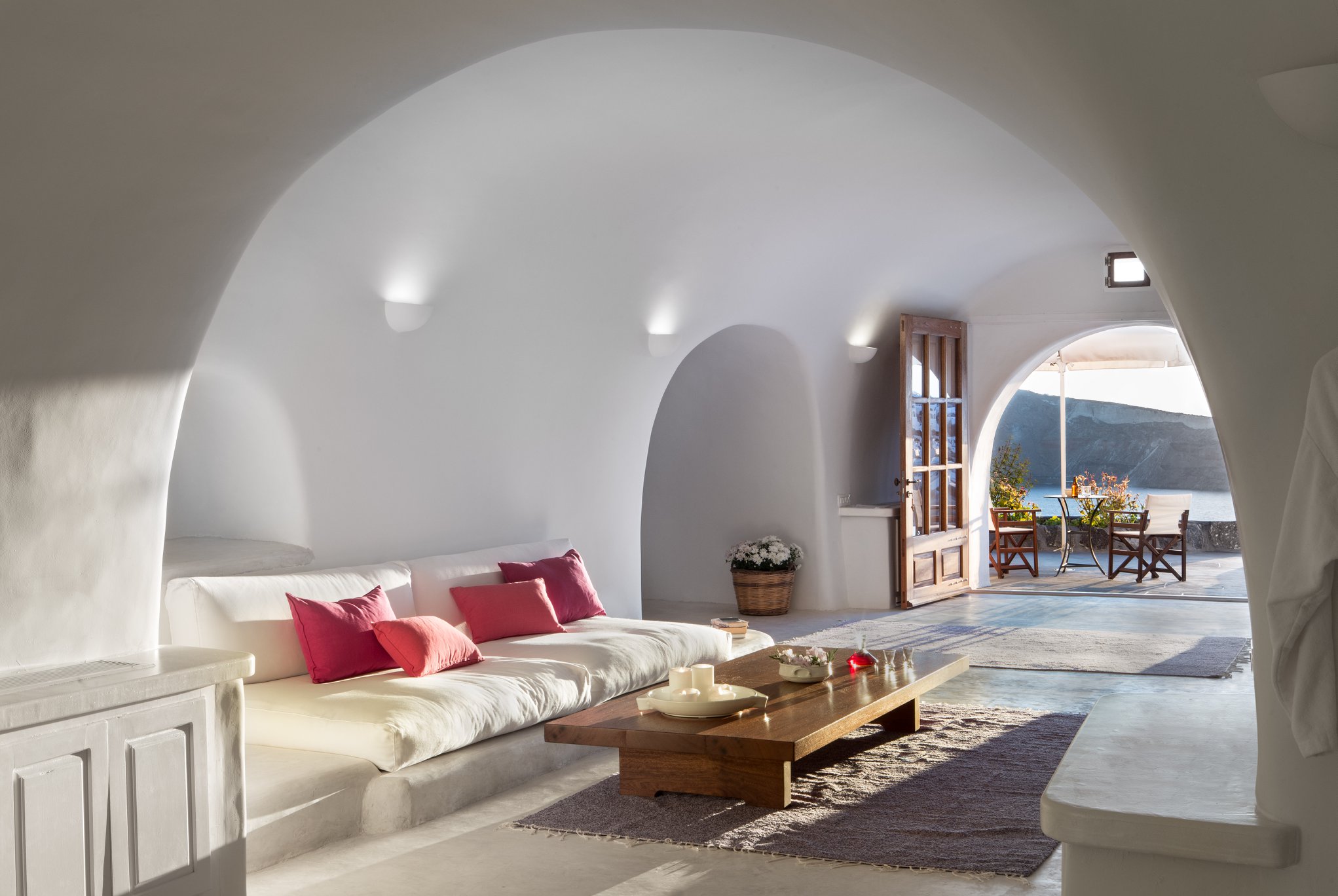 Prefer to immerse yourself in Santorini's historic side? Good idea! Périvolas embraces its roots, having transformed 300-year-old caves that were once fishermen's houses into a luxurious hotel complex with 20 suites. Here, you'll have a comfortable and peaceful stay with all the modern luxury you'd expect to find in Santorini (yes, that includes a Caldera view and an infinity pool).
Relaxed and secluded, Périvolas is perched on a cliff, far from the massive cruise ships that could spoil your stay. Here, you'll avoid the crowds and enjoy your own oasis of well-being. Stroll through the gardens around the infinity pool to reach that much-sought-after serenity. And, like everywhere else, when you want more action, you can stop by the hotel's front desk to book any activity, such as a boat trip or a visit to another island.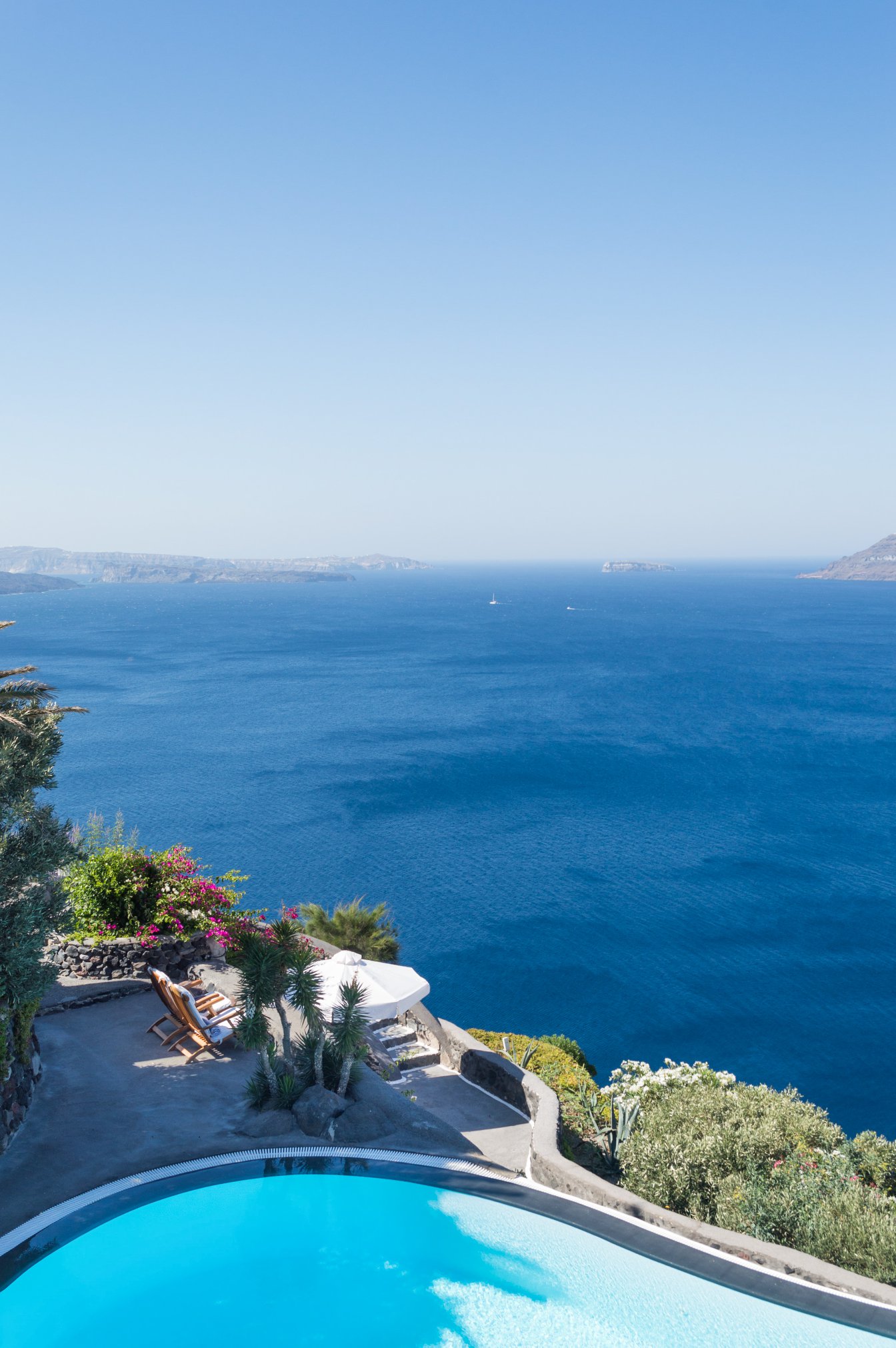 Katikies Santorini – Oia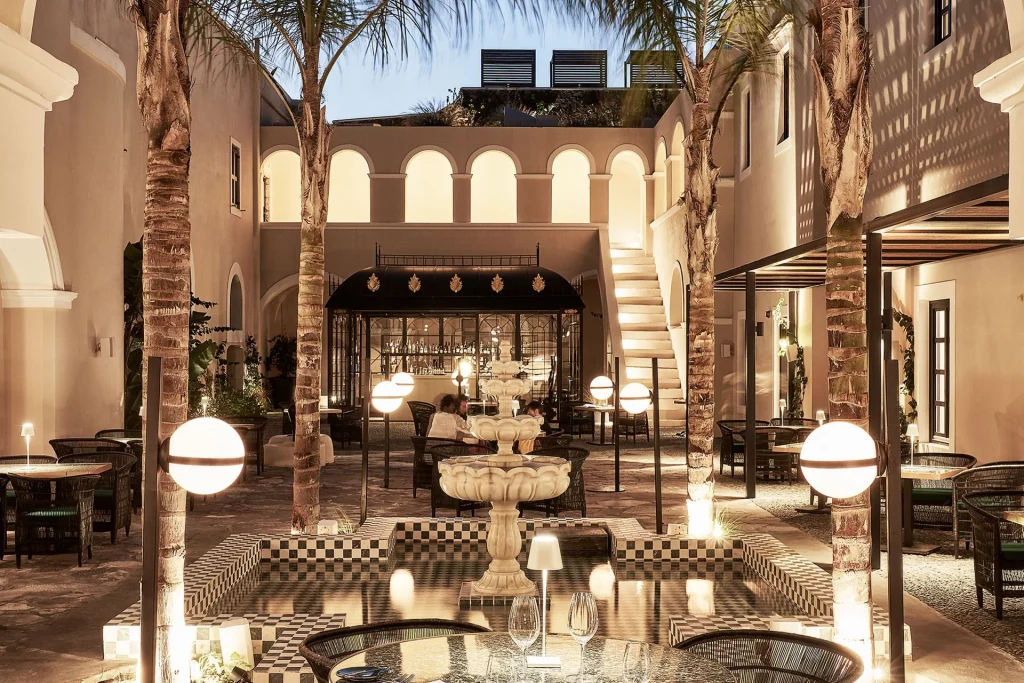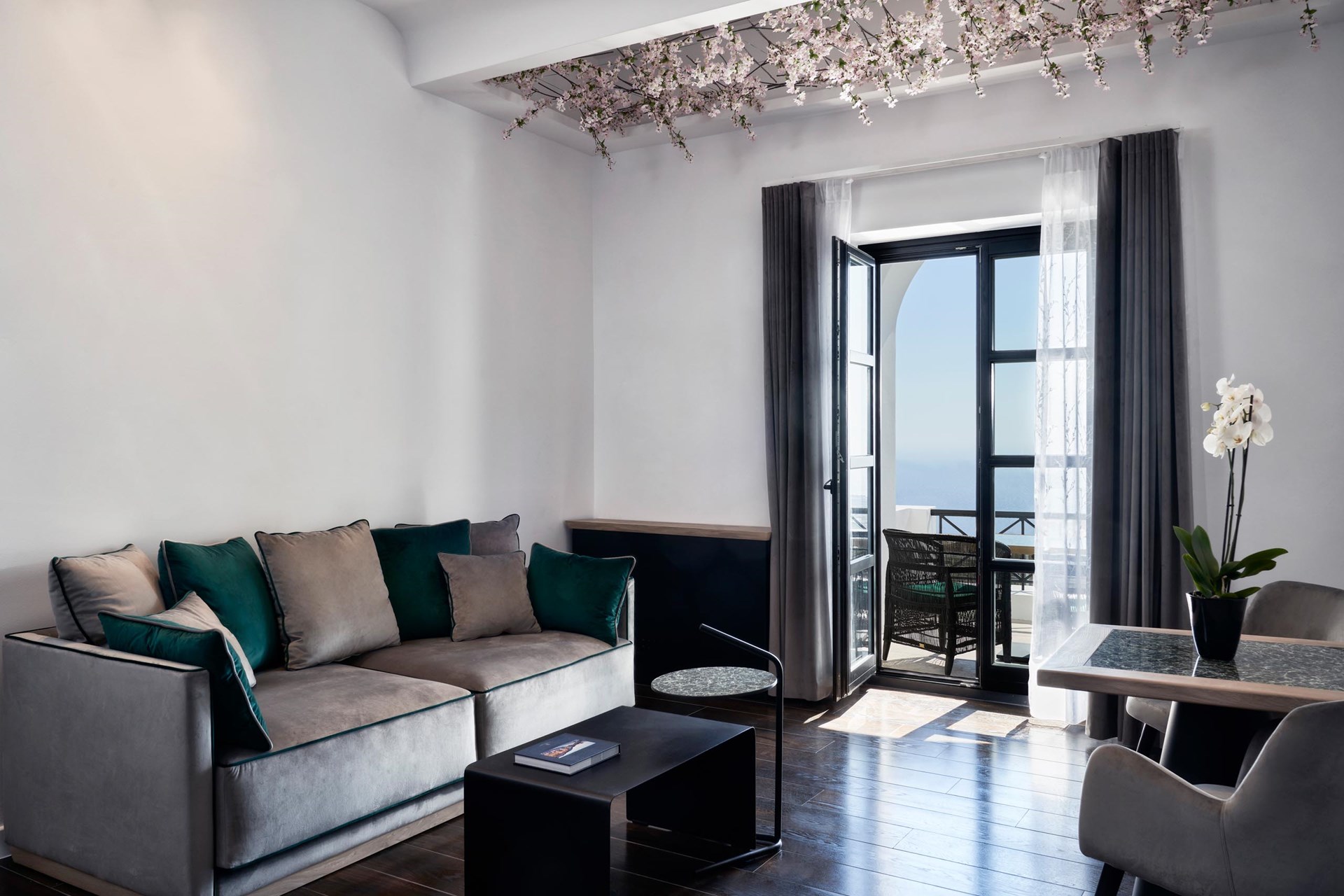 Katikies Santorini is quite simply a legendary luxury hotel in Oia, Santorini. Inspired by deep emotions, enchantment, and people's fascination with Santorini, Katikies is renowned for its unmatched services, warm atmosphere, and extraordinary romance. Awaken your senses in this exceptional, intimate, and world-class hotel. Its unique architecture and discretion make it a must-visit on the island.
The luxury suites are delicately furnished and offer stunning views of the entire caldera. And the pools are undoubtedly the best way to end your day, while admiring an unparalleled sunset.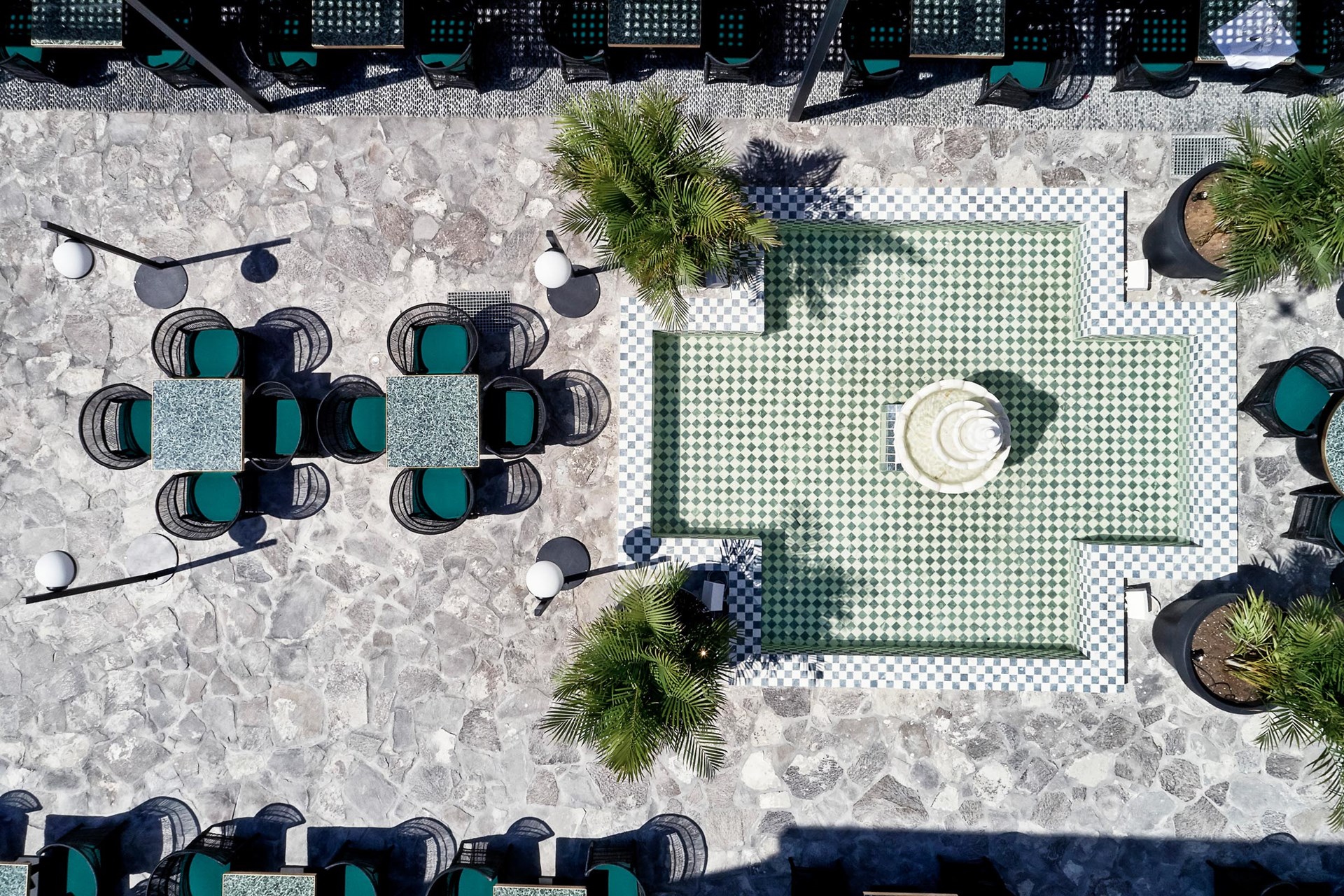 Villa Bordeaux – Fira — Luxury Hotels in Santorini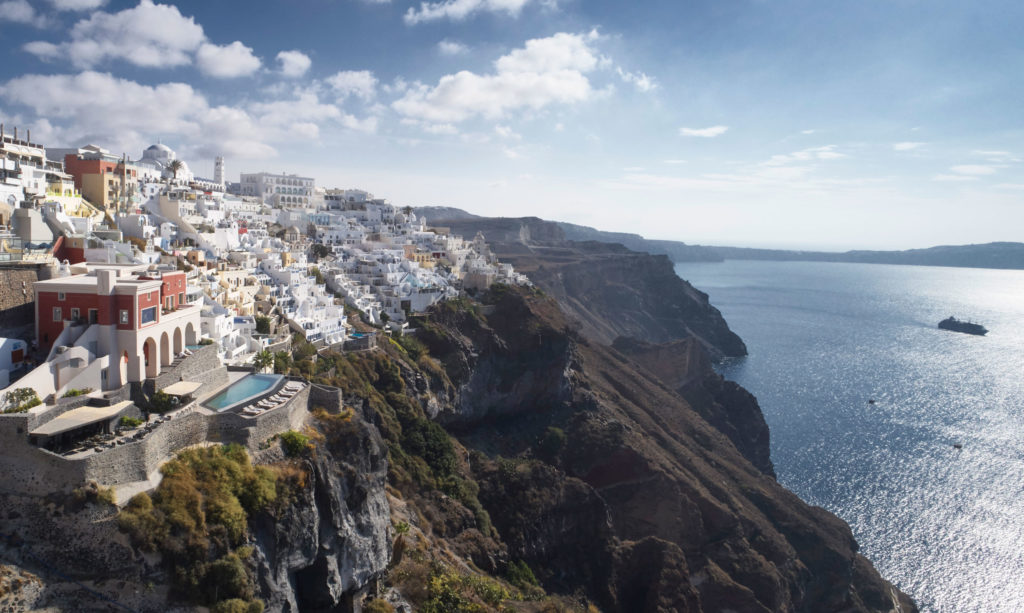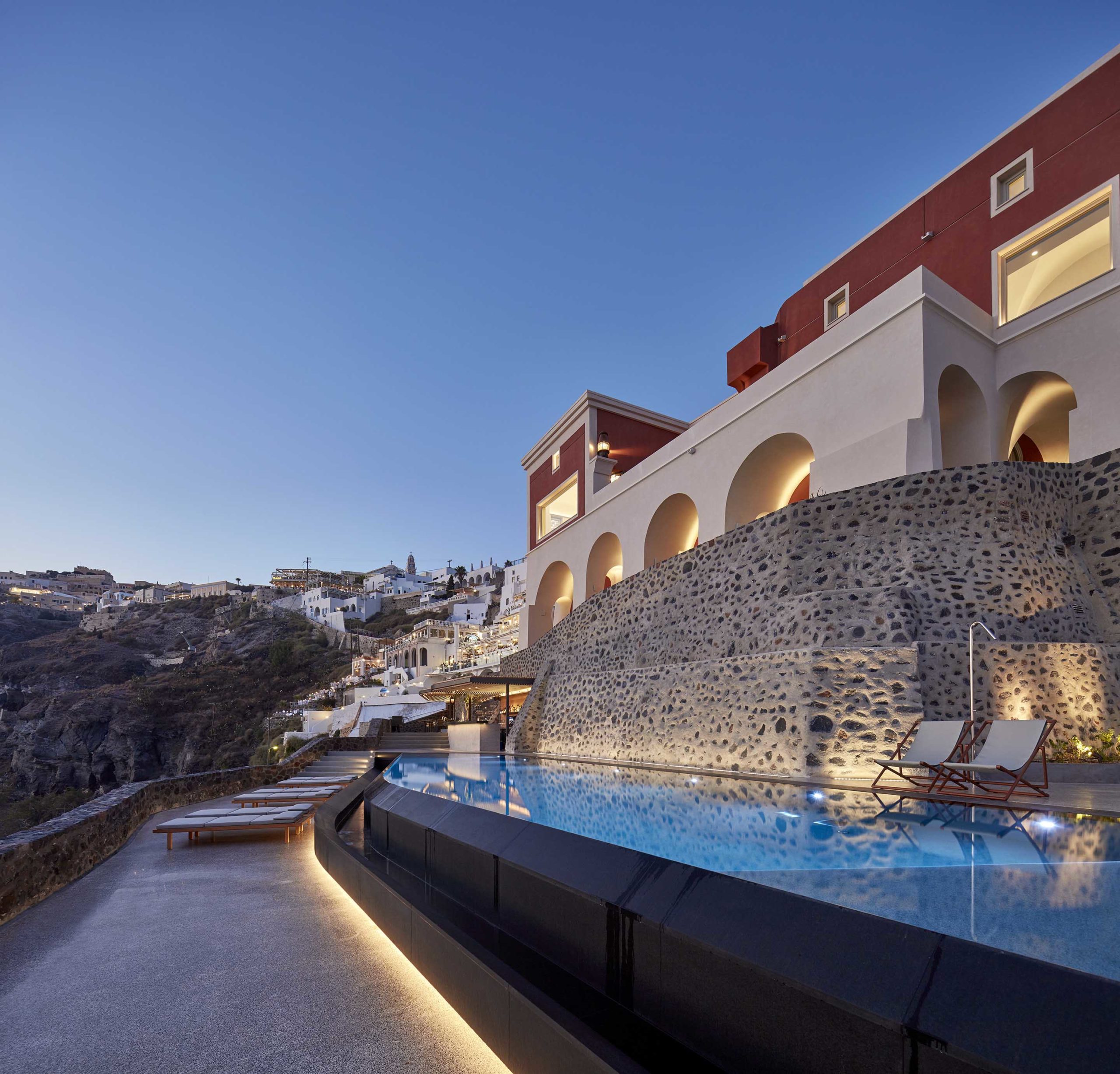 Looking for authenticity? Villa Bordeaux is located on the edge of the Caldera, just a few meters from the Archaeological Museum of Fira. Housed in a fully restored 19th-century historic building, it combines a neoclassical exterior with a modern and contemporary interior.
With only 4 suites, each meeting the standards you'd expect from a five-star hotel, this villa is the epitome of exclusivity on Santorini. Relax by enjoying the largest infinity pool in Fira. And dine at the only gourmet French restaurant in Santorini: "La Colline," created by the renowned chef Jerome Coustillas.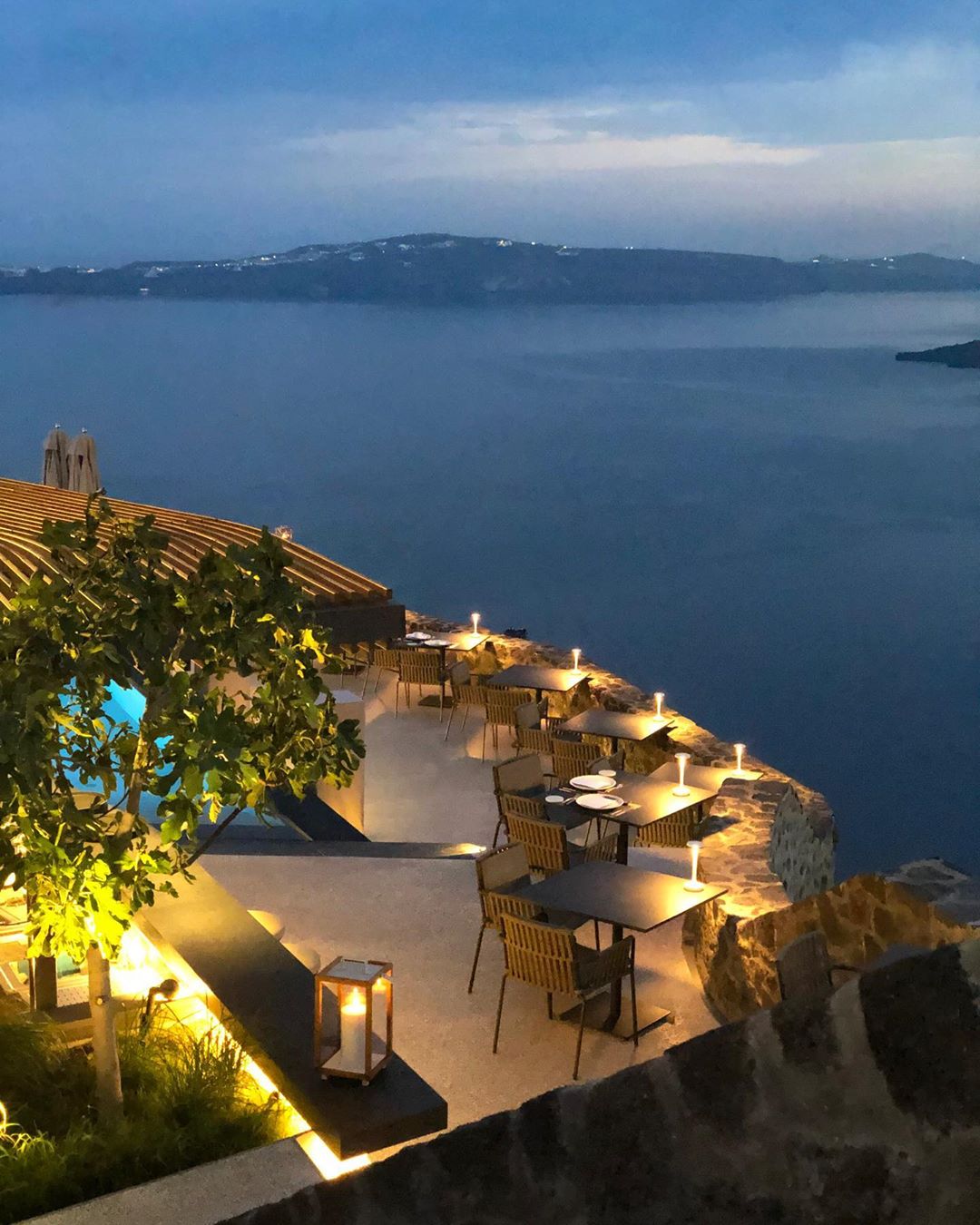 Grace Santorini – Imerovigli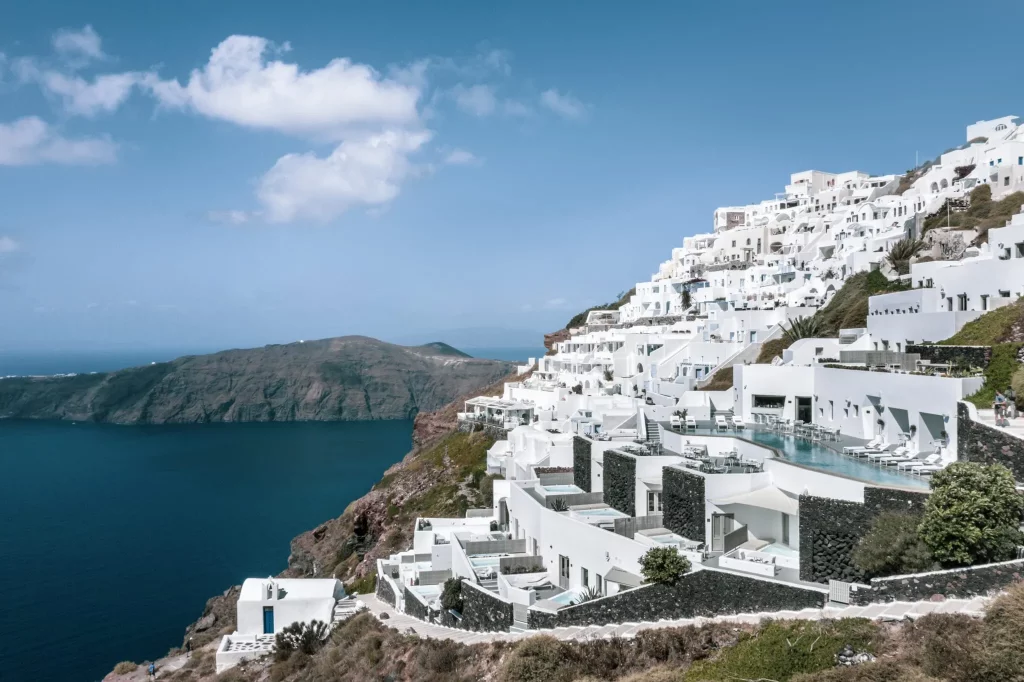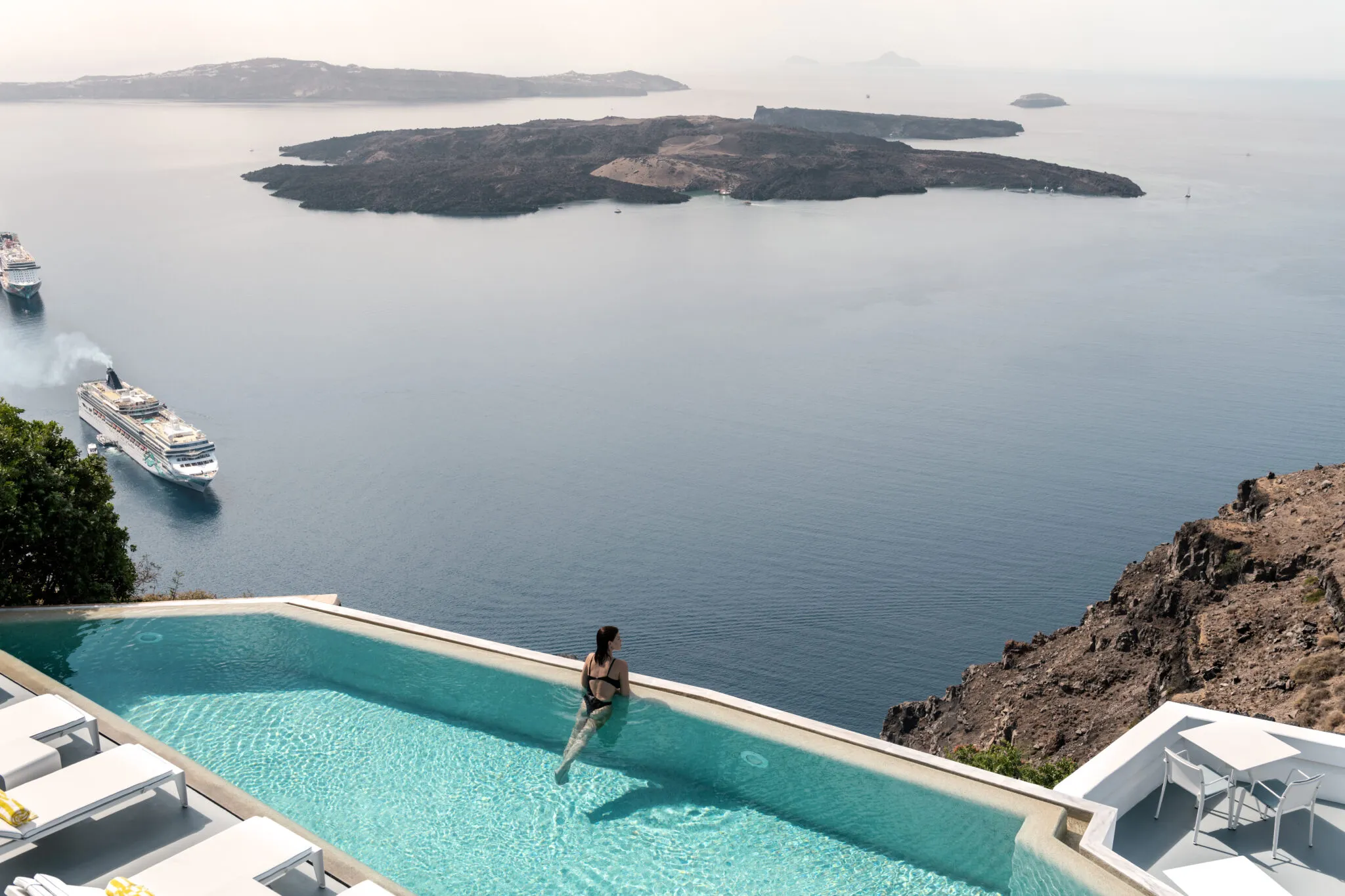 Grace Santorini is a characterful luxury hotel perched over 363 meters above the Caldera in Imerovigli, Santorini. If you love breathtaking views, this is the place to be. Modern, minimalist, and stunning, this hotel doesn't hold back. Everything is designed to maximize your enjoyment of the view. The sea seems to stretch to infinity from one of the terraces.
The 21 rooms and suites are renovated in a contemporary style. They are both at the forefront of modernity while showcasing the traditional craftsmanship of the Cyclades. Relax in your private plunge pool, or be mesmerized by the hotel's spectacular pool. I love it: in fact, it's one of the most photographed pools in the world, and I can understand why.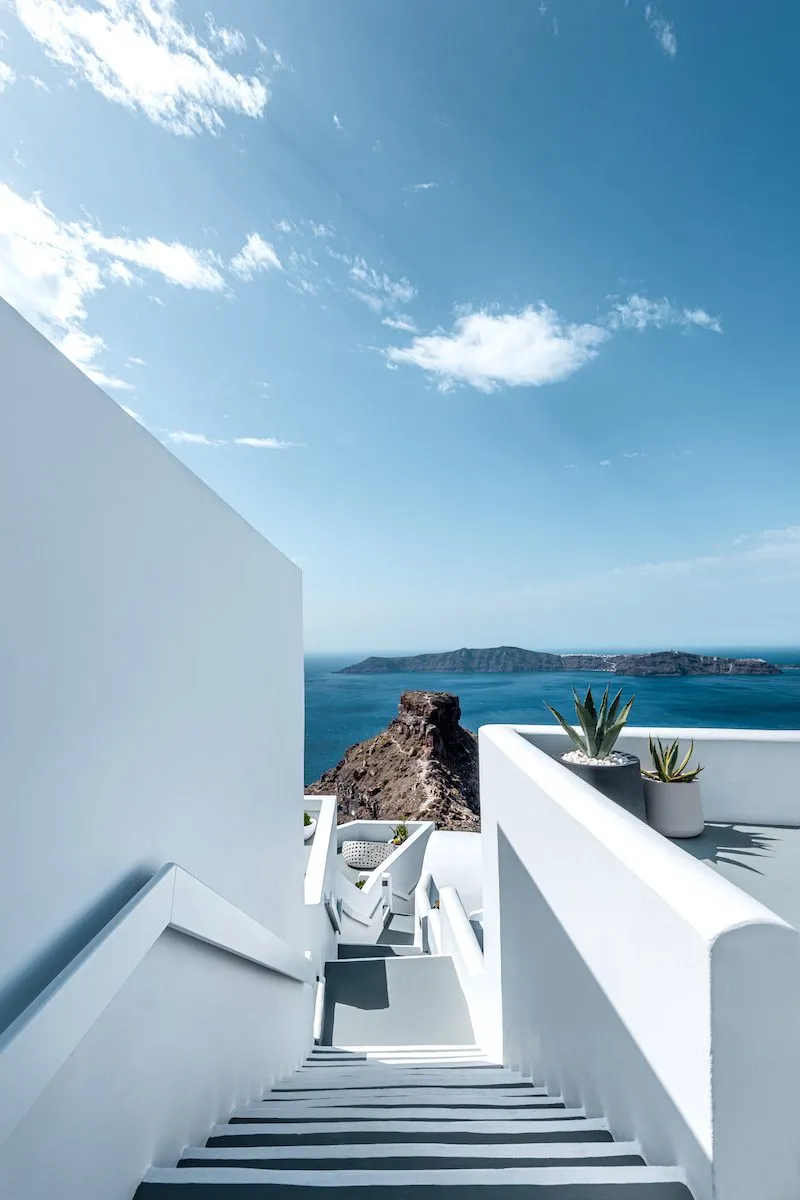 ---
Conclusion — Luxury Hotels in Santorini
In conclusion, Santorini stands as a true paradise for those seeking an unforgettable luxury escape. With a myriad of opulent accommodations offering unparalleled views, exquisite design, and world-class amenities, the island caters to every desire of the discerning traveler. From the legendary Katikies Santorini in Oia to the breathtaking Grace Santorini in Imerovigli, each hotel mentioned in this article paints a picture of Mediterranean elegance and indulgence.
Whether you crave the romantic allure of sunsets over the Caldera, the contemporary comforts of modern design, or the exclusivity of a private plunge pool, Santorini has it all. This Greek gem remains an idyllic destination where travelers can immerse themselves in luxury, cultural authenticity, and natural beauty.
So, as you plan your summer getaway, consider these luxurious havens on Santorini's enchanting shores. Embrace the warmth of Greek hospitality, savor world-class cuisine, and surrender to the spellbinding charm of the Cyclades. Santorini promises not only a dream vacation but a lifelong memory of opulence and tranquility amidst the Aegean splendor.
Article mis à jours le 29 August 2023 par Pierre Bouyer