Have you ever come across photos of a sunny island with white houses perched on cliffs and an endless blue sea in the background? You've probably wondered, "Where is this paradise?" Well, this paradise is called Santorini, a true gem in the heart of the Aegean Sea.
My first encounter with Santorini dates back a few years. I got lost in the winding streets of Oia, with its typical architecture and picturesque windmills, not to mention the legendary sunset. Since then, every trip to this Greek island has been a new adventure that I'm delighted to share with you.
I'm going to explain precisely where Santorini is, how to get there, and why it's essential to include it on your list of destinations to visit. So, fasten your seatbelts, my friends, and get ready for an exciting journey to one of the most sought-after destinations in the Mediterranean.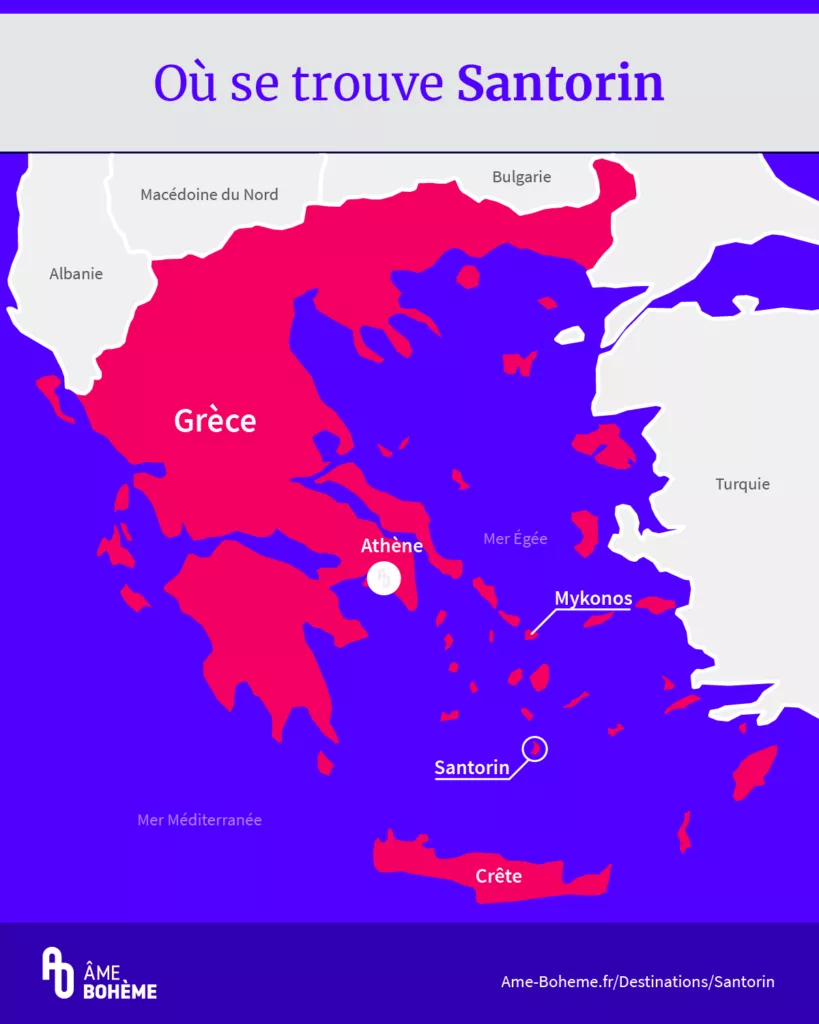 ---
Where is Santorini?
Santorini, the island of contrasts, towering cliffs, and unforgettable sunsets. But where exactly is this little piece of paradise? Get your globe ready; it's time for some geography!
Santorini is a Greek island located in the Aegean Sea, southeast of the mainland. It is part of the Cyclades, an archipelago of paradise islands that offer breathtaking scenery. When we think of Greece, the Cyclades are often the first islands that come to mind. With their unique architecture, fine sandy beaches, and azure blue sea.
From Paris, a direct flight takes about 3 hours and 30 minutes. If you're flying from London, it's around 4 hours. Other European cities like Rome or Barcelona are just a 2-hour flight away. Santorini is an hour away from Athens. A tip for those who like to plan: check for direct flights to Santorini, especially during the summer season. It can save you time and money.
For those looking for a more authentic experience, you can also reach Santorini by ferry from Athens. The journey takes approximately 5 hours, but the view of the other Cycladic islands is well worth this little sacrifice.
But that's not all! Once on the island, I recommend renting a quad or a motorcycle to explore at your own pace. There's nothing like the pleasure of driving on Santorini's winding roads with the Aegean Sea breeze in your hair.
Now that you know where Santorini is and how to get there, it's time to discover why this island is so special. Are you ready? Let's go!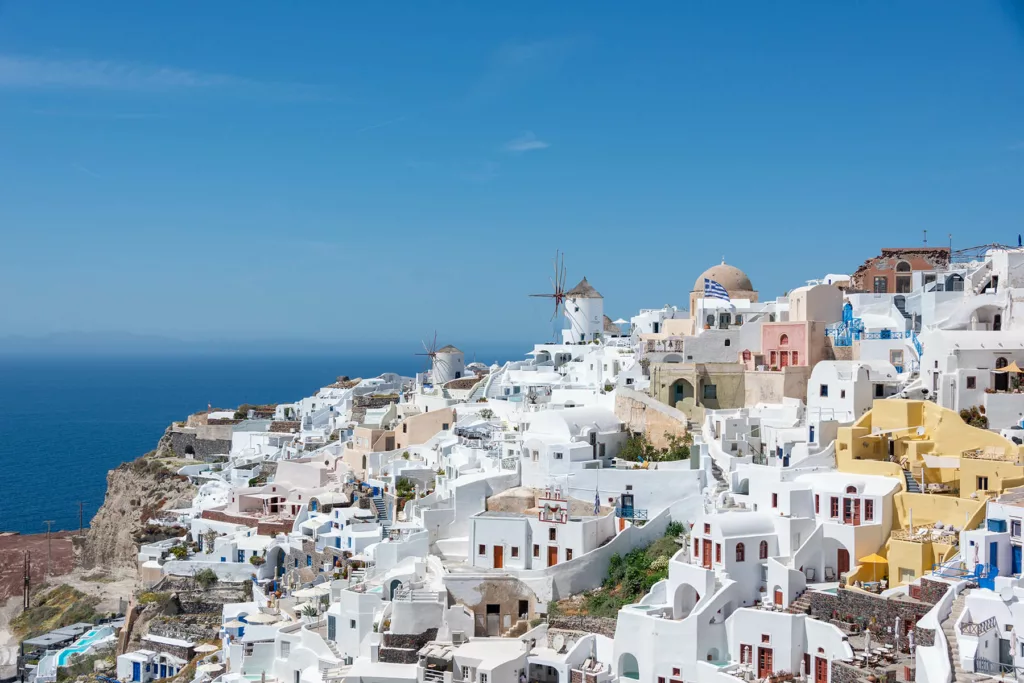 ---
General Informations about Santorini
Santorini has a land area of approximately 76 square kilometers, making it a compact gem to explore. In fact, it will take you no more than 45 minutes to drive from the north to the south of the island.
Santorini has around 15,500 permanent residents, but this number can easily triple during the peak tourist season. Don't worry; the island retains its charm even when the streets are busier.
As for the climate, Santorini enjoys a Mediterranean climate, with hot and dry summers and mild winters. The best time to visit Santorini is from May to October, although I must admit that I particularly enjoy the months of September and October. The temperatures are milder, and the island is less crowded.
The official language is Greek, but English is widely spoken, especially in tourist areas. The currency is the euro, which simplifies things for European travelers.
Regarding safety, Santorini is generally a safe destination for travelers. However, as in any tourist destination, it's important to stay vigilant and take basic precautions.
Now that you have an idea of the size, climate, and other general information about Santorini, you're ready to discover everything this island has to offer.
---
How to Get to Santorini?
Getting to Santorini is an adventure in itself that adds to the charm of this island. There are primarily two ways to get there: by air and by sea.
Firstly, the quickest way to reach Santorini is by taking a flight. Santorini has its own international airport that receives direct flights from several European cities. For instance, the flight from Paris takes about 3 hours and 30 minutes, and it's roughly the same duration from most major Western European cities.
Secondly, you can opt for the maritime route, which is an experience in its own right. Ferries depart regularly from Athens and many other Greek islands to reach Santorini. The journey from the port of Piraeus in Athens takes approximately 5 to 8 hours, depending on the type of ferry you choose. You can find more details on ferry bookings in our dedicated guide: "How to Take the Ferry Between Athens and Santorini: Everything You Need to Know."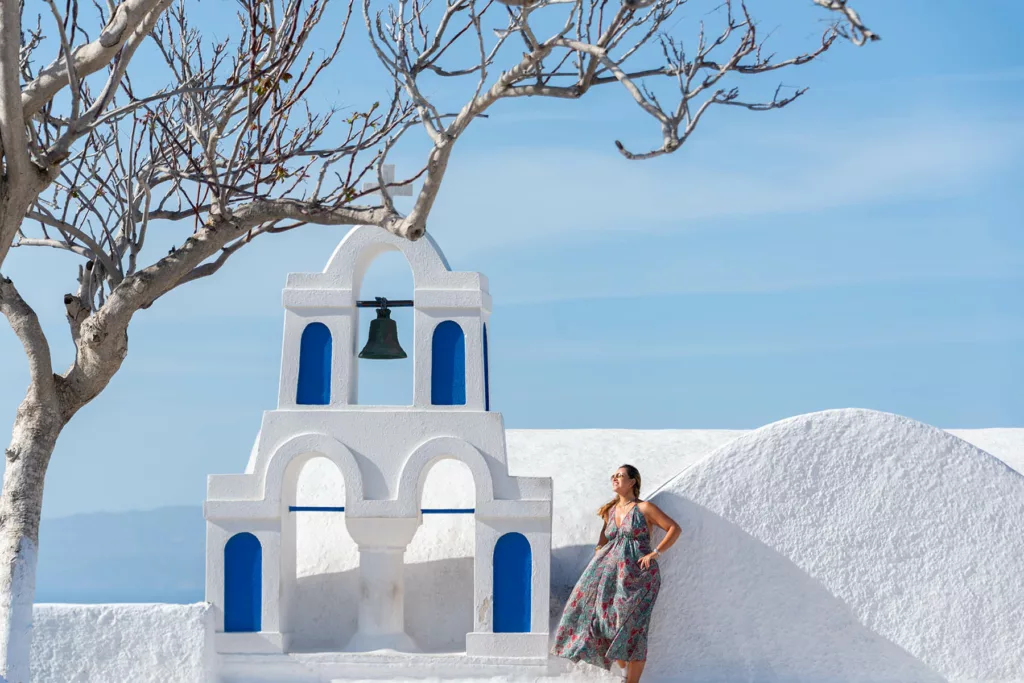 ---
Why Should You Visit Santorini?
To begin with, there's the unique landscape of the island. The steep cliffs plunging into the Aegean Sea, the white houses perched on the mountainside, and of course, the famous blue-domed churches. It's a breathtaking sight that you won't want to miss.
Next, there are Santorini's stunning beaches. From the black sand beaches of Perissa to the Red Beach and the White Beach, each offers a unique experience.
Also, make sure to visit the archaeological site of Akrotiri, a well-preserved prehistoric town that provides a fascinating glimpse into the island's ancient history.
Finally, there's the cuisine. Fresh local produce, seafood, and volcanic wines make Santorini a top-notch culinary destination. Whether you dine at one of the finest restaurants in Imerovigli or at a hidden taverna, you're sure to have a memorable culinary experience.
---
Q&A — Where is Santorini?
Where is Santorini?
Santorini is an island located in the Aegean Sea, approximately 200 kilometers southeast of mainland Greece. It is the southernmost member of the Cyclades island group, with an area of approximately 73 square kilometers and a population of 15,550 inhabitants as of the 2011 census.
How to Get to Santorini?
Santorini is accessible by plane from Athens and many international airports, as well as by ferry from Athens (Piraeus and Rafina ports) and many other islands in the Aegean Sea (Crete, Mykonos, Paros, Naxos, Milos, Ios, etc.).
What Is the Best Time to Visit Santorini?
The best time to visit Santorini is in the spring (April to June) or in the fall (September to October) when the weather is mild, and there are fewer tourists.
What to Do in Santorini?
There are many things to do in Santorini, including:
– Visiting the caldera
– Hiking in Oia
– Swimming in the Aegean Sea
– Tasting local wine
– Shopping in Fira
– Watching the sunset
What Is the Cost of Living in Santorini?
The cost of living in Santorini is higher than in most other regions of Greece. However, there are still ways to save money, such as staying in a hostel or cooking your own meals.
Article mis à jours le 30 August 2023 par Pierre Bouyer