White Beach, also known as Lefki Ammos, is a hidden gem that attracts travelers seeking tranquility in Santorini. The beach gets its name from the unique beauty created by the high white cliffs that surround it. Contrary to what you might think, the sand on the beach is not white but a mix of black pebbles and gray volcanic sand, which adds to its charm by contrasting with the white cliffs.
The shallow waters and clear, inviting color make it an ideal place for swimming. This small cove lacks the amenities of larger beaches, so don't forget to bring your own drinks and sunscreen.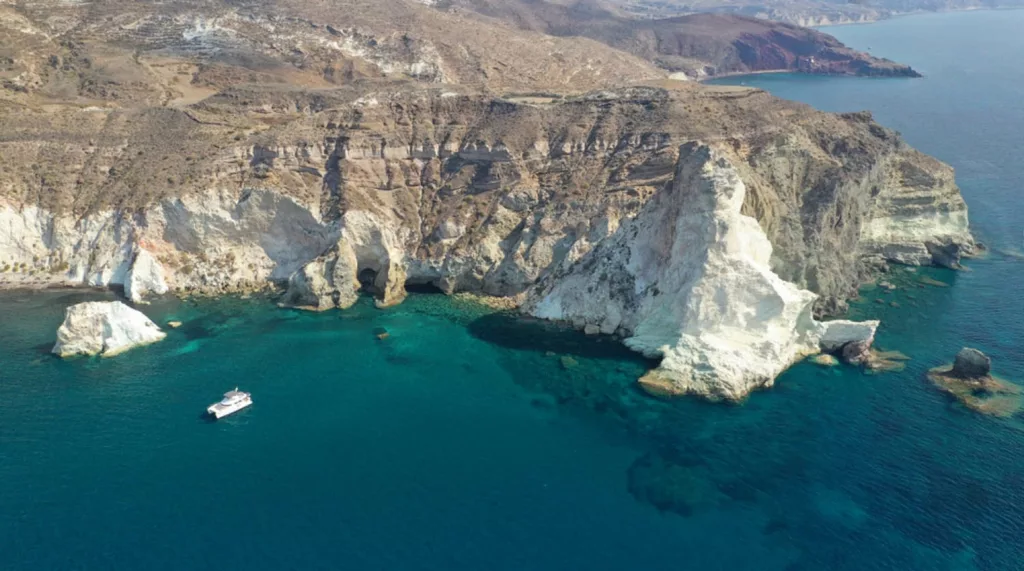 ---
Visiting White Beach
Visiting White Beach in the village of Akrotiri on the southwest coast of Santorini is an adventure that requires a bit of effort. The beach is located 14 km from Fira and is near the stunning Red Beach.
---
Getting to White Beach
Access to White Beach is not as straightforward as one might expect. It is not accessible by car, quad, or on foot. You must take a boat taxi from Red Beach, next to Akrotiri. The small ferries cost around 15 euros per person for a round trip to White Beach during the summer.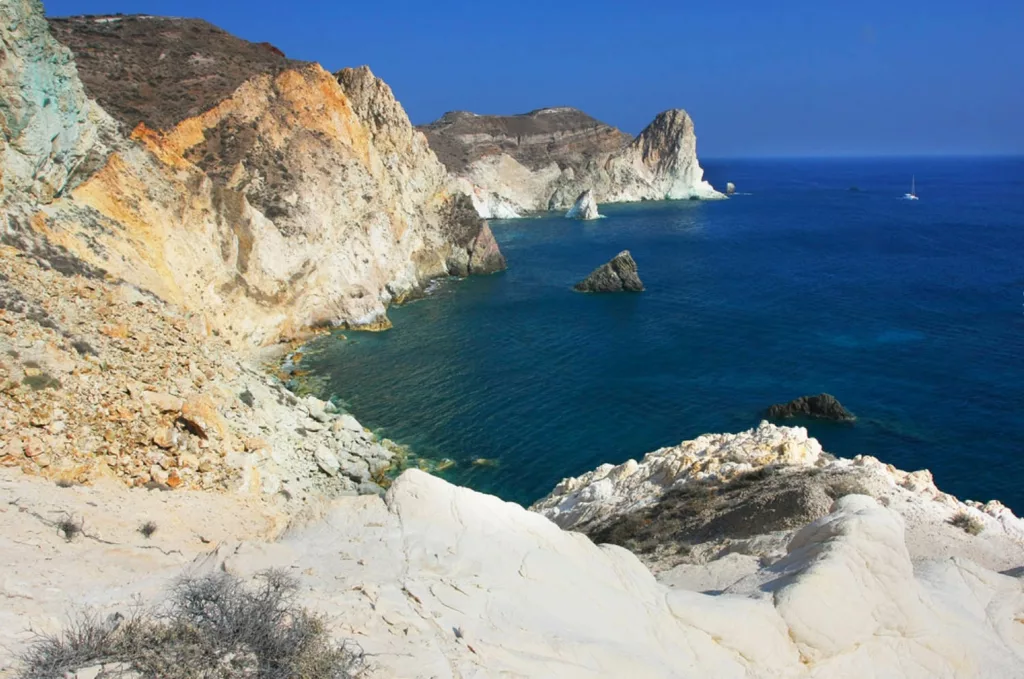 However, the most convenient and exciting way to visit the beach is to take a catamaran or a private or semi-private yacht cruise. These tours offer a unique experience, taking you to the best spots on the island and allowing you to swim at its beautiful beaches, enjoy delicious meals, and indulge in complimentary local drinks, all while admiring the stunning landscape. The best part is that transportation to and from your hotel is included. To learn more about these fantastic cruises in Santorini, visit this page.
Note: Some blogs and articles claim that it's possible to reach White Beach on foot or by car. This is not true. It is impossible to reach the beach without going through the sea, and attempting to do so would put you in a dangerous situation on the cliffs.
---
What to Do at White Beach
Visiting White Beach is a fantastic opportunity to relax, soak up the sun, and enjoy a unique setting. The crystal-clear waters offer a fantastic snorkeling experience, allowing you to observe the relatively preserved underwater world for hours.
For those who prefer lounging, there are a few parasols and sunbeds available on the beach. However, don't rely too heavily on them due to the beach's popularity. Note that the small pebbles can make a beach towel uncomfortable, and the pebbles, though small, can become quite hot on a warm day. Consider bringing a pair of shoes.
White Beach is ideal for those seeking a secluded and tranquil spot, as it is relatively less crowded than other beaches in the area. Furthermore, its west-facing location makes it an ideal spot to admire a breathtaking sunset. Whether you're looking for relaxation or adventure, White Beach offers the perfect escape from the hustle and bustle of urban life.
There are no facilities available, so be sure to bring food and water as there are no snack bars or vending machines nearby.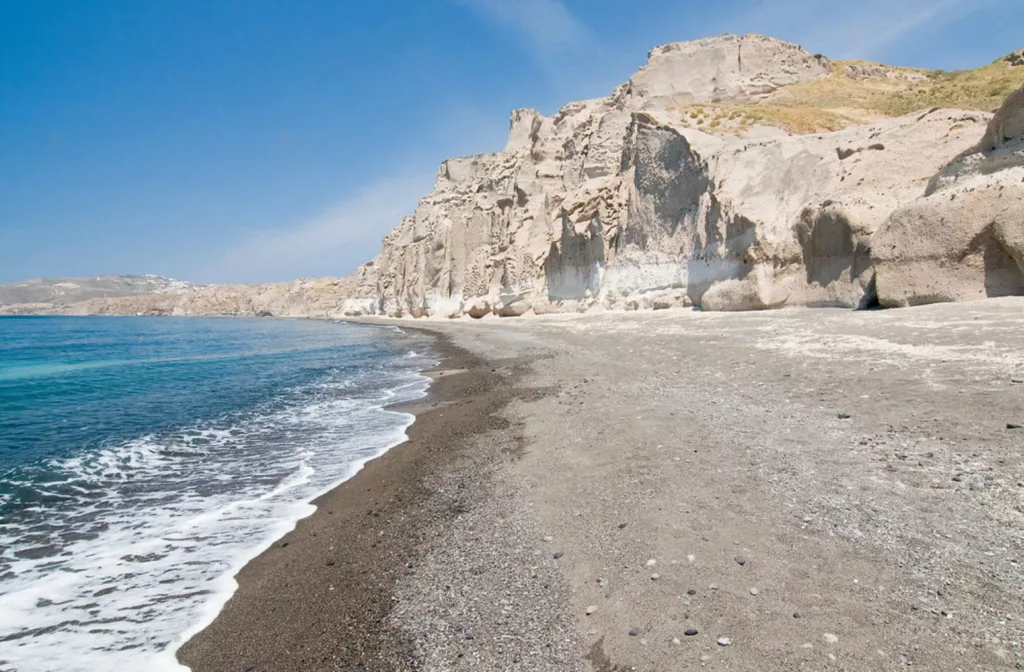 ---
Catamaran Cruise
If you're looking to add some excitement to your day at White Beach, a catamaran cruise is the perfect activity. Sailing along Santorini's rugged coastline, you can discover magnificent geological formations and hidden coves.
You can also dive into the crystal-clear waters for an unforgettable snorkeling session. You can opt for a private cruise or join a group for a more social sea journey. Whichever you choose, a catamaran cruise offers a unique perspective on the beauty of Santorini and White Beach. Be sure to book in advance to secure your spot on board and fully enjoy this seafaring adventure.
Check out my firsthand experience with catamaran cruises in Santorini on this page, along with all my tips and advice.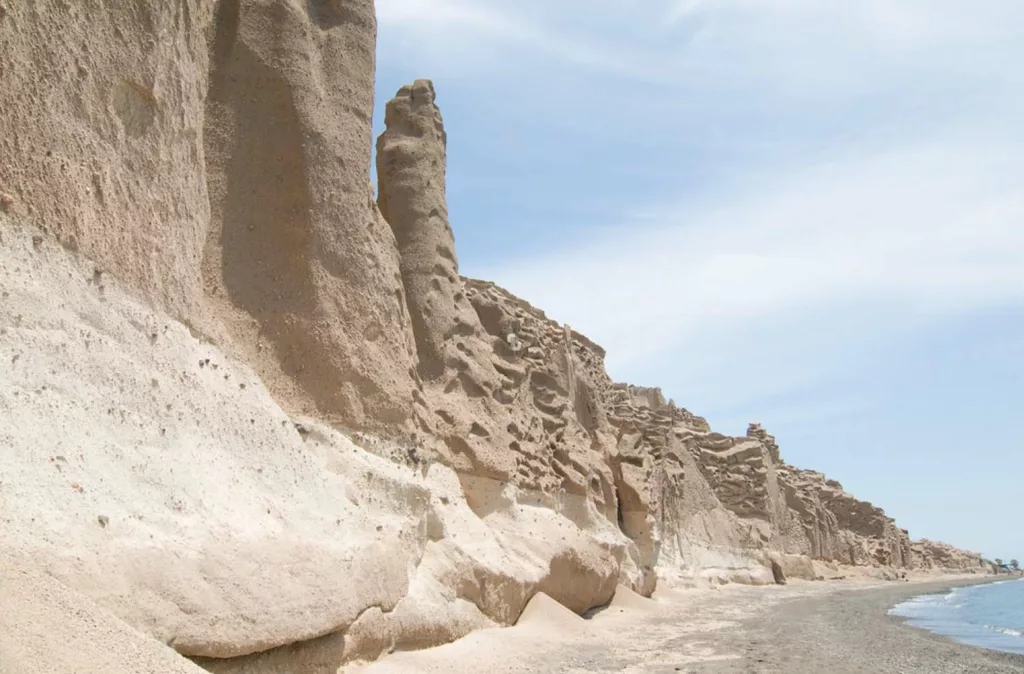 ---
Poster to remember your travel in Santorini
---
Explore the best of Santorini
Article mis à jours le 8 September 2023 par Pierre Bouyer