If you're planning your next vacation and searching for a dream destination, then Santorini might be just what you're looking for! This Greek island, renowned for its breathtaking landscapes, black and white sandy beaches, and villages of white houses with blue roofs, captivates people from all over the world.
But Santorini is also an opportunity to discover a rich culture, savor delicious local specialties, and enjoy the Greek way of life. And to explore this island in an original and independent way, what could be better than renting a motorcycle? That's what we'll explore in this article!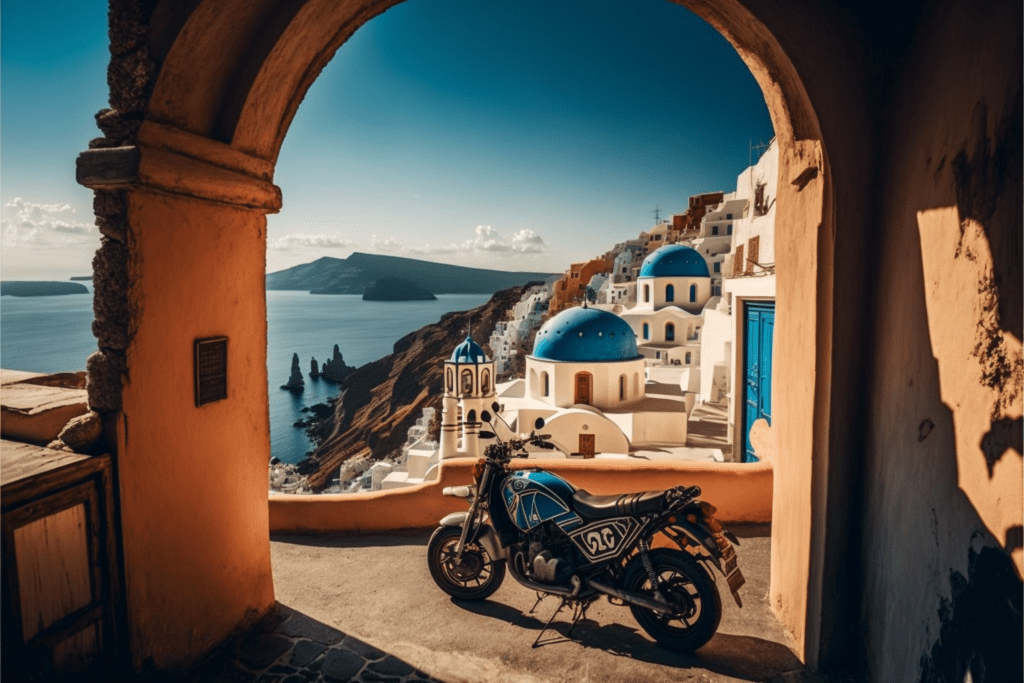 ---
Renting a Motorcycle in Santorini
If you want to explore the island of Santorini, you should definitely rent a means of transportation to easily get around the island. It's too large to explore on foot and sometimes too narrow to navigate comfortably by car. A motorcycle seems to be the ideal mode of transport for tourists, just like a quad bike (ATV).
Advantages of Renting a Motorcycle in Santorini
Renting a motorcycle in Santorini offers numerous advantages for travelers who want to explore the island while enjoying the beautiful weather and scenery.
Clearly, a motorcycle provides the greatest flexibility for discovering Santorini. You're not bound by public transportation schedules, long walking distances, or itineraries dictated by organized tour agencies. You can quickly travel from one point to another on the island and stop wherever you like to take photos, go shopping, or simply enjoy the scenery.
A motorcycle also allows you to explore less-visited places that are inaccessible to cars or public transportation. There are many beaches below cliffs that are too dangerous for cars.
You'll have access to the centers of authentic villages and unique viewpoints. By renting a motorcycle, you have the opportunity to venture off the beaten path, leading to a more immersive and personal travel experience.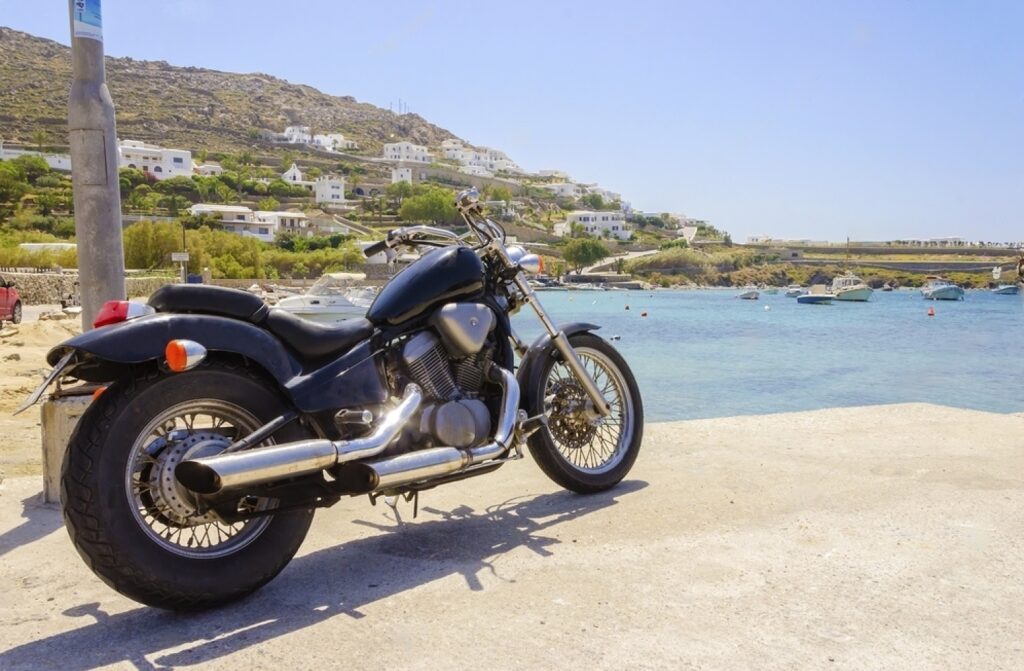 ---
Where and How to Rent a Motorcycle in Santorini
There are plenty of options available to rent a motorcycle in Santorini.
Visit a Rental Agency in Person
To rent a motorcycle on the island of Santorini, you can go directly to a rental agency. You'll find them all over the island, but the largest concentration is around Fira and Oia. (Perhaps it's an opportunity to do the fantastic hike…?)
By visiting in person, you'll have better visibility of the models offered and the chance to negotiate for a better model, a different color, or even the price.
Like most businesses on Santorini, they will ask you to pay in cash, which can be inconvenient, especially if you forgot to withdraw cash and the ATM is not nearby.
Drawback: This implies that you haven't made a reservation, and there might be shortages of motorcycles during the high season (between June and September).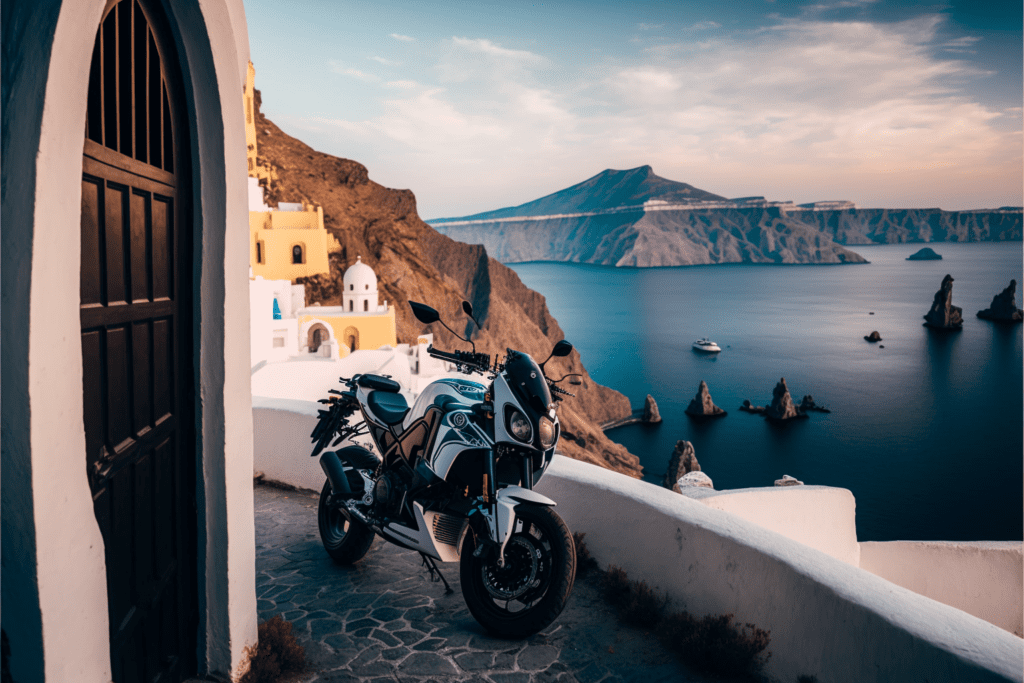 Reserve a Motorcycle via an Online Comparison Website
Clearly, this is the simplest solution in my opinion. It won't surprise you if I tell you that this is what I did. You can go directly to BikesBooking and compare the various offers online.
This way, you'll have access to the best deals and discounts in Santorini, and you'll get a real visual of the different models available on the island. You can see the full range of what's available.
I was very satisfied with how quickly I was taken care of during my last stay. Someone came directly to drop off my vehicle in front of my hotel.
Documents Required to Drive a Motorcycle in Santorini
To rent and drive a scooter or motorcycle in Santorini (regardless of power), you must present a valid driver's license with category A (motorcycle). You cannot rent with only a car license, even for a 50cc or 125cc motorcycle.
You'll need identification, such as an ID card or passport.
Driver's license with category A (motorcycle).
A credit card or a deposit, which will be used to cover any potential damages to the motorcycle.
It's important to inquire about the rental conditions and the insurance options offered by the rental agency to understand what is covered in case of damages or issues. Also, check if the rental agency requires an additional deposit in addition to the credit card. Find out if there are additional fees for options like helmets or GPS.
I recommend choosing a motorcycle model that suits your riding skills and needs. If you have never ridden a motorcycle before or are not accustomed to winding roads, it's better to opt for a lightweight and easy-to-handle model.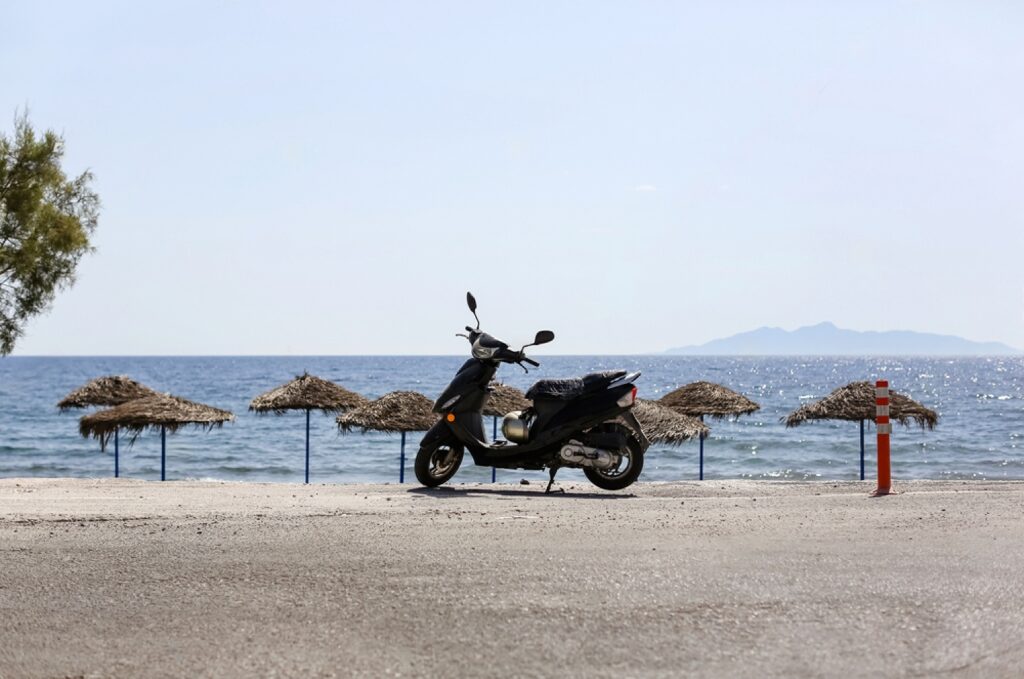 ---
Motorcycle Rental Rates in Santorini
Motorcycle rental rates in Santorini vary depending on the season, rental duration, and the chosen motorcycle model. In general, expect to pay between 8 and 15 euros per day for a lightweight motorcycle or scooter, and between 50 and 100 euros per day for a more powerful motorcycle.
Note that rates can be higher during the high season, which is in July and August, and weekends and holidays may also be more expensive. I recommend renting a vehicle for several days rather than sporadically; you'll benefit from significant discounts.
---
Tips for Riding a Motorcycle in Santorini
Driving in Greece can sometimes be a real adventure, with considerations such as insurance, police, driving customs, and safety. Here are my best tips to avoid finding yourself in an awkward situation:
Check the rental conditions and insurance offered by the agency. It's basic, but make sure you understand what is covered in case of damage or problems, and don't hesitate to ask for clarification if you have doubts. It's better to be informed before having to spend astronomical sums without understanding.
Choose a motorcycle model that suits your needs and riding skills. As mentioned earlier, if you're not used to riding on winding roads, opt for a lightweight and easy-to-handle model.
Consider taking additional insurance. It's always better to be adequately insured, especially when driving in Greece. For this, I recommend Chapka Assurance, which offers affordable coverage for trips in Europe.
Follow traffic safety rules. Wear a helmet and obey speed limits, especially in villages and tourist areas. Seriously, wear the helmet. I can't stress this enough. Many tourists have suffered head injuries because they wanted the wind in their hair. Yes, even in hot weather. Greek roads can be winding and rugged, so it's important to ride with caution.
Carry cash with you at all times. Most gas stations on the island do not accept debit cards and require cash payment. To avoid running out of fuel, be prepared. Consider using your Wise card to avoid withdrawal fees.
Fill up on gas in advance. Gas stations are NOT open 24/7, so think ahead before it's too late.
---
Can I Rent a Motorcycle Without a License in Santorini?
Are you dreaming of exploring the roads of Santorini on a motorcycle but don't have a motorcycle license? Unfortunately, it will be impossible to rent a motorcycle on the island, even a lightweight one.
Greek law requires that all motorcycle and scooter drivers have a valid driver's license with category A (motorcycle). You won't be able to rent a motorcycle in Santorini without an A category license.
It's important to note that motorcycle rental agencies are very strict about this requirement, and they will ask you to present your driver's license and identification before renting you a motorcycle. If you cannot provide these documents, even if you are an experienced rider, you won't be able to rent a motorcycle.
Therefore, it is imperative to ensure that your driver's license is valid and includes category A before booking your motorcycle in Santorini.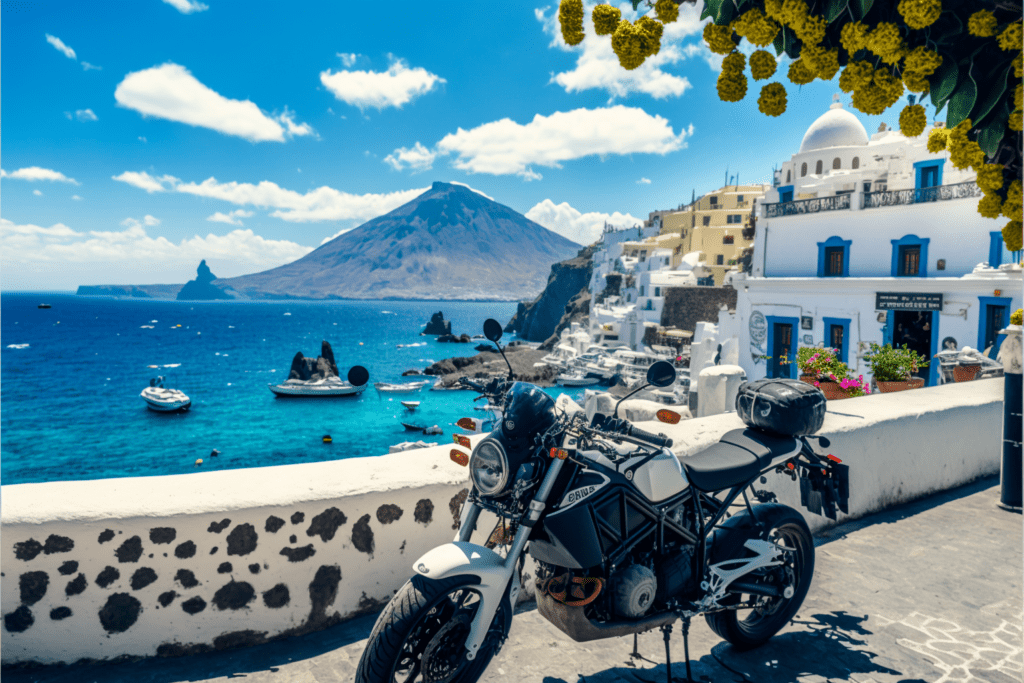 ---
Renting a Car or Motorcycle in Santorini?
I'll be clear: driving a car in Santorini can be a nightmare, especially in the towns and villages on the island. The roads are often narrow and winding, and there is often a lot of traffic, making it dangerous, and parking spaces are scarce.
In these conditions, getting around by car in Santorini can be frustrating, and it is often faster and more convenient to use a taxi or bus.
That's why a motorcycle or ATV can be an interesting option for getting around Santorini. It's easier to park than a car, and it can navigate through traffic jams and narrow streets. It also offers you the opportunity to discover less-visited places by taking secondary roads or country paths.
---
Planning Your Trip to Santorini
If you're already a fan of Santorini and are looking for ideas for your next trip to the island, you might be interested in the articles I've previously published. I had the chance to visit Santorini, and it's an experience I loved. I share my favorites and tips, including must-see attractions, the best beaches, villages not to miss, and activities to do on the island. Feel free to take a look at my previous articles for valuable information to help you plan your trip.
---
Print to remember your trip in Santorini
Article mis à jours le 10 September 2023 par Pierre Bouyer