Santorini is a popular destination for food enthusiasts, and Oia is undoubtedly one of the most charming villages on the island. With stunning views of the Aegean Sea and picturesque surroundings, it's the perfect place to savor delicious local dishes. If you're looking for the best restaurants in Oia, you've come to the right place.
In this article, I'll introduce you to the 8 best restaurants you shouldn't miss on your next visit to Oia. From traditional Greek cuisine to refined dishes, these restaurants will offer you an unforgettable culinary experience. Get ready to indulge in the authentic flavors of Santorini.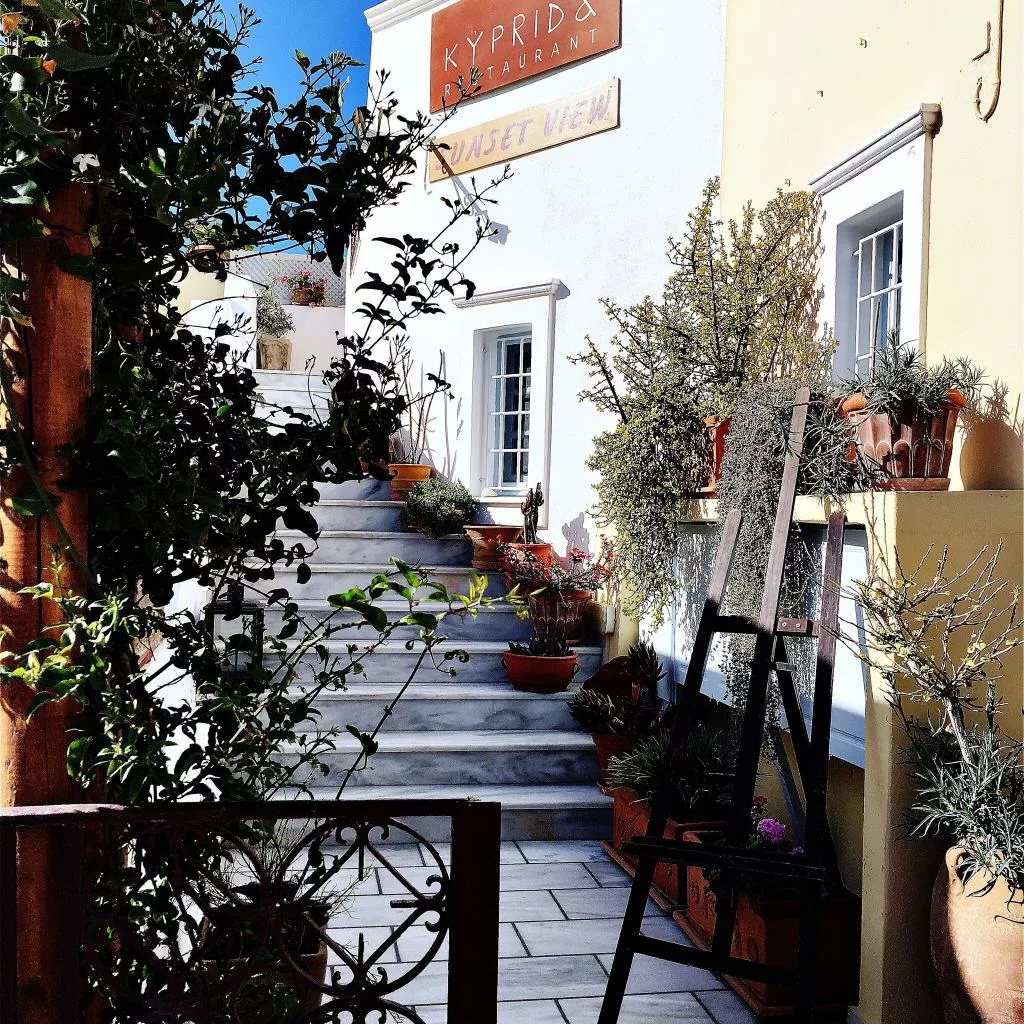 1. Kyprida
€€
This rooftop terrace is the perfect spot to enjoy Oia's famous sunsets away from the crowds. You can indulge in homemade cuisine that caters to vegetarians and vegans, as well as gluten-free options. Don't forget to order the "keftedes de tomate," a typical Santorinian dish made from feta, red onion, flour, and tomatoes, seasoned with mint, oregano, and parsley. This Greek restaurant offers healthy, plant-based, and gluten-free dishes at reasonable prices.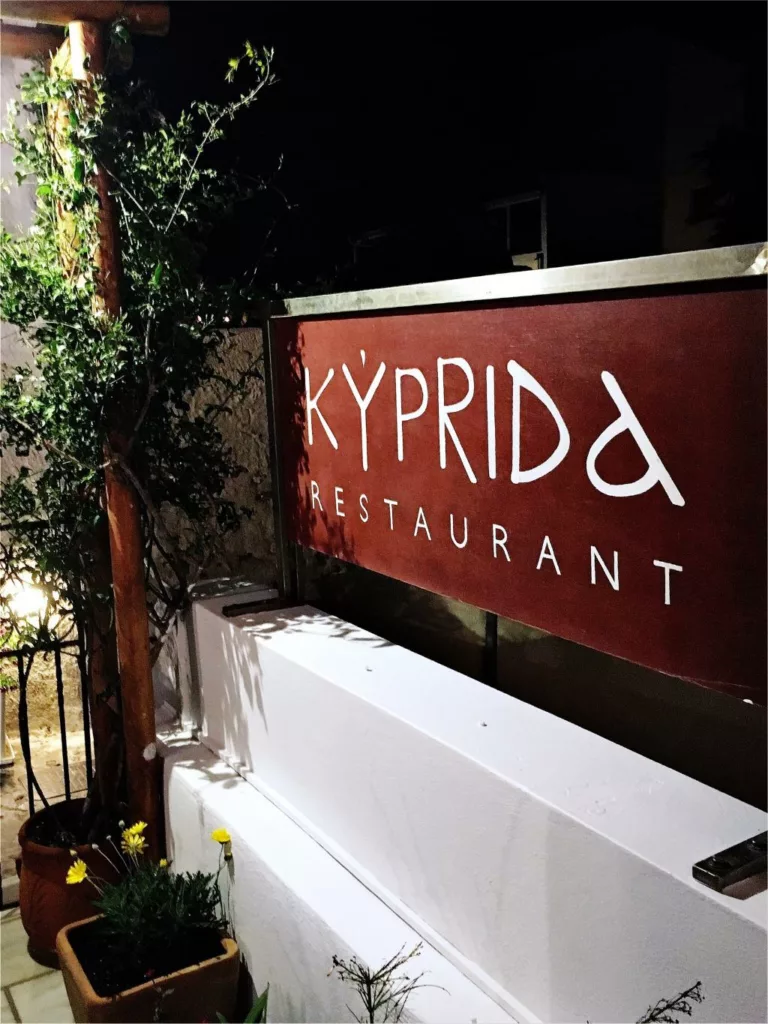 ---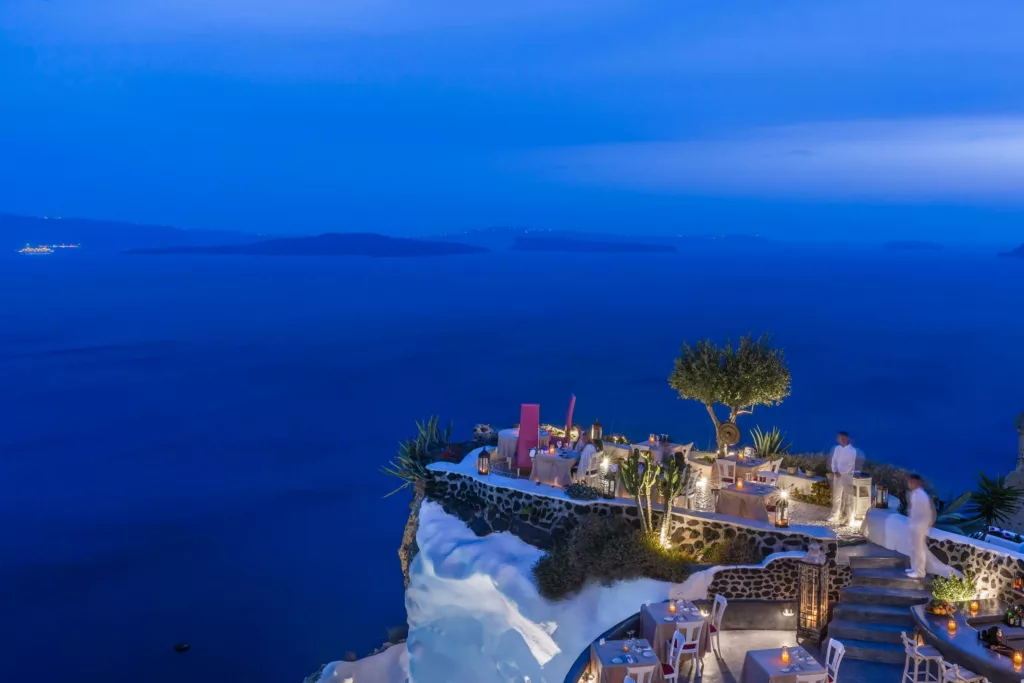 2. Lycabettus
€€€€
Lycabettus offers an unforgettable gastronomic experience under the stars, with a terrace overlooking the sea and the volcanic landscape. Inspired by Mediterranean and Greek cuisines, the menu features appetizers, main courses, and set menus made with the finest local ingredients. You can also complement your meal with a selection of wines. Let yourself be charmed by the artistic dishes and regional flavors.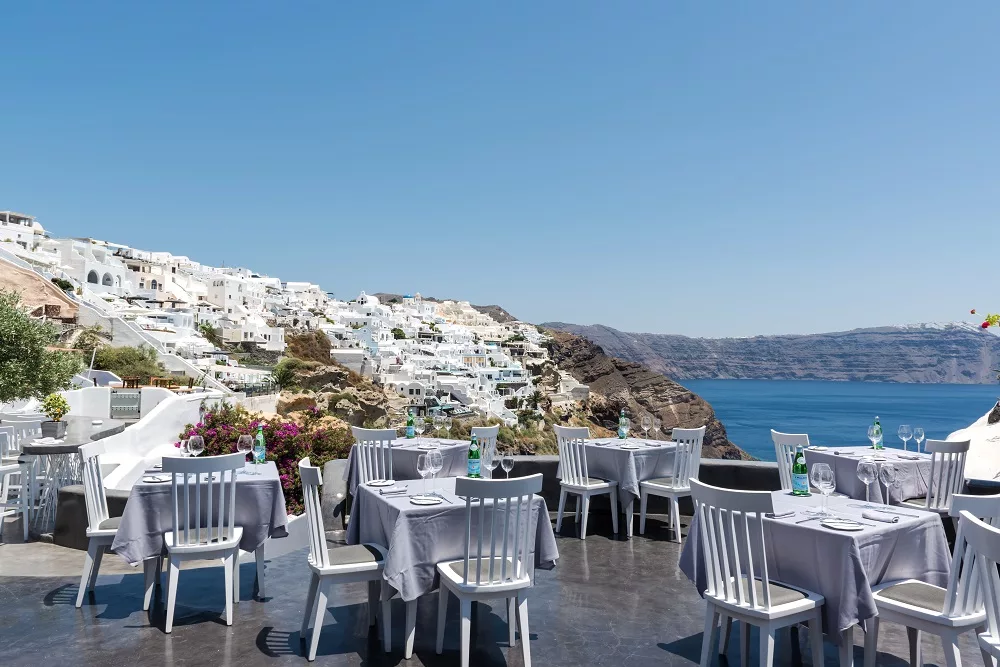 ---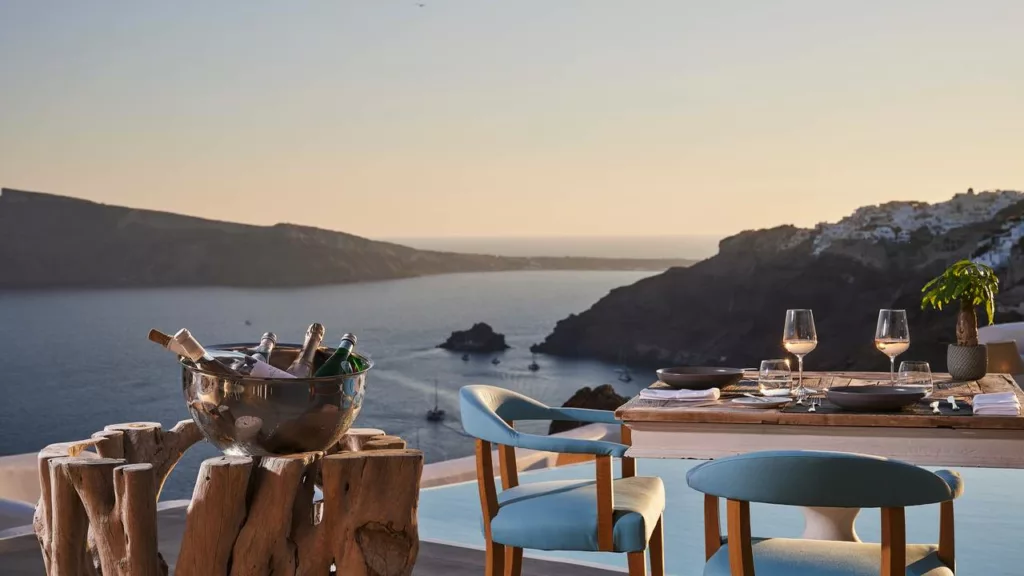 3. Botrini
€€€€
Opened on May 1, 2022, within the luxurious Katikies Hotel, Botrini's Santorini allows diners to savor delicious dishes created by the award-winning chef Ettore Botrini while enjoying breathtaking views of the Caldera.
You can choose from an à la carte menu or a tasting menu (degustation) for a full immersion in local flavors. The à la carte menu includes four courses: appetizer, starter, main course, and dessert. The tasting menu, named "Peripatos" (a Greek word meaning "walk"), comprises several dishes with uniquely combined ingredients. A vegetarian tasting menu is also available upon request.
Yiannis Karakasis, a Master of Wine, has curated the wine selection, featuring exceptional Greek and international labels. Choosing the right wine to accompany your meal ensures the ultimate gastronomic experience, and it's a superb spot to watch the sunset!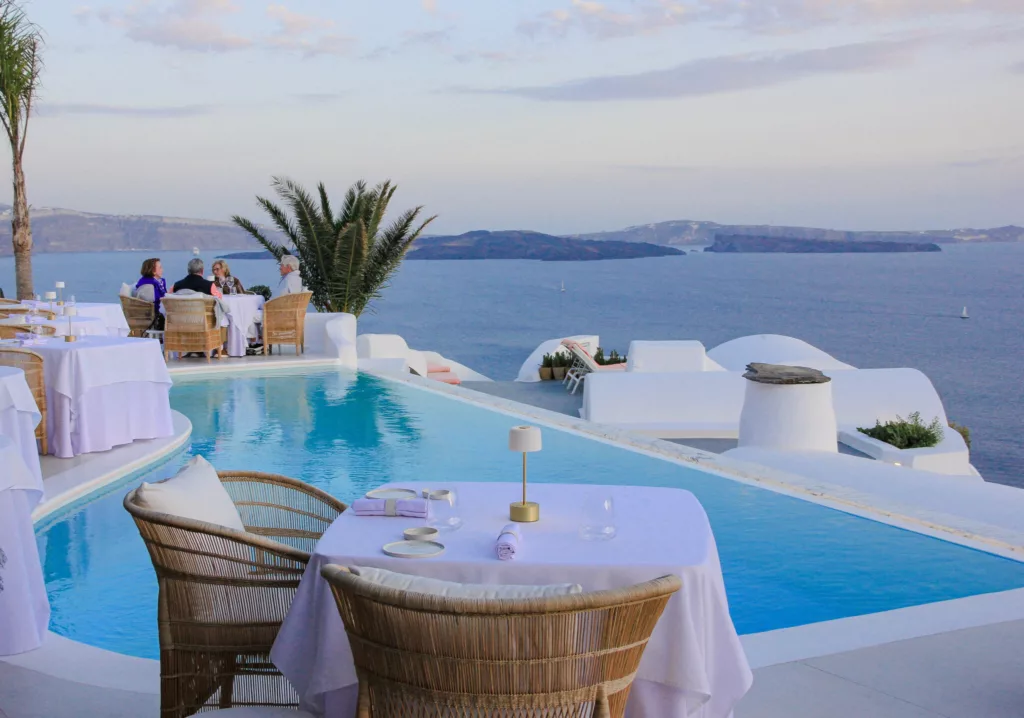 ---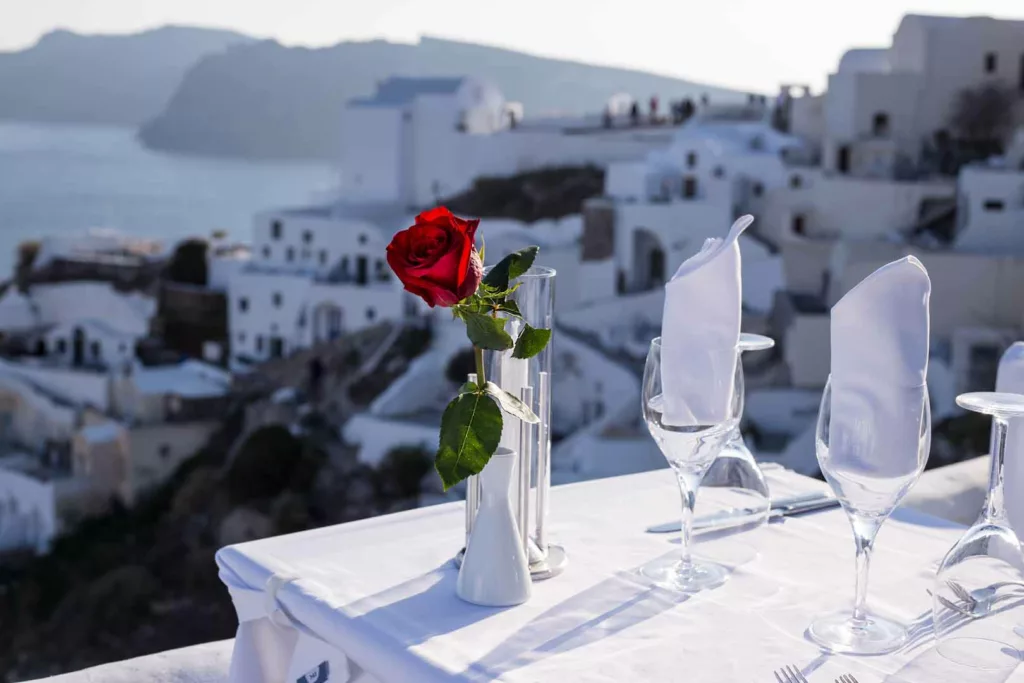 4. Ambrosia
€€€
Located in Oia, Santorini, Ambrosia & Nectar welcomes you in a warm and intimate atmosphere enhanced by artistic decor and stunning sunset views. The menu focuses on Mediterranean and modern Greek cuisines, featuring dishes like fava beans, oven-baked lamb, chicken with figs, and other popular items. To top it off, you can savor rich creations such as Greek macadamia nut cake and dark chocolate soufflé. The wine list offers a fine selection of Santorinian wines, particularly the white Assyrtiko grape variety.
Recently, Ambrosia & Nectar opened a second establishment in Oia, called Ambrosia. This cozy spot is perched on a cliff and offers stunning terrace views. Both restaurants are highly praised for their top-quality cuisine and impeccable service, earning accolades from both critics and patrons. The restaurant is open for lunch and dinner.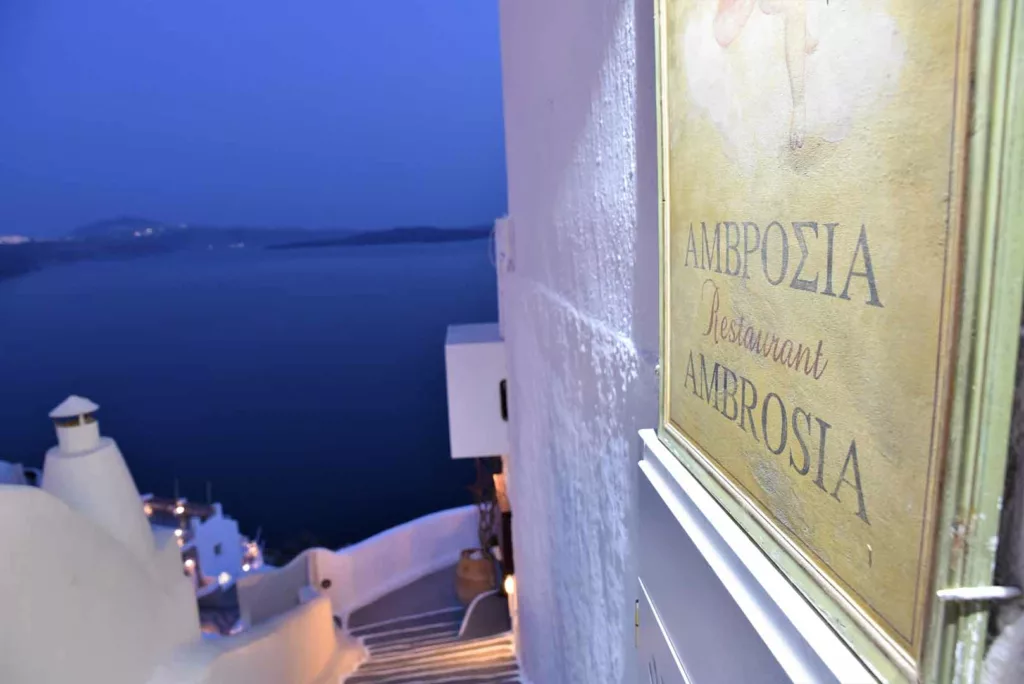 ---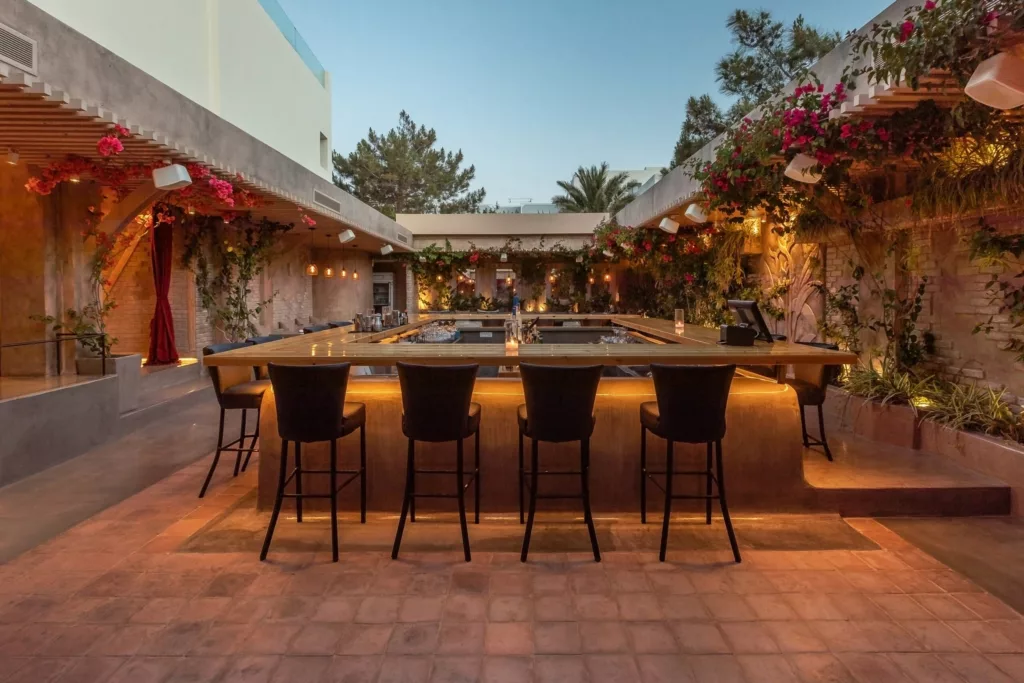 5. Catch Bar Restaurant, Oia
€€€
Oia is home to a unique bar-restaurant, Catch. Catch is a surprising blend of a modern restaurant and a lively bar. The menu offered is Greek but has a contemporary touch from all Mediterranean cuisines. As the evening and the stunning sunsets progress, the music at the Catch bar-restaurant becomes faster and more vibrant.
Delicious cocktails will amaze you with their unique taste. Catch's atmosphere is impeccable, and its service is exemplary. Everyone leaves this bar-restaurant truly satisfied, with a smile on their face. There's no "trap" in this beautiful place, that's for sure!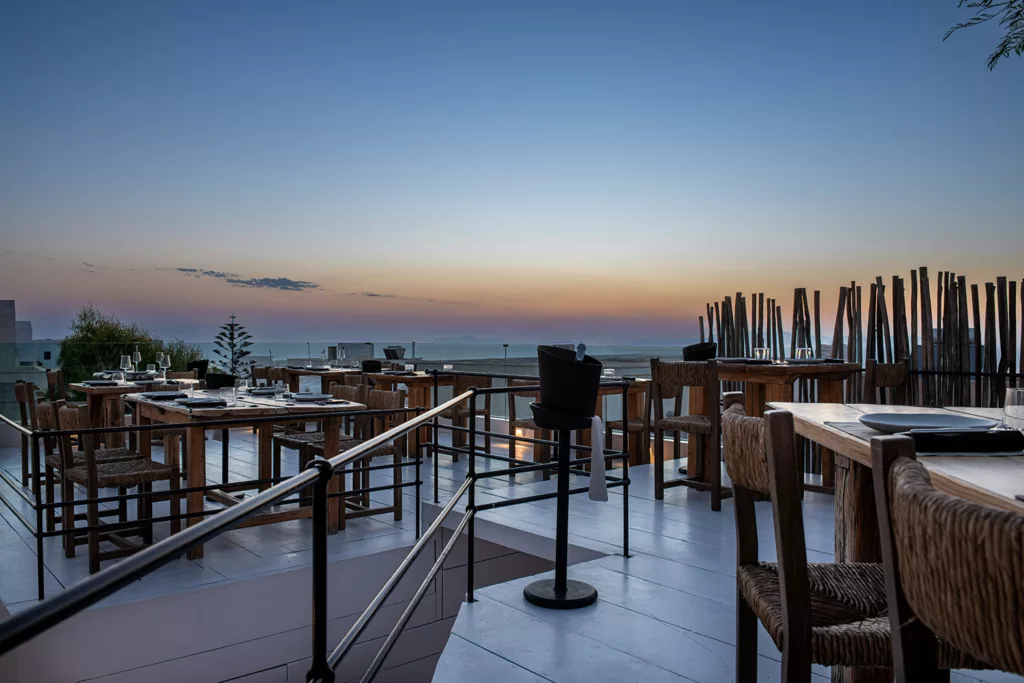 ---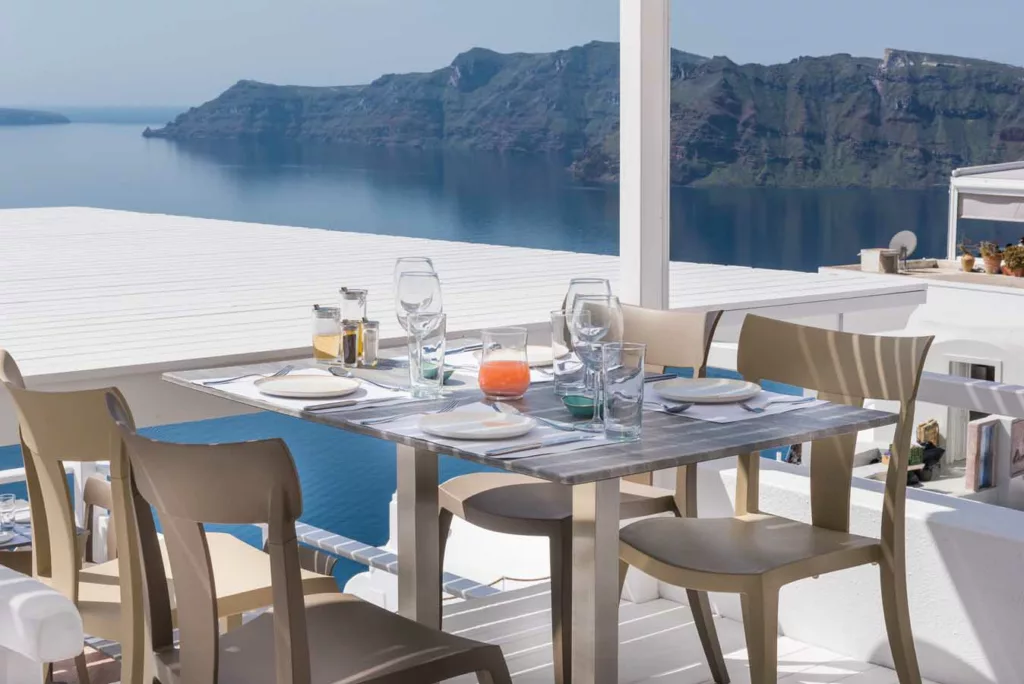 6. Flora
€€
Flora Café is located in Oia and offers breathtaking views of the Aegean Sea. It is open for breakfast and stays open late into the evening after a light meal and a few drinks. The breakfast menu includes sandwiches, waffles, and fresh juices. A selection of famous Santorinian wines is also available at Flora, as well as a variety of fresh and exotic cocktails. Come and discover a pleasant spot to enjoy fresh dishes and refreshing drinks while admiring the sea view.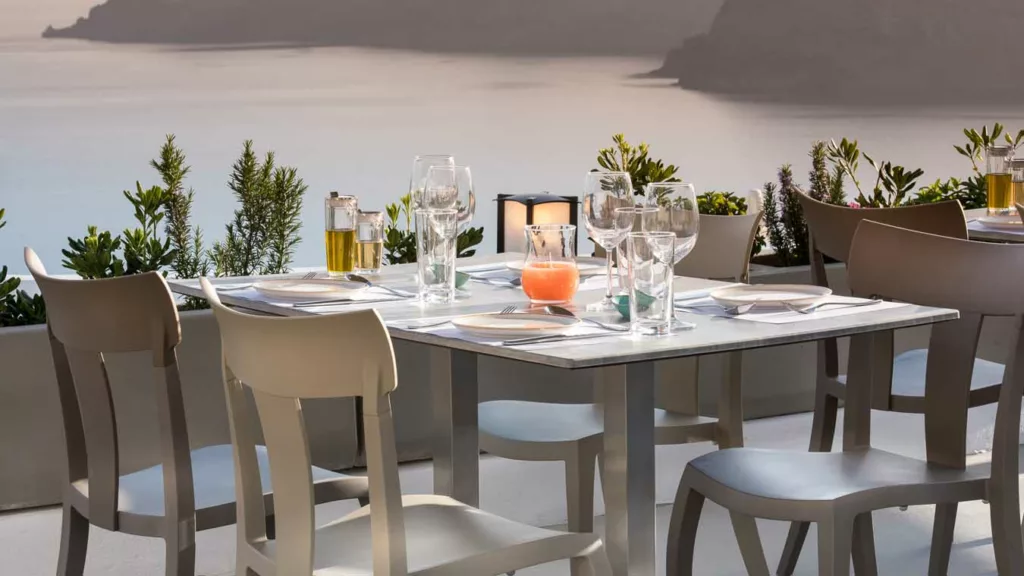 ---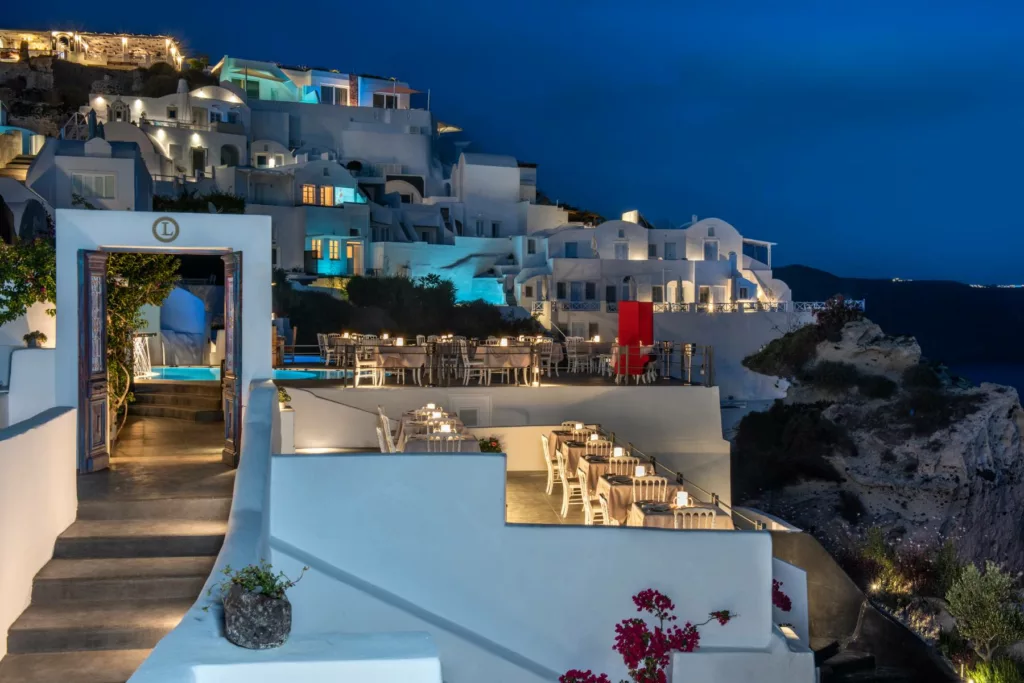 7. Lauda
€€€€
The restaurant "Lauda" is located in one of the best areas of Santorini Island. It is luxurious and is actually one of the top private restaurants on the entire island. It's the perfect place for a leisurely breakfast, a light lunch, or a relaxing and/or romantic dinner while admiring the magnificent sea.
The food served is of superior taste, delectable, based on traditional Greek cuisine and featuring various Mediterranean touches. The restaurant "Lauda" has another special feature: the careful selection of ingredients used. Note that many of these ingredients are carefully grown in its garden. If you have a particular preference or allergy, you should inform the restaurant in advance, and a specialized menu will be prepared for you!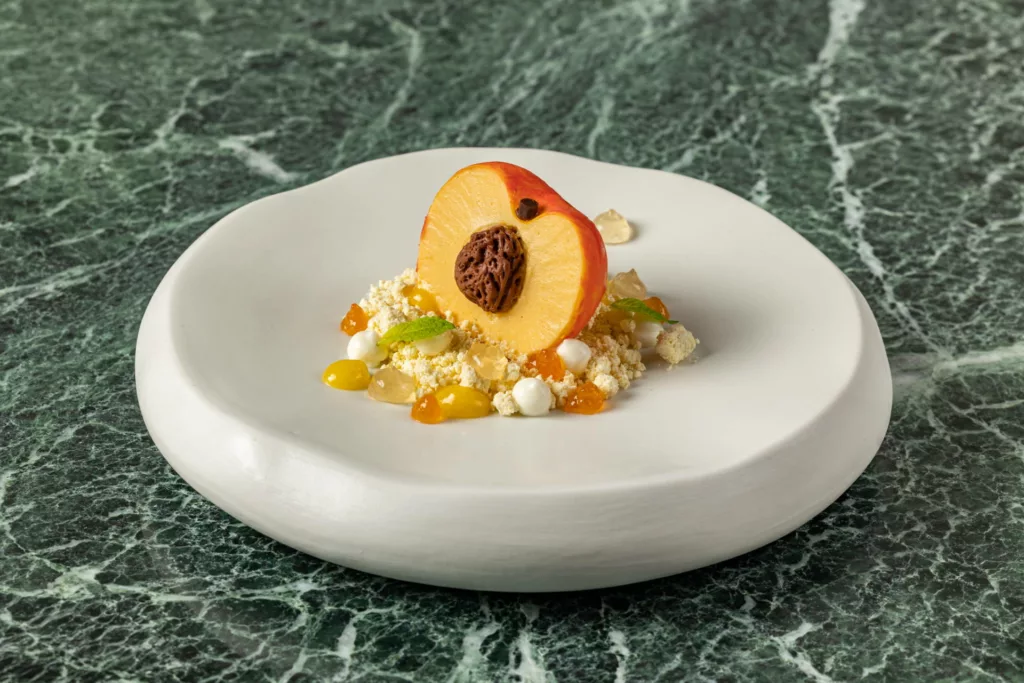 ---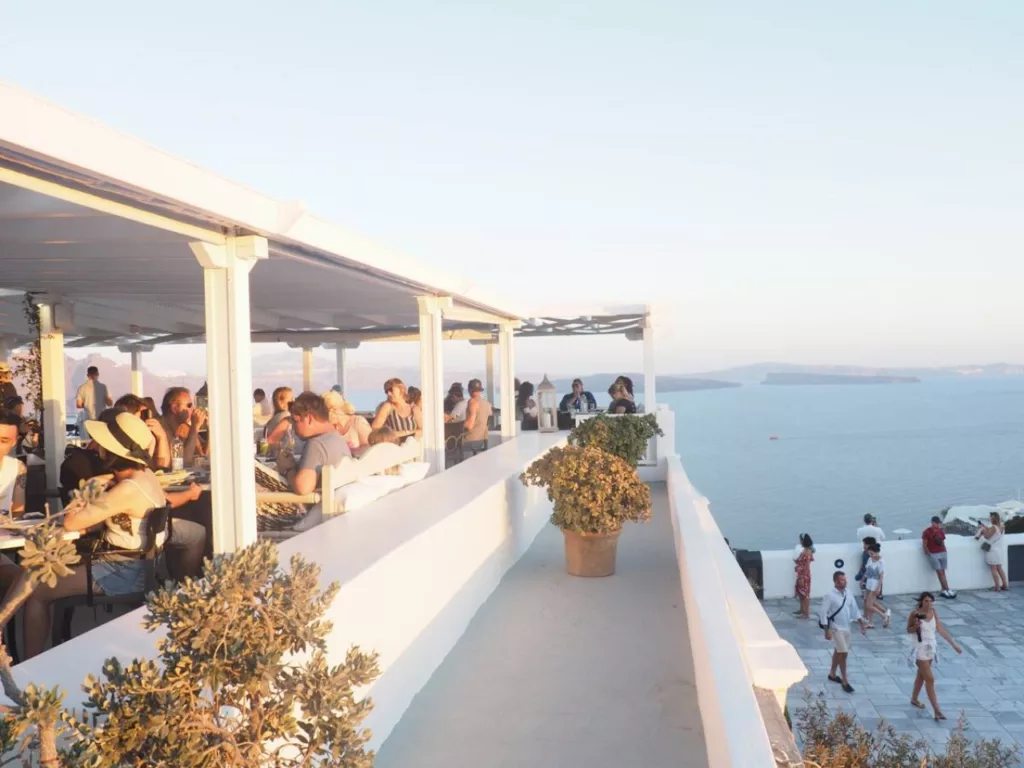 8. Neptune – Restaurant in Oia
€€€
Located in the charming village of Oia on Santorini Island, Neptune Restaurant is a family-owned establishment. It has been delighting locals and visitors for several decades. It offers both indoor and outdoor seating. The covered patio, located just upstairs from the pedestrian walkway, offers stunning views of the square below and the magnificent sunset.
The menu includes a variety of traditional and local dishes from Greek cuisine. Among the appetizers, favorite dishes include cheese balls, zucchini balls, and tomato balls prepared with fresh Santorini cherry tomatoes. Moussaka, risotto, and seafood linguine are equally impressive.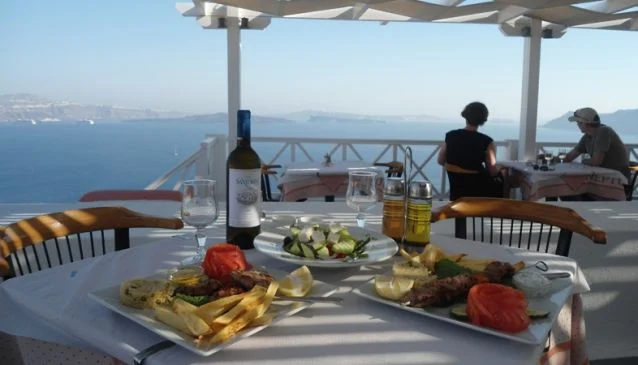 ---
The 8 best restaurants in Oia, Santorini
---
Posters to remember your trip in Santorini
---
Discover the best of Santorini.
Article mis à jours le 27 September 2023 par Pierre Bouyer