Traveling in Greece inevitably involves visiting at least one of the hundreds of paradise islands in the Cyclades. Discovering their incredible beauty, even just to reach the most famous islands like Santorini, Mykonos, or Crete. But if you're in the midst of planning your next trip, you're probably wondering how to get to the islands. The ferry between Athens and Santorini is the solution.
Here, I'll provide you with all the information you need to take the ferry from Athens to Santorini. You'll learn everything about the various intricacies of Greek boats.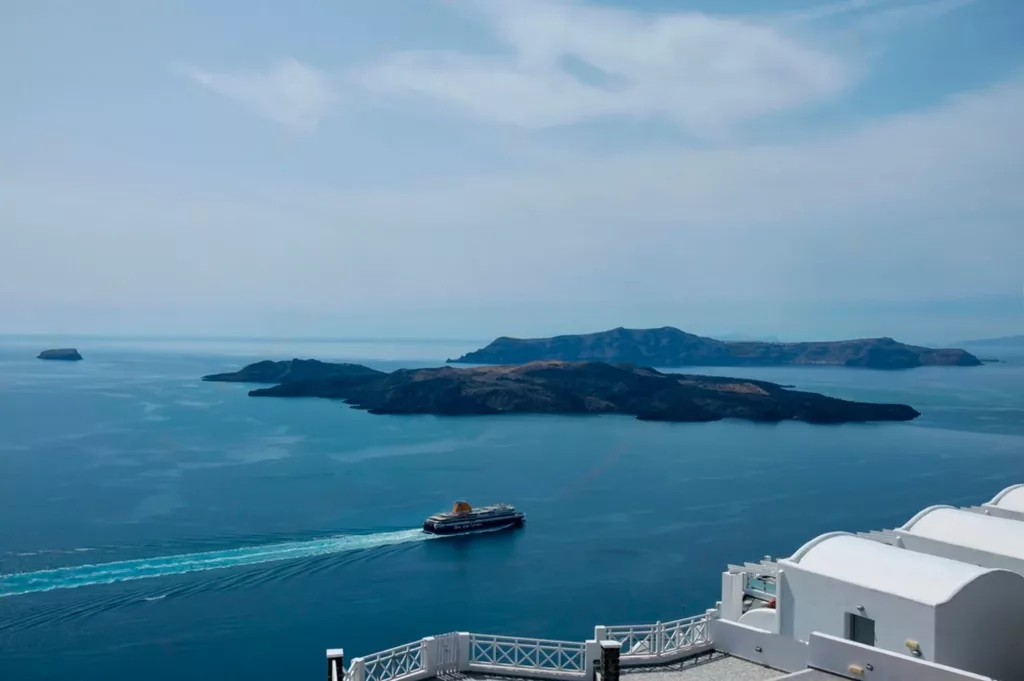 Avoid Taking Flights to Get Around the Greek Islands
Taking ferries in Greece is not the fastest way to reach many islands, including Santorini and Mykonos. Direct flights to the main islands depart daily from Athens. For example, a direct flight between Athens and Santorini costs around 80 euros for a round trip and takes about 1 hour.
However, as you may already know, excessive flying is an environmental concern, and when you consider the time and cost of getting to the airport plus the waiting time, it can quickly become a lengthy process. That's why many people choose to take the ferry between the Greek islands. And that's what I recommend.
Another major reason people opt for the ferry is that many small islands simply do not have airports. The boat is the only means of transportation to reach these islands.
How to Take a Ferry to Santorini
You have a choice between two types of ferries: conventional ferries and fast ferries. The journey between Athens and Santorini is relatively long, lasting between 5 and 9 hours depending on the boat you choose.
The conventional ferry is the slowest but also the most economical way to get from Athens to Santorini. It's a truly fantastic way to discover the beauty of the Greek maritime landscape as you sail through the Cyclades. If you have the time, this is the option I recommend!
Fast ferries are… well, faster: the journey takes only 5 hours but is less comfortable. Since it travels at high speed, you're not allowed on the deck during the voyage.
Booking the Ferry from Athens to Santorini in Greece
Ferries from Athens to Santorini (and, of course, the return journey) operate daily, and tickets cost between 20 and 76 euros. I recommend purchasing your tickets as far in advance as possible because boats fill up quickly during the high season.
You're not obligated to buy tickets online and can do so directly at the location. However, you'll be dependent on the availability of seats. Departure times regularly change depending on the seasons, so be sure to double-check the dates and times to avoid any confusion. If you're looking online, pay close attention to the publication date of the information, as it may already be outdated.
Sometimes, certain ferry routes simply disappear from one year to the next. Different ferry companies engage in fierce competition over route operations. Today, the ferry route from Athens to Santorini is operated by five different ferry companies:
Hellenic Seaways, with a frequency of 7 times per week.
Sea Jets, with 3 trips per day.
Zante Ferries, 3 times per week.
Anek Lines, 2 times per week.
Blue Star Ferry, which is probably the most comfortable option, operates 16 trips per week.
To make a reservation and purchase your ferry tickets, the process is similar to booking a flight. I recommend using "Ferries in Greece" to reserve your ferry tickets. You can easily input your dates and select the options you desire.
You can also take a car with you on the ferry. However, the prices for this are significantly higher. If you plan to get around the islands, you can directly rent cars or quads on-site. It will be more cost-effective, and you'll have peace of mind.
Booking with "Ferries in Greece"
Which Ferry to Choose for Santorini
I must confess that the first time I found myself faced with Greece's ferries, I was a bit perplexed by all the options. As I explained earlier, there are several companies, with the main ones being Seajets, Hellenic, Blue Star, Aegeon Pelagos, and Golden Star.
The first thing to look at is the duration of the journey. Between Athens and Santorini, the fastest ferries take about 4 hours and 50 minutes, while the longest ones can take up to 9 hours and 15 minutes. Most ferries make at least a few stops on the way to Santorini.
Conventional Ferries
Conventional ferries are generally huge boats that can carry a large number of passengers. Some can accommodate up to 2500 people, as well as vehicles. These are the longest boats; the journey between Athens and Santorini can take up to 9 hours and 50 minutes, depending on the number of stops it makes.
These are the most comfortable boats, with slightly larger seats, premium cabins, a restaurant, and a bar. You even have access to certain decks that you can visit outside to enjoy the view.
While these are the slower boats, they are also the cheapest and most comfortable. On top of that, they have several advantages over fast ferries. Some decks are accessible whenever you like during the trip, the boat is larger, so you can walk around more, and they feel like a small Mediterranean cruise. And for those prone to seasickness, these big boats have less rolling.
For example, on the Blue Star ferry, which takes 7 hours and 25 minutes to travel from Athens to Santorini, you have several seating options.
Deck: The cheapest ticket, you won't have an assigned seat and can sit in common areas and the economy lounge.
Lounge Seat: For 5 euros more, you'll have an assigned seat in the rows of a lounge.
Business Seat: First-class lounge with a superb view, large sofas, and a bar.
4-bed Cabin: Cabin with shower and toilet.
Double Bed Cabin: At the front of the boat, these are the largest cabins with a porthole.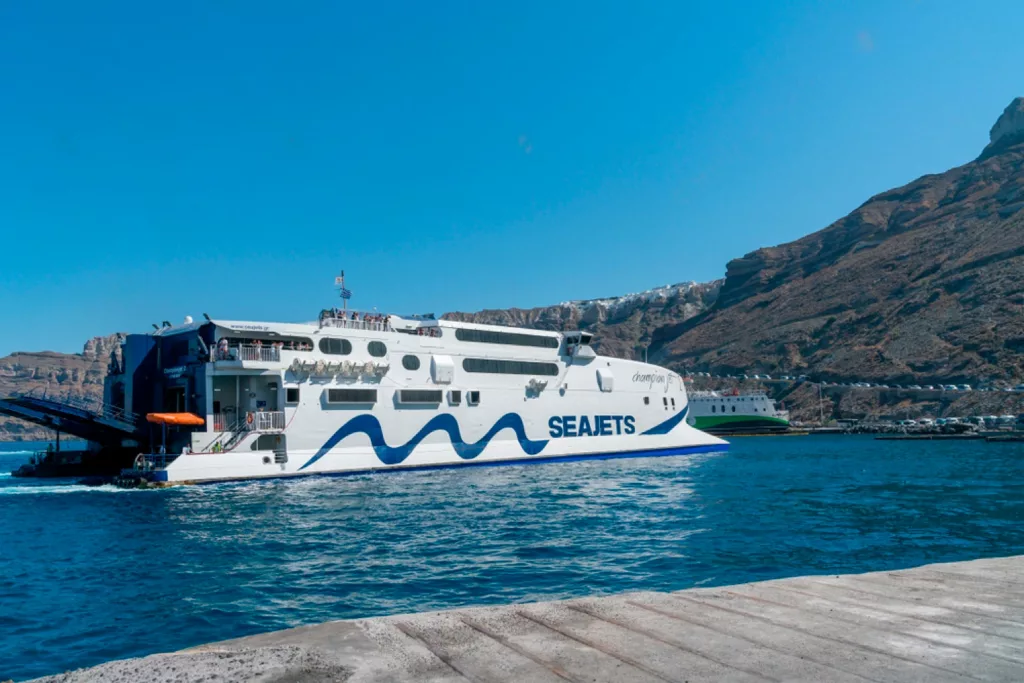 Fast Ferries
Fast ferries are an excellent choice for those looking to arrive quickly in Santorini from Athens. These boats offer high-speed service with a capacity of approximately 300 to 500 passengers.
While they allow you to reach your destination more quickly than larger boats, there are some compromises to consider. Smaller, faster boats usually have less space (especially when all tickets are sold out). In case of bad weather, they can sway a lot (or even be canceled). I particularly advise against them if you are prone to seasickness.
Furthermore, passengers are not allowed to go out on the deck. The onboard experience on a speed ferry will not be as enjoyable as on the others. However, you will arrive much faster at your destination.
You have a choice of different classes: Silver, Club Class, and Platinum Lounge, which offer numbered seats on the lower and upper levels of the boat, as well as an exclusive lounge.
Which is the Fastest Ferry from Athens to Santorini?
If you want the fastest ferry to not miss a moment of the island, take the Worlchampion Jet, which takes about 5 hours for the journey. Operated by Seajet, it departs from the Piraeus port every day at 7 a.m.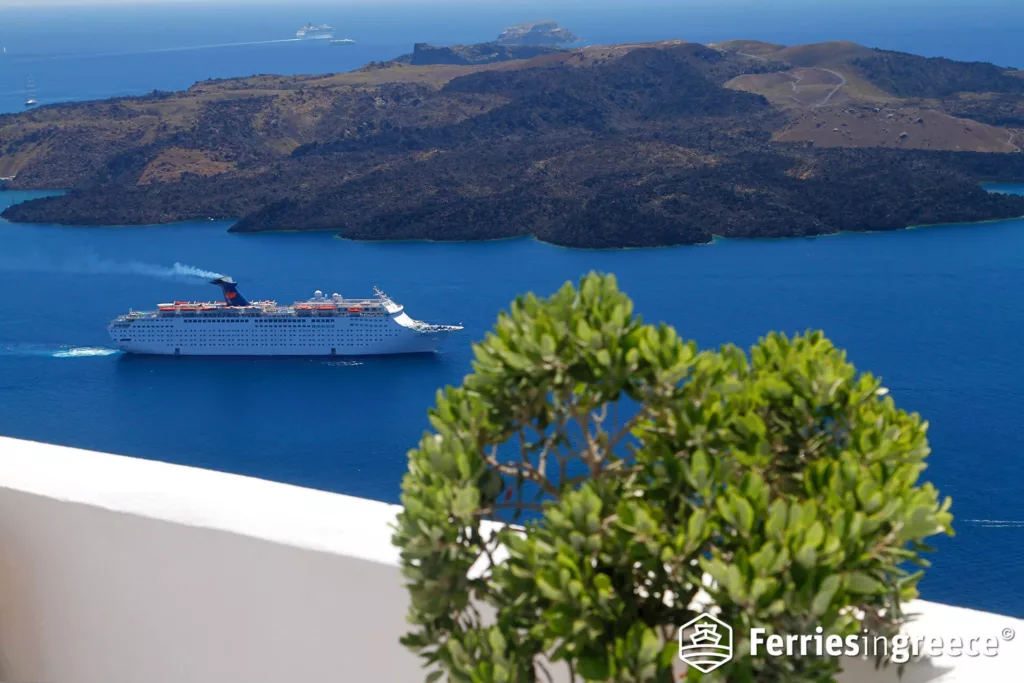 Getting to the Athens Port for Your Ferry to Santorini
To take the ferry between Athens and Santorini, you'll need to go to the ferry terminal located in Piraeus, about 10 km south of the city center of Athens.
There are other ports in Athens, such as Rafina and Lavrion, but it's less likely that your ferry will depart from one of these terminals. Still, make sure to check the departure port indicated on your ticket before purchasing it.
In any case, it's easy to reach the ferry terminal from the airport or the city center of Athens. You can do so using various modes of transportation depending on your preferences.
By taxi, a private transfer service like Welcome Pickups, the metro, or Uber. Prices vary depending on the chosen mode of transport but are generally between 25 and 58 euros for a journey from the city center or the airport.
The port is quite large, with many boarding gates. Be sure to check the gate number to avoid any confusion. All departures to Santorini are from gate E7!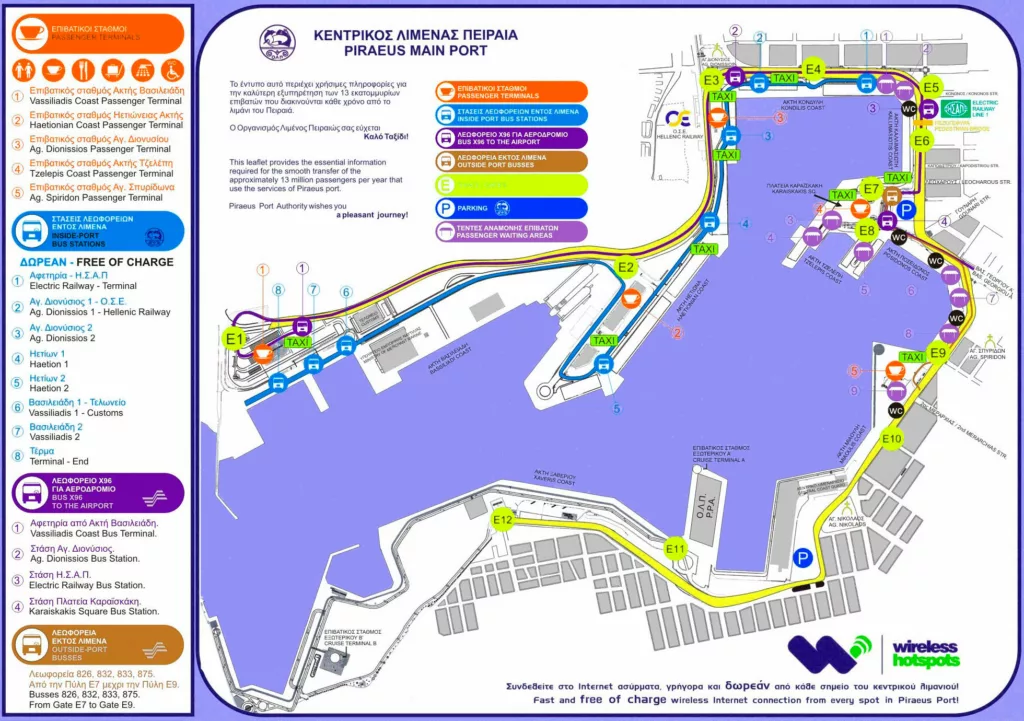 Which Port to Choose from Athens?
The choice of the most convenient port for your journey will depend on your plans.
Piraeus (Le Pirée) is the most convenient port if you plan to stay in Athens before heading to Santorini. It's closer to the city center and easily accessible by metro, bus, or taxi. Most ferries between Athens and Santorini depart around 7:00 AM, and tickets cost between 35 and 60 euros.
The port of Rafina is the best starting point for your trip if you plan to go directly to the port from the airport. Or if you want to make a stop in Mykonos. Ferries between Athens and Santorini typically depart around 7:30 AM and 4:00 PM, and tickets cost around 60 euros.
Choose based on what suits you best. However, there's no significant fundamental difference between the two ports. In my opinion, Piraeus may be more convenient.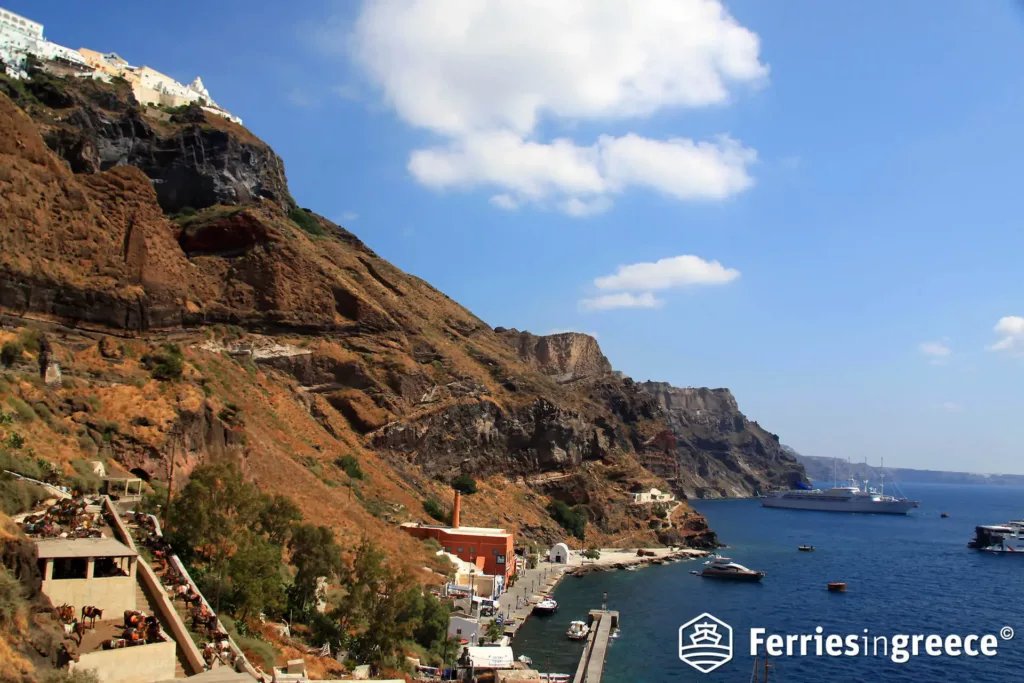 How to Book Your Athens to Santorini Ferry with Ferries in Greece?
Your stay in Greece is starting to come together, and all that's left is to book your ferry tickets. To do this, just like with quad or motorcycle rentals, I recommend using a comparison website to get the most competitive prices. So, I suggest visiting the Ferries in Greece website or using the form below to find your crossing at the best rate. And don't delay in making your reservation; boats fill up quickly!
Just like booking a flight ticket, you'll need to fill in various fields, choose options, and select your seat class. Depending on the ferries, you'll have the choice between economy seats, lounges, cabins, berths, and possibly access to bathrooms, etc. Once the reservation is complete, your ticket will be sent to you by email to the address you provided.
Of course, you can opt for insurance, which protects you in case of cancellation, as well as other paid services.
Tips for a Pleasant Ferry Journey between Athens and Santorini
It's important to book in advance to secure your desired schedules and seats, especially during the high season. This will help you avoid long queues and ensure you have the best seats on board.
It's advisable to arrive at the port at least an hour before departure to avoid the risk of delays or lack of seating.
If you are prone to seasickness, it's crucial to choose seats towards the rear of the ferry to make the journey more bearable.
High-speed boats have a bathroom and a bar, but few other amenities.
Therefore, it's recommended to bring your own food and drinks for the journey.
Taking motion sickness medication before boarding can also be useful to minimize the risk of discomfort during the trip.
Connecting with Other Cyclades Islands
Since Santorini is easily accessible from Athens, it's the perfect starting point for exploring the Cyclades Islands. For example, a ferry journey from Santorini to Mykonos takes about 2.5 hours and costs between 30 and 60 euros. You can also travel to Crete (2 to 3 hours) or to Naxos, Paros, Milos, or Koufonisia via ferry.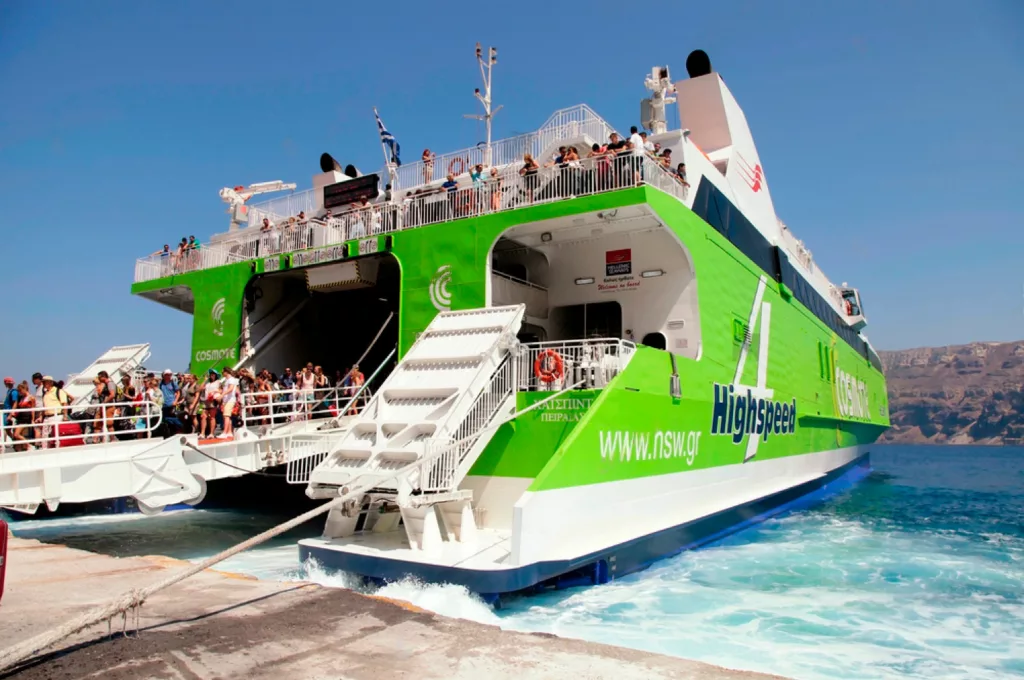 It's important to check your itinerary and book your ferry tickets in advance. You can also book multiple journeys if you plan to travel between several islands.
Alternatively, you can take the return ferry from Santorini to Athens once you've finished exploring the island. If you've already purchased your ferry tickets in advance, simply arrive at the Thira port at least an hour before departure to board. If you haven't booked (which I do not recommend), it's advisable to arrive well in advance to purchase your tickets. There's a risk of not being able to secure a seat for the desired departure.
So, it's important to plan ahead and book your ferry tickets to avoid disappointments and make the most of your Cyclades journey.
Discover the Best of Santorini
Article mis à jours le 18 September 2023 par Pierre Bouyer