When you land in Santorini, you'll almost immediately understand why more than two million tourists visit it every year. With its famous whitewashed buildings and stunning blue domes, it feels like paradise… except for a small budget in Santorini!
Unfortunately, the prices and cost of living on the island can be quite discouraging. However, it's possible to save money and travel to Santorini on a relatively small budget.
So, here are my 16 tips for saving money in Santorini.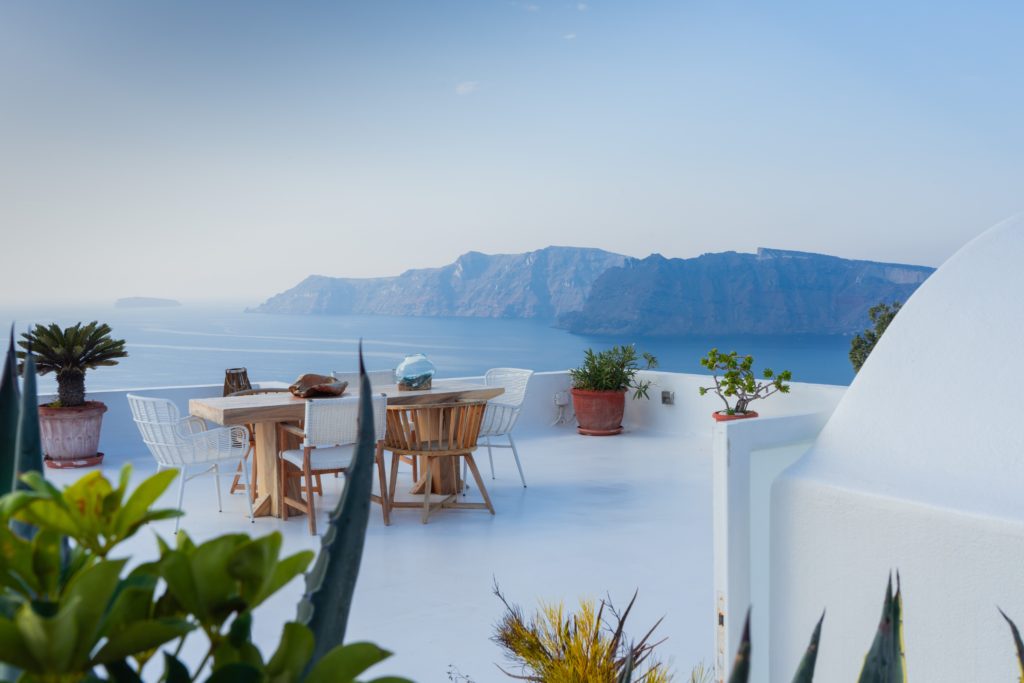 ---
How to save money on your accommodation in Santorini
Your accommodation in Santorini will likely be your biggest expense during your trip. As soon as you check Airbnb or Booking, you'll see sky-high rates that may seem far from affordable.
Fortunately, there are ways to save on this expense and make the rates more manageable.
---
Tips for saving money on accommodation in Santorini – Budget-friendly
1. Visit in the off-season
Avoid summer when Santorini is crowded and prices are at their peak. If you want to make significant savings, I recommend visiting the Greek islands in spring or autumn. Between April/May and October/November, you can still enjoy good weather while avoiding the crowds and exorbitant prices.
In fact, I believe your trip will be much more enjoyable than in the height of summer when the sun scalds every square inch of skin and some spots are packed with tourists.
Visiting Santorini in winter will be even cheaper, but your experience may be somewhat diminished. Many shops, boutiques, restaurants, and attractions simply close their doors during this season. So, if you still want to do things during your trip, I recommend aiming for the shoulder season.
Find your affordable accommodation in Santorini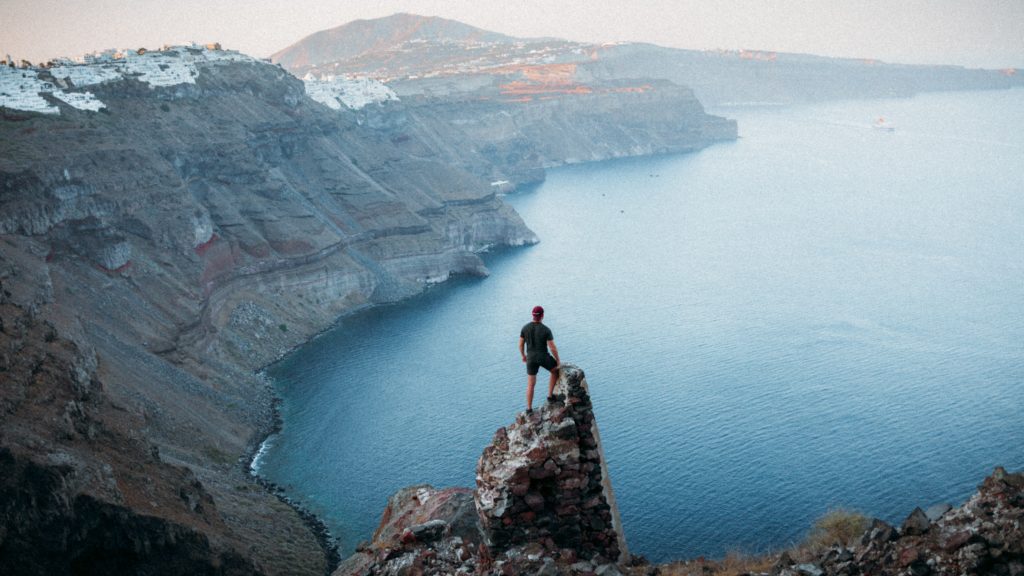 2. Stay in Lesser-Known Parts of the Island
Booking accommodation in Oia will cost you a pretty penny, no matter what time of year you visit. However, there are many other places on Santorini that rival its beauty.
For instance, Fira, the largest town on Santorini, is much more affordable. I also fell in love with Imerovigli, the highest village on the island. You can also explore the villages of Perissa or Kamari, both located by the sea and offering wonderfully affordable lodgings.
---
Posters pour vous remémorer votre séjour à Santorin
---
3. Research to Find the Right Accommodation
There are truly tons of hotels all over Santorini. If you're on a tight budget, consider looking for a hostel or an Airbnb instead of a traditional hotel.
But most importantly, compare search results. For example, one accommodation may be cheaper on Hotels.com than on Booking, or vice versa..
Last year, I saved nearly 500 euros by booking on one site rather than another.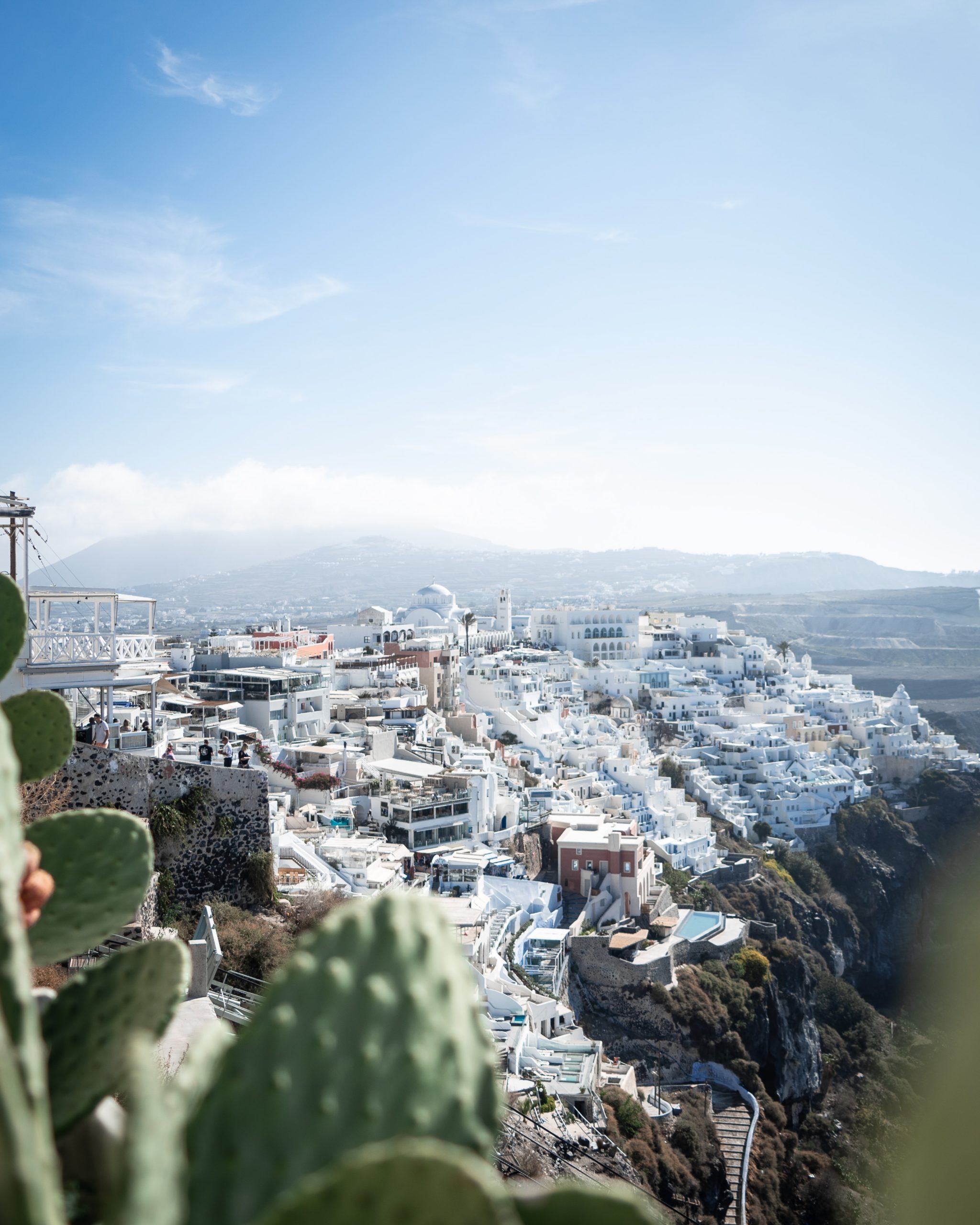 4. Book Early
Santorini is a popular destination, and in high season, almost everything is fully booked. And the fewer choices there are, the higher the prices go. So, it's crucial to book several months in advance to have the widest selection at the best prices.
---
Finding Affordable Food and Drinks in Santorini – Budget-Friendly
One of the great pleasures in Greece is the fresh and delicious Greek food. And even when you're looking to save money, there are many ways to be budget-conscious while savoring some of Santorini's most delicious dishes.
5. Avoid Restaurants with Cliffside and Sunset Views
While you may want to enjoy Santorini's fabulous views, you can save money by avoiding these restaurants.
In these establishments, you're paying not just for the view, but the food will also be more expensive. Plus, dining with the sun glaring in your eyes isn't all that pleasant.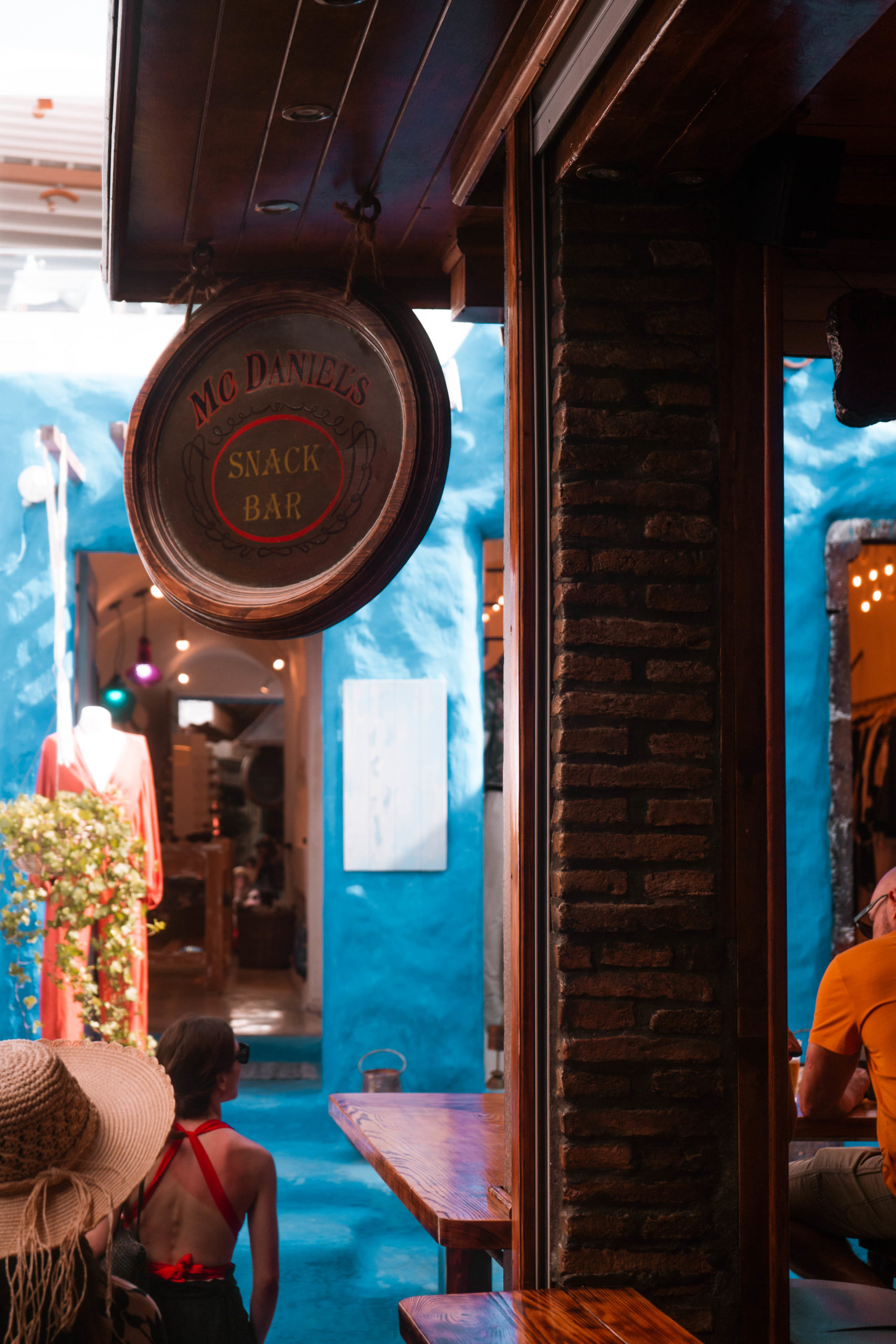 6. Steer Clear of Restaurants in Oia
As mentioned earlier, Oia is the epicenter of tourism in Santorini. Here, prices will be two to three times higher than in other towns, including restaurants. You'll find much cheaper dining options in other parts of the island.
7. Seek Out Affordable Yet Filling Foods
Looking to save even more money? There are many types of restaurants that offer takeout dishes.
And if you're on a really tight budget, I recommend trying Greek "gyros." These are local kebabs that are truly tasty, filling, and affordable. (Okay, they're not super healthy, but they can be found for as little as 3 euros at some stands!)
8. Stay in a Hotel That Offers Breakfast
Many hotels offer breakfast on Santorini. If it's included in the price, it can save you the cost of one meal per day. Just head over during the last serving slot, often between 10:30 and 11:00, and indulge to your heart's content.
So yes, it might not be very classy, but it can help you skip the lunch meal!
9. Visit Local Markets
You can save even more money in Santorini by visiting local shops and supermarkets. I found one not far from Fira, and the prices are truly reasonable compared to restaurants. You can easily prepare your breakfasts and even find sandwiches and some quick lunch items.
It's also a good idea to buy snacks here to keep you going until the next meal.
10. Don't Miss Happy Hour
Many restaurants and bars offer happy hour specials. You'll often find drinks on a 2-for-1 deal. With this significant discount, enjoying alcoholic beverages becomes quite affordable in Santorini. Don't drive your ATV after !
---
Save Money on Transportation in Santorini
Getting to and around Santorini can be expensive. Here are some tips to reduce transportation costs as much as possible.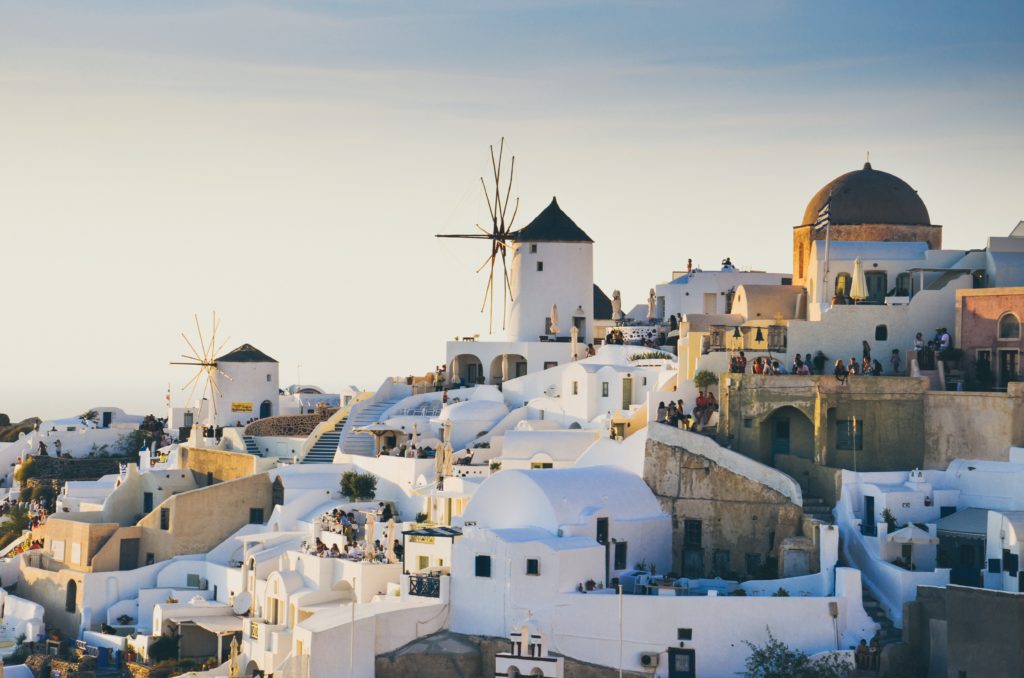 11. Avoid Taxis and Take the Bus
While taxis are the easiest way to get around different parts of Santorini, they're also the most expensive option. There aren't many taxi companies in Santorini, which can sometimes result in long and costly waits.
Fortunately, the bus system is affordable and relatively reliable. Most trips will cost less than 2 euros, and they can take you to almost anywhere on the island. You just need to stick to the schedules.
Alternatively, you can rent a quad for the duration of your stay. Easy to use and cost-effective, it's definitely the transportation method I recommend for your trip.
12. Book Ferries or Flights in Advance
Just like with accommodations, booking your ferries and flights to Santorini in advance can save you a lot of money.
Generally, prices increase as the date approaches. If you book more than two months in advance, you can save over 25%!
13. Take Overnight Ferries
If you're in the Cyclades to explore multiple islands, ferry costs can quickly add up and become a significant expense. However, there are options for overnight ferries.
This is an excellent choice for budget-conscious travelers, as you can save on your ferry ticket, up to 50%! Plus, you'll save the cost of a night in a hotel or hostel.
Of course, you won't sleep as comfortably, but you also won't lose a day of vacation on the ferry.
14. Walk as Much as You Can!
There are quite a few places you can reach in Santorini just by walking. For example, you can easily hike the trail between Oia and Fira. And you can move around the different towns on foot.
---
Save on Santorini Activities – Budget-Friendly
Santorini is a beautiful island offering many activities, even on a tight budget. Here are some tips to save money on your Santorini activities.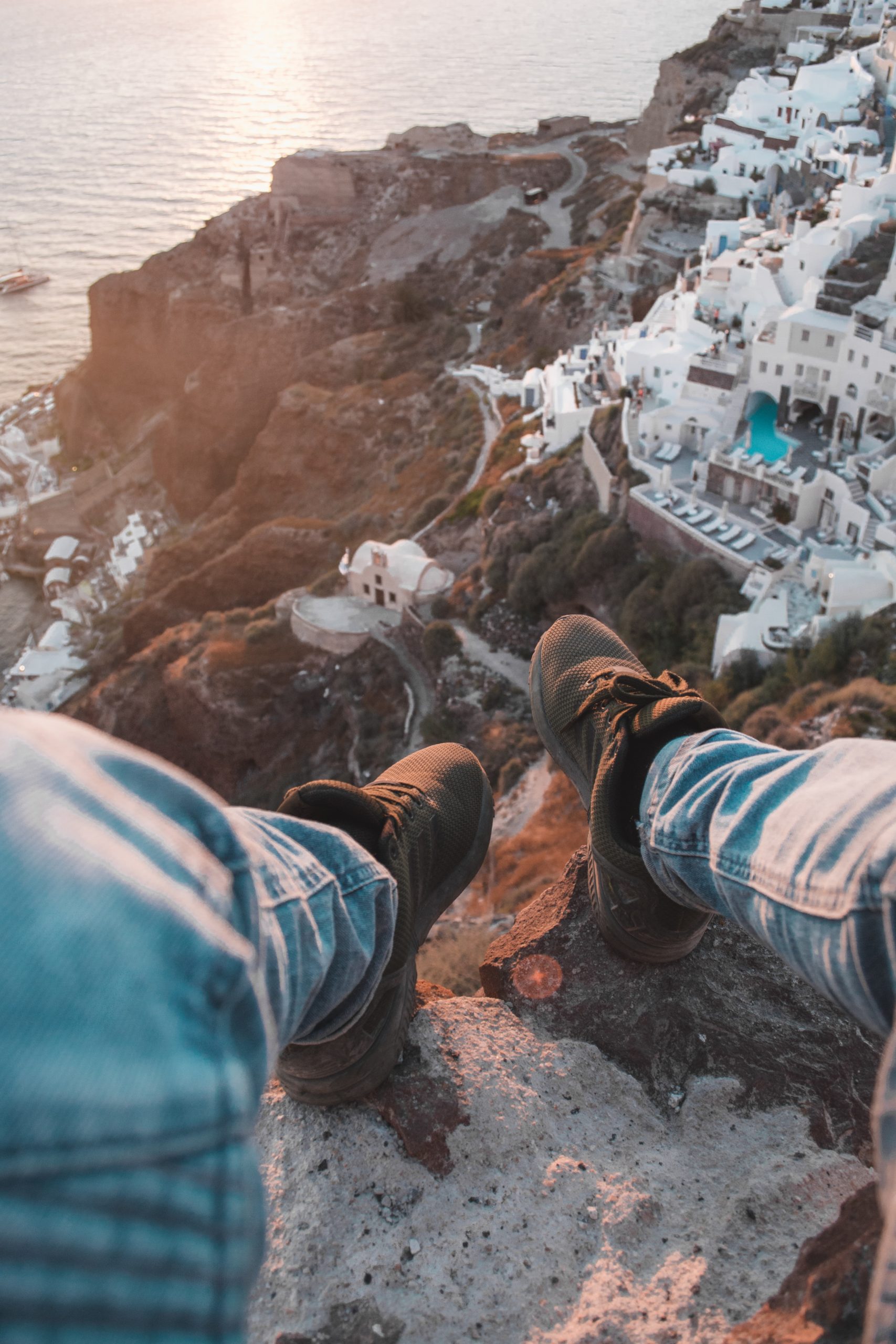 15. Enjoy Free Activities and Attractions
As you've understood, Santorini can be enjoyable even on a tight budget. Think about the simple things: the breathtaking views of the Aegean Sea, some of the world's most beautiful sunsets, delicious food, and the charming whitewashed winding streets. You can have a memorable vacation without shelling out a ton of money on sunset cruises and vineyard tours.
16. Avoid Guided Tours and Do It Yourself
Like any popular tourist destination, Santorini offers numerous excursions around the island. Instead of opting for an organized tour, do it yourself! Not only will it be much more unique, interesting, and exciting, but you'll also save a lot of money. Consider renting a quad, bicycle, or car to explore areas that buses don't reach. In the process, you'll make some significant savings.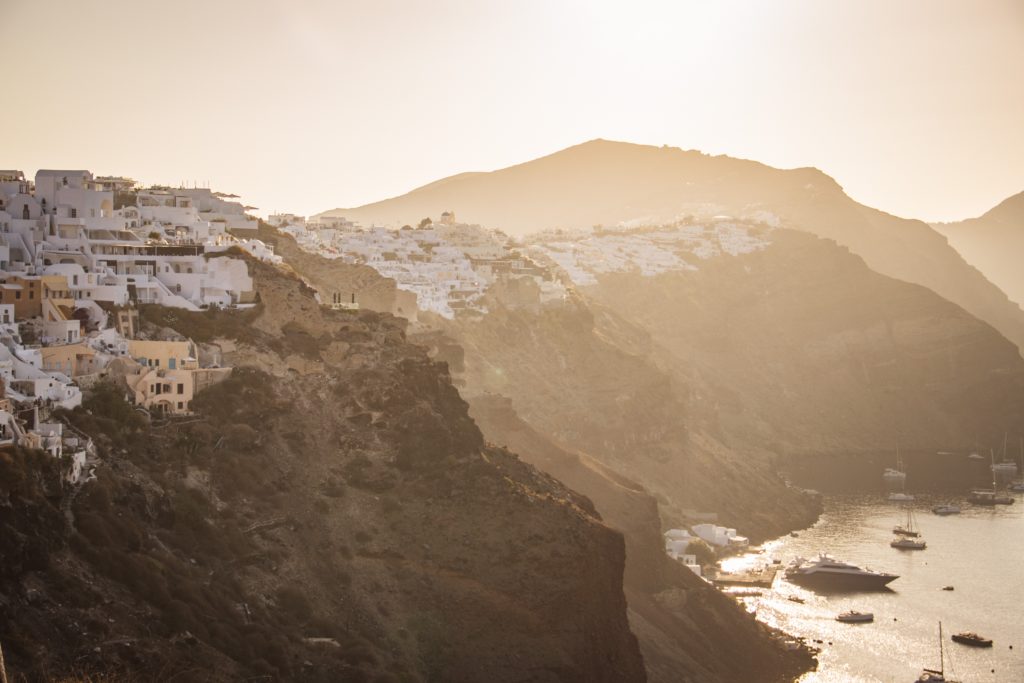 ---
You're now ready to head to Santorini on a budget!
With these money-saving tips for Santorini, I believe you can comfortably visit the island. Feel free to check out other articles on Greece and Santorini to prepare for your next trip!
Article mis à jours le 7 September 2023 par Pierre Bouyer