Santorini is not just about romantic sunsets and charming villages; it also boasts captivating natural wonders, such as Red Beach. This is a place where you can immerse yourself in a Martian landscape and witness the breathtaking beauty of volcanic soil.
Located in Akrotiri, just 8 km from Fira, this beach gets its name from the impressive red cliffs that surround it. These cliffs, formed by volcanic eruptions, are a sight to behold. The turquoise waters and the contrast of red and blue hues make Red Beach a must-visit destination for anyone traveling to Santorini.
As you walk on the red sandy beach, you'll get a glimpse into the rich history and geology of the island. Visiting this beach is an opportunity to step back in time and understand the impact of nature on this remarkable place. So, pack your bags and get ready to explore one of Santorini's most impressive attractions!
---
How to get to Red Beach?
To reach Red Beach, you have a variety of transportation options.
By driving: Follow the road to Akrotiri and turn right after the archaeological site. You can park near the small Saint Nikolas chapel. Parking is free, but be prepared for a 10-minute walk to the beach. Don't forget to bring water and a hat, as well as sneakers because the descent can be challenging in flip-flops. The beach is not wheelchair accessible.
By boat taxi: From Akrotiri, Perissa, or Kamari, boat taxis run approximately every half hour. This is a good option for those who don't want to hike down the hill and prefer to see multiple beaches in one trip.
By Ktel bus: You can take a bus from the Fira bus station to reach Red Beach. Buses drop passengers off near the museum.
Car, quad, and scooter rentals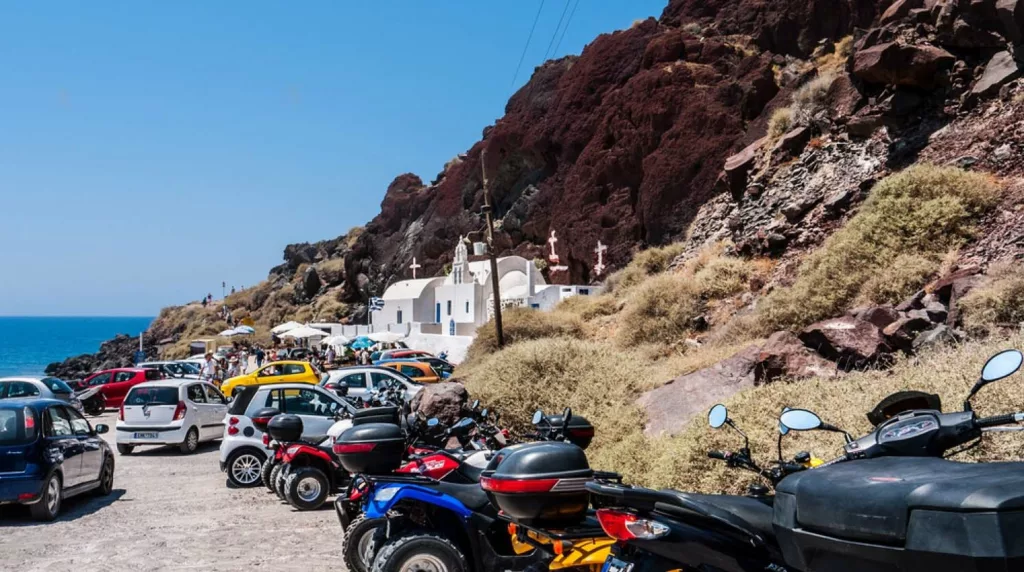 ---
What to do at Red Beach?
Red Beach, located in the southeastern part of Santorini in Akrotiri, is not just any ordinary beach. The cliff that surrounds the small cove and the unique composition of reddish-brown sand and red and black pebbles set it apart from others. This natural wonder was formed by the ancient volcano that erupted on the island thousands of years ago.
The temperature at Red Beach is higher than in other parts of the island, thanks to its dark color and the thermal properties of the soil. This, combined with its breathtaking beauty, makes it a must-visit destination for tourists and a popular spot for photographers and influencers. Whether it's sunbathing on the beach or admiring a landscape from another world, it will be a day filled with adventure and memories.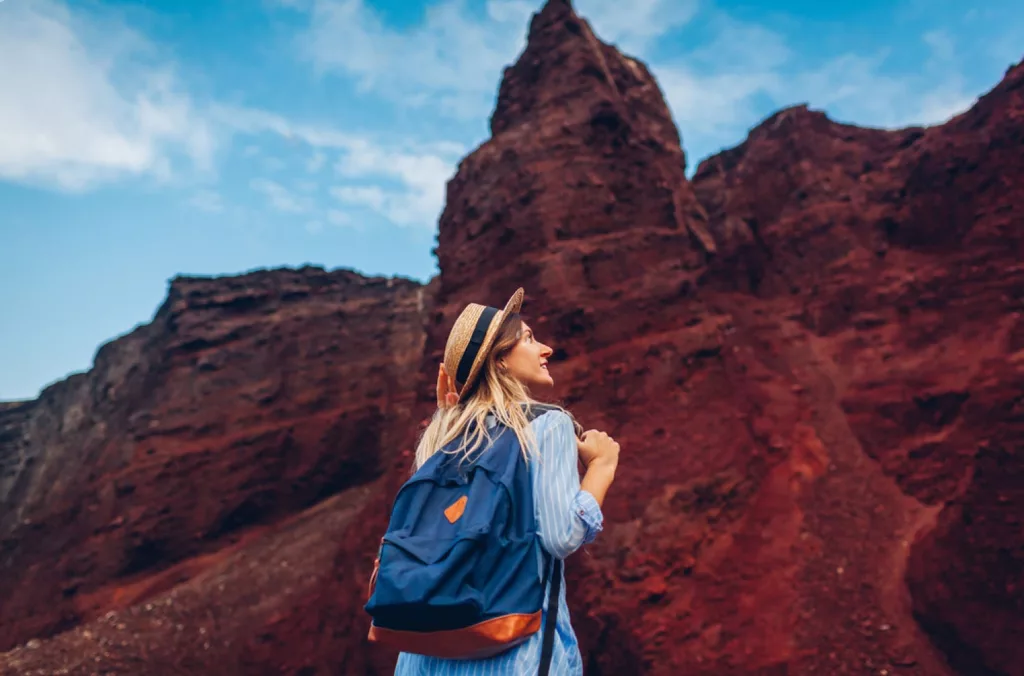 An ideal beach for swimming
Red Beach in Santorini offers a myriad of activities for visitors. The bay houses warmer waters from underground thermal springs, making it an ideal swimming destination unless the south wind is blowing, which can make the water rough.
You can also visit Red Beach on a catamaran excursion. I personally loved this experience! To learn more, check out this article.
A beach highly favored by tourists
Red Beach is very popular among tourists and can get crowded during the peak tourist season. You can rent sun loungers and umbrellas for a few hours. There is also a small canteen offering snacks, coffee, and water. Street vendors also sell fruits. The beach is also naturist-friendly, especially in the northern part.
Water activities at Red Beach in Santorini
For water sports enthusiasts, Red Beach offers the opportunity to rent a sea bike or a canoe to explore the cove. Snorkeling enthusiasts will be delighted to discover the rich underwater structure of the beach.
Despite a ban issued by authorities a few years ago due to landslides on the beach, tourists still flock to Red Beach.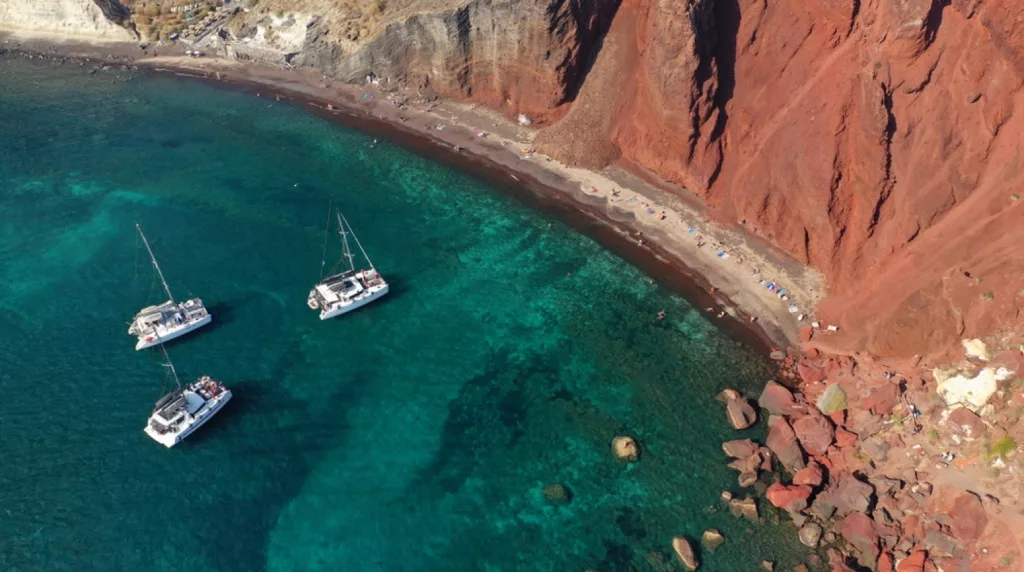 What makes Red Beach unique
Red Beach is remarkable for its natural beauty, with turquoise waters and the rocky formations that line it. However, what truly makes it unique is the color of its rock formations. They can vary from dark red to orange-red depending on the time of day and the angle of the light.
Snorkeling at Red Beach
The crystal-clear waters of Santorini's Red Beach offer a unique opportunity for snorkeling. While marine life may not be as abundant as in other areas, the geological formations and colorful volcanic caves are simply stunning.
You can spot octopuses or small fish, but it's the unique rock formations that are truly breathtaking.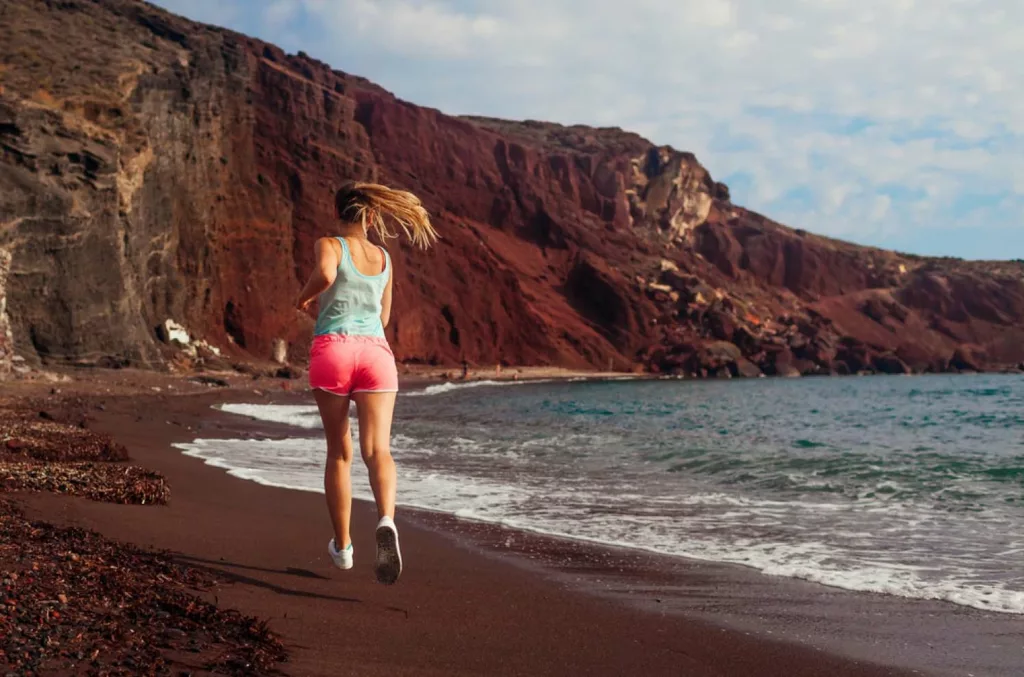 Is Red Beach safe?
Overall, yes, Santorini's Red Beach is considered safe for visitors. However, please take necessary precautions, such as monitoring sea conditions and potential danger signs.
The most significant risk comes from potential rockfalls from the cliff. This happens relatively frequently, and I strongly advise against crossing the safety barriers put in place by authorities. Don't put yourself in danger just to look cool in a photo. Follow marked trails to avoid accidents and respect the rules.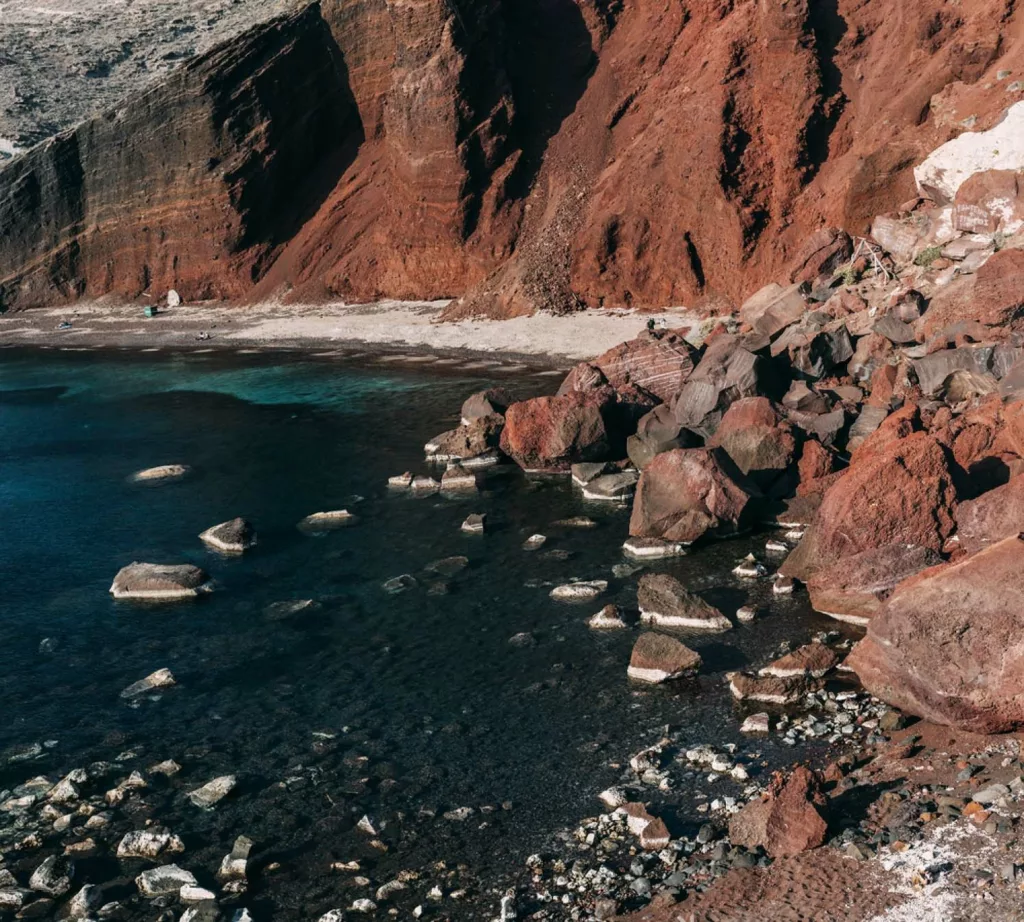 Can you swim at Red Beach?
Red Beach in Santorini is an ideal swimming spot for visitors. The best time for swimming is from May to October when the waters are warm and clear, perfect for swimming and snorkeling.
However, in winter, the weather conditions may not be conducive to swimming, mainly due to colder water temperatures.
The Akrotiri Archaeological Site
Near the beach is the Akrotiri archaeological site, the prehistoric village of ancient Thera, destroyed by volcanic eruption. The lava covered the entire area, preserving houses, temples, and markets over the centuries.
Akrotiri was one of the most important centers in the Aegean region. Archaeologists have discovered a great civilization beneath the lava. The walls of the buildings are adorned with exquisitely beautiful colorful frescoes. You can visit the site on your way to or from the beach.
The archaeological site is open daily, but opening hours vary in winter and summer. If you plan to visit, I recommend checking out this article.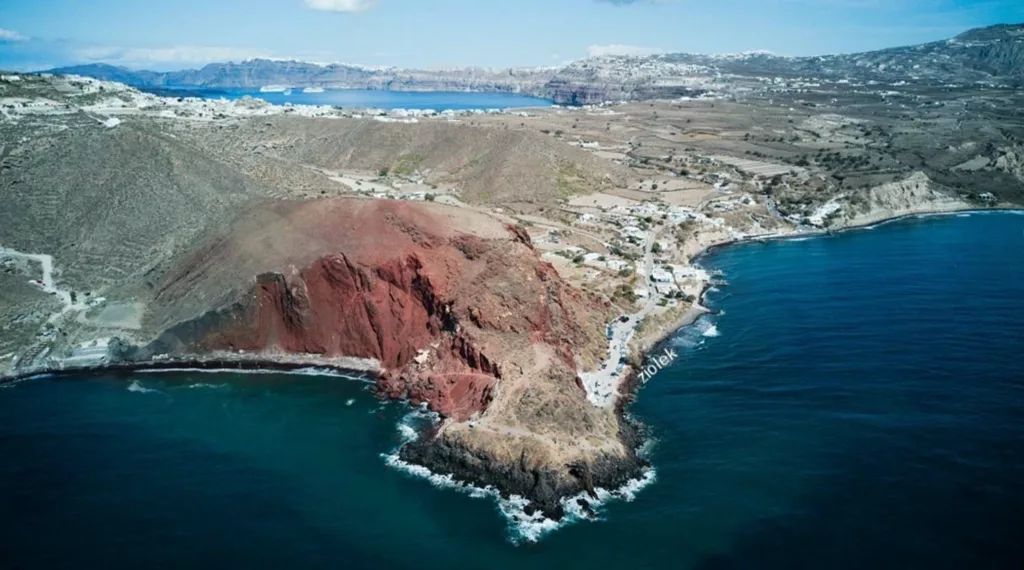 Conclusion
Santorini's Red Beach is a place of extraordinary beauty and a unique experience that every visitor should experience at least once in their lifetime. With its stunning red cliffs and turquoise waters, it's a hidden gem that offers a fascinating view and insight into the majestic power of nature in Santorini. While it may not be the best beach for spending a whole day, it's definitely a must-visit destination and a perfect spot for taking beautiful photos.
FAQ
Discover the best of Santorini
Article mis à jours le 3 October 2023 par Pierre Bouyer